This post may contain affiliate links, which won't change your price but will share some commission.
Dino and I were at a gourmet market over the weekend, and we saw a bunch of varieties of lentils. I immediately honed in on the red lentils and told him that I knew I'd seen a lot of recipes that called for them. We picked up a package of them, and I sought out a recipe to make tonight. I picked up some frozen scallops on my lunch break, and left them in the fridge at work, so by the time I got home tonight, they were almost ready to use. This recipe is really nice - the spices are warm and inviting, and the scallops just melt in your mouth. I haven't worked with lentils too often, and this was a really easy and flavorful way to prepare them. The only change I made was to use low sodium chicken broth instead of vegetable broth.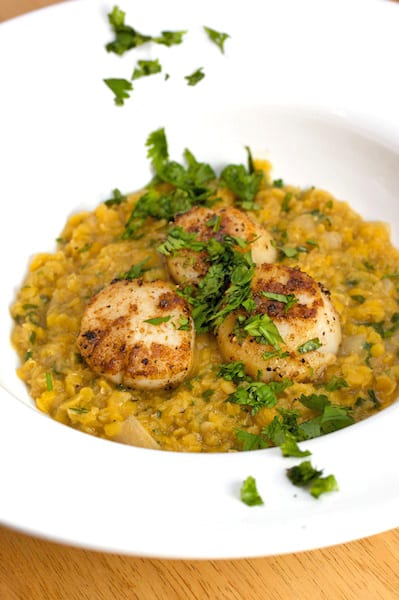 Moroccan-Spiced Scallops with Lentils
Bon Appétit February 2009
1 teaspoon ground cumin
1 teaspoon ground coriander
½ teaspoon ground cinnamon
2 tablespoons olive oil, divided
½ cup chopped onion
2 ½ cups (or more) vegetable broth
1 cup red lentils,* rinsed
¼ cup chopped fresh cilantro plus additional for sprinkling
1 ½ pounds sea scallops, patted dry
Mix first 3 ingredients in small bowl. Heat 1 tablespoon oil in heavy medium saucepan over medium-high heat. Add onion and sauté until translucent, about 4 minutes. Add 2 teaspoons spice mixture and sauté 30 seconds. Stir in 21/2 cups vegetable broth and lentils. Bring to boil; reduce heat to medium and simmer until lentils are tender, adding more broth by tablespoonfuls if dry and stirring occasionally, about 10 minutes. Stir in ¼ cup cilantro; season to taste with salt and pepper.
Meanwhile, heat 1 tablespoon oil in heavy large skillet over high heat. Sprinkle scallops with salt, pepper, and remaining spice mixture; add to skillet and cook until browned on both sides and just opaque in centers, about 2 minutes per side. Top lentil mixture with scallops and sprinkle with additional cilantro.
* Also known as masoor dal; sold at some supermarkets and at natural foods stores and Indian markets. If unavailable, use green lentils and increase cooking time to about 30 minutes.
MacGourmet Rating: 4 Stars