This post may contain affiliate links, which won't change your price but will share some commission.
My local Farmers Market recently got a new meat vendor, and they carry so many cuts of beef. I picked up a flank steak the last time I was there, and this taco recipe was the perfect thing to make with it!
A simple marinade imparts wonderful flavor into the beef, and a quick kimchi-esque topping really kicks up the heat and adds a nice crunch.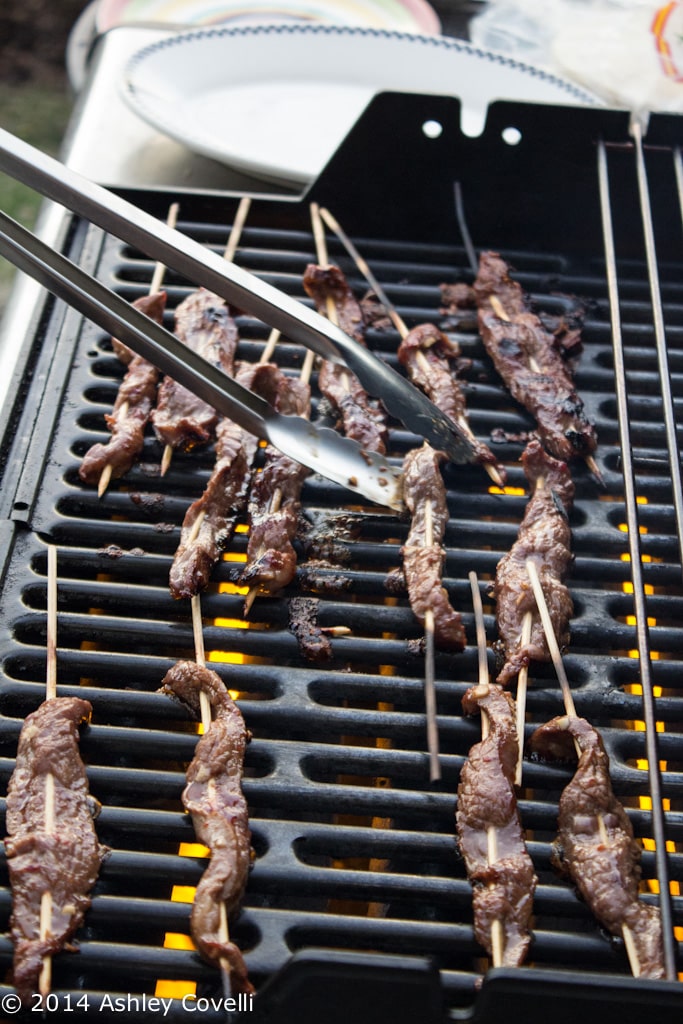 This was a great excuse to fire up the grill, and dinner was absolutely delicious. I didn't serve it with any sides, but let's just say that this only ended up feeding 2 of us. Ahem.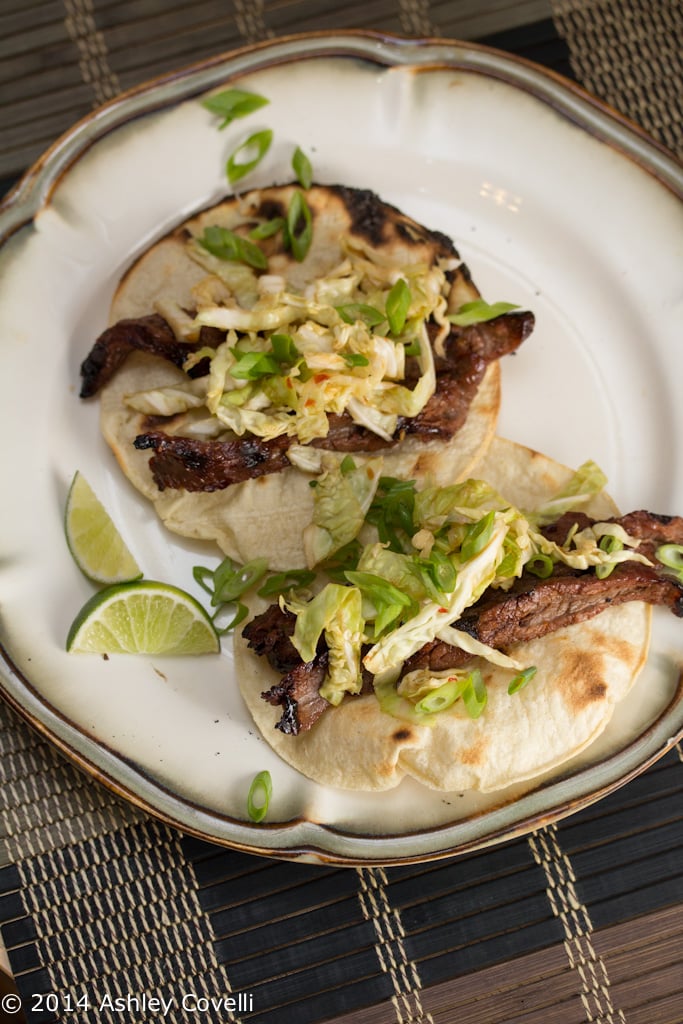 Korean-Style Beef Tacos
Cooking Light June 2012
Serve with cooked rice tossed with a tablespoon of toasted sesame oil.
Yield: Serves 4 (serving size: 2 tacos)
Total: 1 Hour, 28 Minutes
⅓ cup sugar
5 tablespoons lower-sodium soy sauce*
1 ½ tablespoons chile paste (such as sambal oelek)
1 tablespoon fresh lime juice
1 tablespoon dark sesame oil
4 garlic cloves, minced
12 ounces flank steak, sliced against the grain into thin strips
⅛ teaspoon salt
Cooking spray
8 (6-inch) corn tortillas
Quick Pickled Cabbage (recipe below)
3 tablespoons sliced green onions
1. Combine first 6 ingredients in a shallow dish. Add steak to dish; cover. Marinate in refrigerator for 1 hour, turning after 30 minutes.
2. Preheat grill to medium-high heat.
3. Remove steak from marinade, and discard marinade. Thread steak onto 8 (8-inch) skewers; sprinkle with salt. Place skewers on grill rack coated with cooking spray. Grill 2 minutes on each side or until desired degree of doneness. Grill tortillas 30 seconds on each side or until lightly charred; keep warm. Place 2 tortillas on each of 4 plates, and divide steak evenly among tortillas. Divide the Quick Pickled Cabbage evenly among tacos; sprinkle with onions.
Quick Pickled Cabbage
Yield: Serves 4 (serving size: ½ cup)
3 cups chopped napa cabbage
2 garlic cloves, crushed
½ cup rice vinegar
2 tablespoons lower-sodium soy sauce*
1 tablespoon sugar
2 teaspoons chile paste
Place cabbage in a medium bowl with garlic. Bring vinegar, soy sauce, sugar, and chile paste to a boil. Pour hot vinegar mixture over cabbage; toss. Let stand at least 30 minutes.
*Optional: use Gluten Free
Amount per serving:
Calories: 270
Fat: 6.3g
Saturated fat: 1.6g
Monounsaturated fat: 2g
Polyunsaturated fat: 1.4g
Protein: 18.1g
Carbohydrate: 37.1g
Fiber: 3g
Cholesterol: 21mg
Iron: 1.3mg
Sodium: 568mg
Calcium: 95mg
Big Flavors Rating: 5 Stars