This post may contain affiliate links, which won't change your price but will share some commission.
Love at first sight. That's what happened when I saw one of the most gorgeous cookbooks ever a few weeks ago. It's all about breakfast (for dinner!) and I didn't even realize until I got home with it that it was from a blog that I've been following for years now - Love & Olive Oil.
I had to stop flagging recipes to try out, because honestly I would happily eat every single thing in this book! I decided to make something not traditionally associated with breakfast for my first choice - a scallop risotto.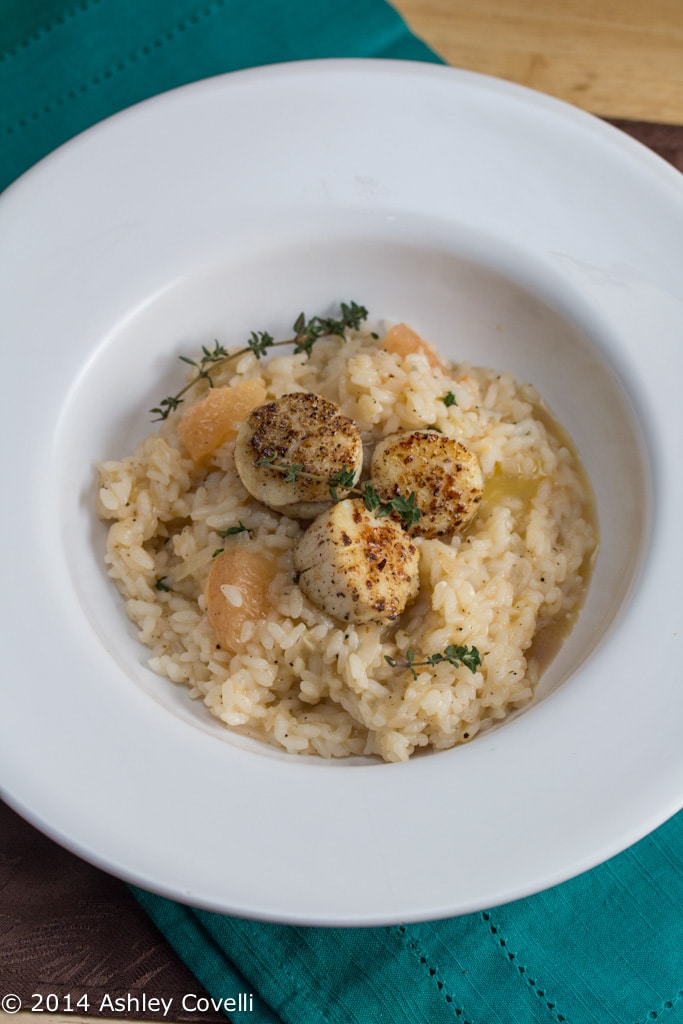 This risotto was absolutely beautiful! It was nice and tart from the grapefruit, incredibly creamy, and had just the right amount of thyme as an accent. The scallops - I made 3 for each of us - were cooked to perfection, and went so, so well with the risotto. Two scallops actually would have been perfect - I had a bit of risotto leftover, but it was great for lunch the next day!
I can't wait to try more recipes from this book - there are so many in there that I'm excited about. There's a nice mix of recipes, too, not all traditionally "breakfast-y". The photography and layout of the book is stunning - I was really impressed with it! It would make a great gift, too.
Grapefruit Risotto with Seared Scallops
Breakfast for Dinner - Lindsay Landis & Taylor Hackbarth
Makes 2 servings
Total time: 50 minutes
For Risotto:
3 tablespoons unsalted butter, divided
1 large shallot, minced (about ⅓ cup)
1 cup arborio rice
¼ cup white wine
1 cup freshly squeezed grapefruit juice (from 1 large grapefruit)
1 teaspoon fresh thyme, minced
Salt and black pepper, to taste
½ grapefruit, peeled and segmented
For Scallops:
4 large scallops (about ½ pound)
Pinch salt and pepper
1 tablespoon unsalted butter
1. Bring 4 cups water to a simmer. Reduce heat; cover to keep warm.
2. In a large skillet, melt 2 tablespoons of the butter over medium-high heat. Stir in shallots and cook until translucent, about 2 minutes. Add rice and stir until fragrant and coated with fat, about 2 minutes more. Add wine and stir until completely absorbed.
3. Add grapefruit juice and simmer until fully absorbed, stirring constantly. Add warm water, ½ cup at  a time, and stir constantly; wait until water is fully absorbed before adding the next ½ cup. Continue adding water and stirring until rice is  tender and creamy, about 25 minutes. You may not need all the water; 3 cups or so may be sufficient. Stir in thyme, the remaining 1 tablespoon butter, and salt and pepper to taste, followed by grapefruit segments. Transfer to serving bowls.
4. Pat scallops completely dry; season with salt and pepper. Heat butter in a large nonstick skillet over medium-high heat until it is melted and the foam subsides. Add scallops and sear for 1 to 1 ½ minutes per side, or until golden brown. Arrange scallops on top of risotto and serve.
Big Flavors Rating: 5 Stars