This post may contain affiliate links, which won't change your price but will share some commission.
One of my husband's co-workers has generously donated his CSA share to us a few times this summer. He's been going on vacation a lot and is happy to pass along all of the delicious farm fresh fruits and veggies to someone that would put them to good use.
So when the latest share included a whole lot of gorgeous late summer tomatoes, I knew that gazpacho was in order.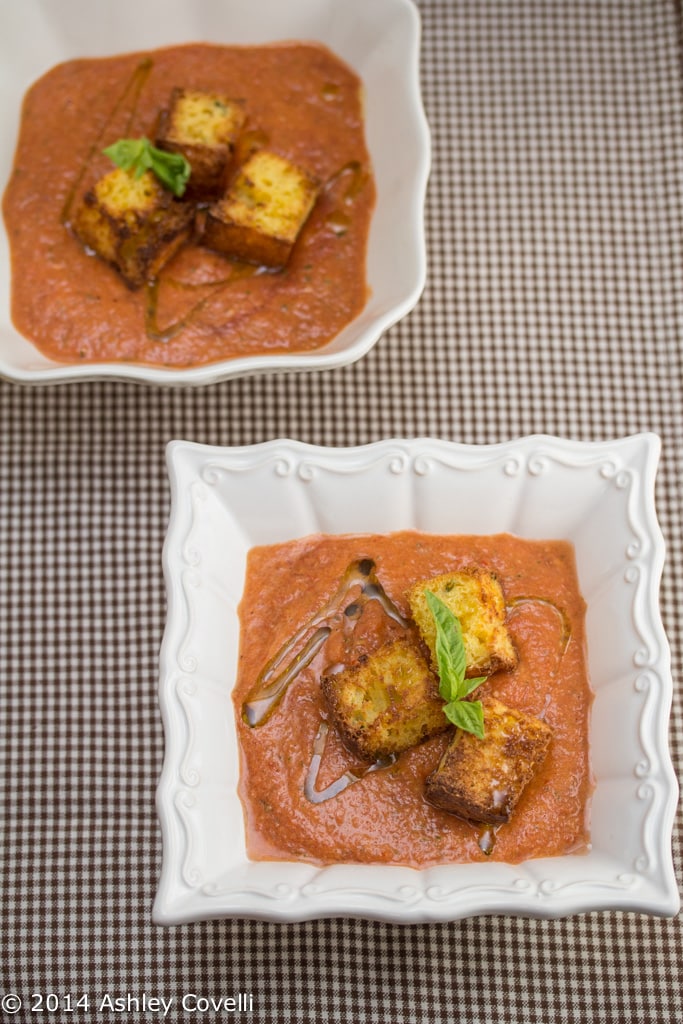 And when I found a gazpacho recipe that included cornbread in crouton form... I was totally on board.
I made this in a few batches in my Vitamix, and it came together pretty quickly. I love that it's a dish that can be made ahead of time.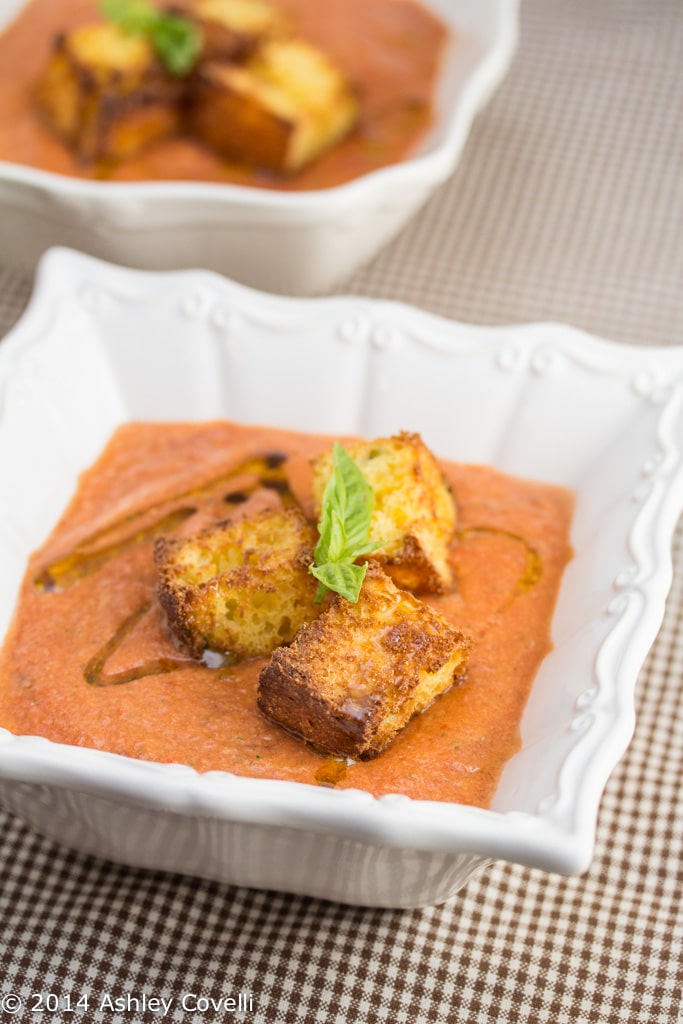 The cornbread croutons were a perfect addition to this gazpacho. I kept dropping more and more of them into my bowl. My toddler was all about chomping on them, too!
I baked them for less time than indicated (for the second baking) because they were getting nice and golden already and I didn't want to risk burning them.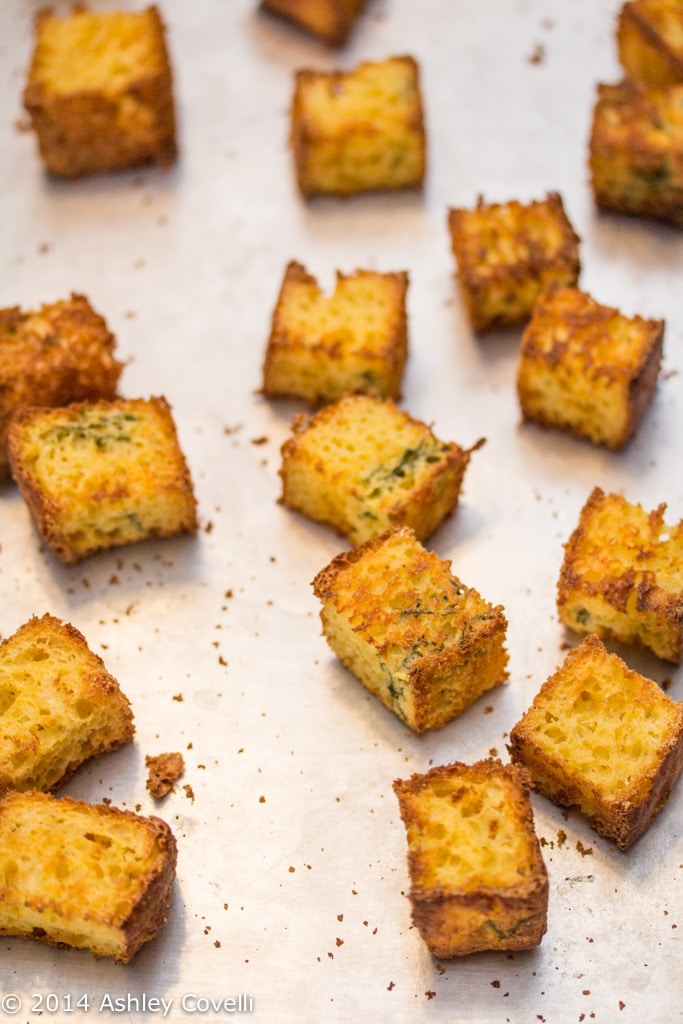 This soup is the perfect way to celebrate the flavors of summer. Cool, refreshing and full of freshness.
Gazpacho with Basil Cornbread Croutons
In Sock Monkey Slippers
serves 6
Basil Cornbread Croutons:
1 cup all-purpose flour
¾ cup cornmeal
¼ cup sugar
2 tablespoons baking powder
1 teaspoon salt
1 ¼ cup milk
2 eggs
½ cup basil leaves
Gazpacho:
3 pounds ripe tomatoes
2 red bell peppers, seeded
1 cucumber, seeded
1 shallot, peeled
½ cup parsley leaves
½ cup extra virgin olive oil
⅓ cup red wine vinegar
½ teaspoon kosher salt
¼ teaspoon fresh ground black pepper
* note: this recipe is great to make a day ahead of serving. You can also make the crutons in advance as well and store in a container for up to a week.
1. Preheat oven to 350°F. For the Croutons: In a large bowl, mix to combine flour, cornmeal, sugar, baking powder, and salt. In another bowl, mix to combine milk and eggs. Pour the wet ingredients into the dry and stir until just incorporated.
2. With a knife, or the chopper attachment on the hand blender, chop the basil and add it to the batter. Pour the batter into a greased 9″x9″ baking pan and place in the oven. Bake for 35 to 40 minutes until golden and a toothpick inserted in the center comes out clean.
3. Remove the cornbread from the pan and allow to cool. Preheat the oven to 400°F. With a knife, slice the cornbread into cubes and place on a baking sheet.Bake for 30 to 35 minutes, flipping once, until the croutons are crunchy. Set aside to cool.
4. For the gazpacho: With the chopper attachment on the hand blender, dice the tomatoes, red bell peppers, cucumber, shallot, and parsley — place in a large bowl. Add olive oil, vinegar, salt, and pepper.
5. With the hand blender on high, puree until smooth. If you don't happen to have a hand blender, place ingredients in a blender or food processor and puree. Taste and add additional salt and pepper if necessary. Place in the refrigerator for at least an hour or overnight before serving. Pour into serving bowls and top with a drizzle of extra virgin olive oil and croutons.
Big Flavors Rating: 4 Stars