This post may contain affiliate links, which won't change your price but will share some commission.
I love farro and am always looking for new ways to use it. So when I saw this side dish featuring another favorite ingredient (tomatoes!) in my Cooking Light magazine, I knew I had to make it.
Plus, I got to top it with cheese. What could be better?!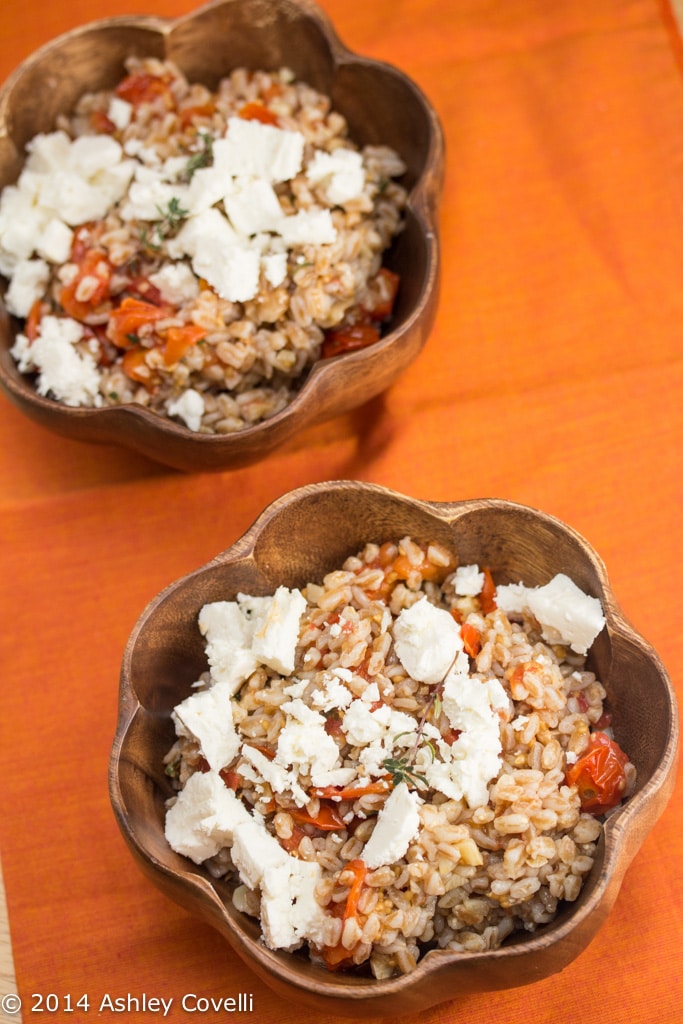 Tomatoes are roasted with honey and garlic until soft and sweet, then tossed with chewy farro, toasted walnuts, salty feta and fresh thyme. This can be made ahead of time and popped in the refrigerator for a few hours while the flavors mingle, which makes it perfect for busy weeknights or dinner parties.
This was a big hit with my family. I'll definitely be making it again.
Farro with Honey-Garlic Roasted Tomatoes
Cooking Light December 2014
Recipe Time:
Hands-on: 15 Minutes
Total: 1 Hour
Serves 6 (serving size: about ½ cup)
1 ½ tablespoons olive oil
1 tablespoon honey
3 garlic cloves, minced
1 pound cherry or grape tomatoes, halved lengthwise
¾ cup uncooked farro
1 ½ teaspoons sherry vinegar
⅝ teaspoon kosher salt
3 tablespoons toasted walnuts, coarsely chopped
2 ounces feta cheese, crumbled (about ½ cup)
2 teaspoons chopped fresh thyme
Preparation
1. Preheat oven to 375°.
2. Combine oil, honey, and garlic in a large bowl. Add tomatoes; gently, with your hands, toss until thoroughly coated. Pour tomatoes onto a jelly-roll pan; turn tomatoes until they're all cut side down. Draw tomatoes together until they're cozy and touching. If there's any honey mixture left, drizzle over tomatoes. Bake at 375° for 20 to 25 minutes or until wrinkled and soft but not mushy; do not brown. (Note: Grape tomatoes may take less time than cherry tomatoes.) Remove tomatoes from oven; cool to room temperature.
3. While tomatoes cook, place farro in a medium saucepan; cover with water to 2 inches above farro. Bring to a boil. Cover, reduce heat, and simmer 15 minutes or until nicely chewy and not puffed open and starchy. Drain and rinse with cold water; drain.
4. Combine farro, tomato mixture, vinegar, and salt in a large bowl; toss gently to combine. Top with walnuts and feta; garnish with thyme. Serve immediately, or let the flavors marry in the fridge for an hour or 2.
Calories 191
Fat 8.4 g
Satfat 2.1 g
Monofat 3.3 g
Polyfat 2.2 g
Protein 6 g
Carbohydrate 25 g
Fiber 4 g
Cholesterol 8 mg
Iron 2 mg
Sodium 310 mg
Calcium 73 mg
Big Flavors Rating: 4 Stars