This post may contain affiliate links, which won't change your price but will share some commission.
Stop what you're doing and make this salad. Oh. My. Goodness. Let me warn you - this recipe needs a total of 1 hour of sitting time. I didn't realize that when I set out to make it, and I was super annoyed. I get cranky when I'm hungry, what can I say? But let me tell you, it is SO worth it. This salad has so many things that I love in it, and it's cool and refreshing and perfect for the warm weather that we're finally getting here in New York. It's crunchy, creamy, cool, salty and super satisfying. I will definitely be making this again. I love the author's suggestion of using a ring mold to make it look fancy, too. Great for dinner parties... although I'd have to quadruple the recipe if I was expected to share it ;).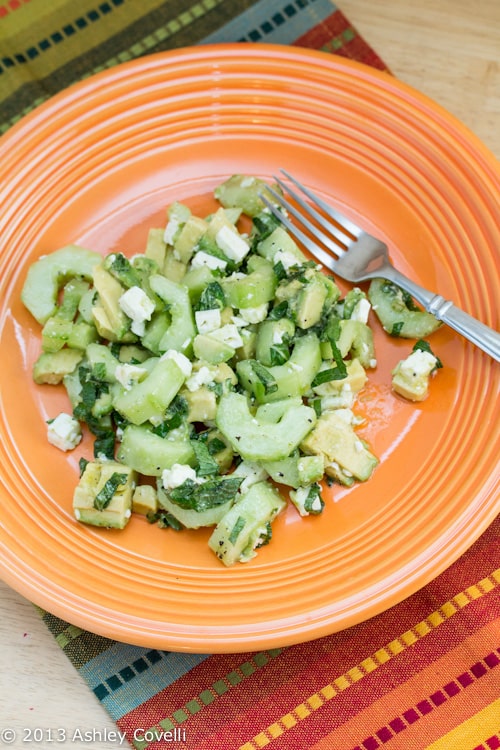 Crunchy Creamy Cucumber Avocado Salad
Deux Dilettantes via Food52
Author Notes: This salad is amazingly smooth and refreshing. You will feel clean after so much green, yet satisfied. The feta and avocado impart a velvety, almost buttery, texture. But, just before your palate gets too comfortable, the crunch of the cucumber reminds you that this salad has some character and won't give up without a fight! Finally, the sour lime and the crisp mint cut through it and provide unity. It's like an explosion of textures and flavors in the mouth, working a little like a cocktail, with flavors layered on top of one another. This is what I call summertime comfort food.
Serves 2 (main) or 4 (side)
2 large cucumbers
Salt
2 ripe avocados
½ cup chopped mint
Juice and zest of ½ lime
4 ounces feta cheese, diced
2 tablespoons olive oil
2 tablespoons lime juice
Pepper to taste (or lemon pepper)
Peel the cucumbers, cut them in half lengthwise and scrape out the seeds with a teaspoon. Cut cucumbers into ½-inch pieces and put in a colander. Generously sprinkle with salt and let sit in the sink for 30 minutes to drain. This will prevent your salad from getting watery. Quickly rinse and blot dry with paper towel.
While cucumbers are draining, dice the avocados into ½-inch pieces and put into a salad bowl. Drizzle with lime juice and toss gently.
Wash and coarsely chop the mint. Chop the lime zest.
In a bowl, whisk together 2 tablespoons olive oil, 2 tablespoons lime juice and lime zest to make dressing.
Add drained cucumbers, mint, feta cheese and dressing to the avocados and gently combine. Add pepper (or lemon pepper) to taste. Cover and let stand in refrigerator for about 30 minutes to allow the flavors to blend.
If you feel like impressing your guests (or just having a fancy meal), try to make domes using a ring mold. Fill the ring mold with the salad, and then remove the mold. It's a great way to structure your food and enhance the presentation of your plate!
Big Flavors Rating: 5 Stars