This post may contain affiliate links, which won't change your price but will share some commission.
I frequent my local library more often now that I have a son. Sometimes, I wander up to the cookbook section to grab a cookbook, and almost always end up walking away with half a dozen.
This week, one of the books I picked up had a recipe for a dish I have had before, but never tried making at home. I have to admit, the idea of pan-frying dry ramen noodles was pretty intriguing to me.
I made a few changes here - I didn't have slivered almonds, so I just roughly chopped some, and I put them in the same pan with the ramen. Why dirty an extra skillet? It took a little longer to brown, but it was fine.
This slaw turned out really well. Definitely nice and crunchy, as well as tangy from the vinegar. It was bright and colorful - a nice contrast to the gloomy weather we've been having lately.
The recipe intro suggests an alternative method using broccoli slaw and chopped broccoli florets instead of the cabbage slaw and bell peppers, which sounds pretty good, too. I think it would also be tasty with some grilled chicken on top for a light lunch.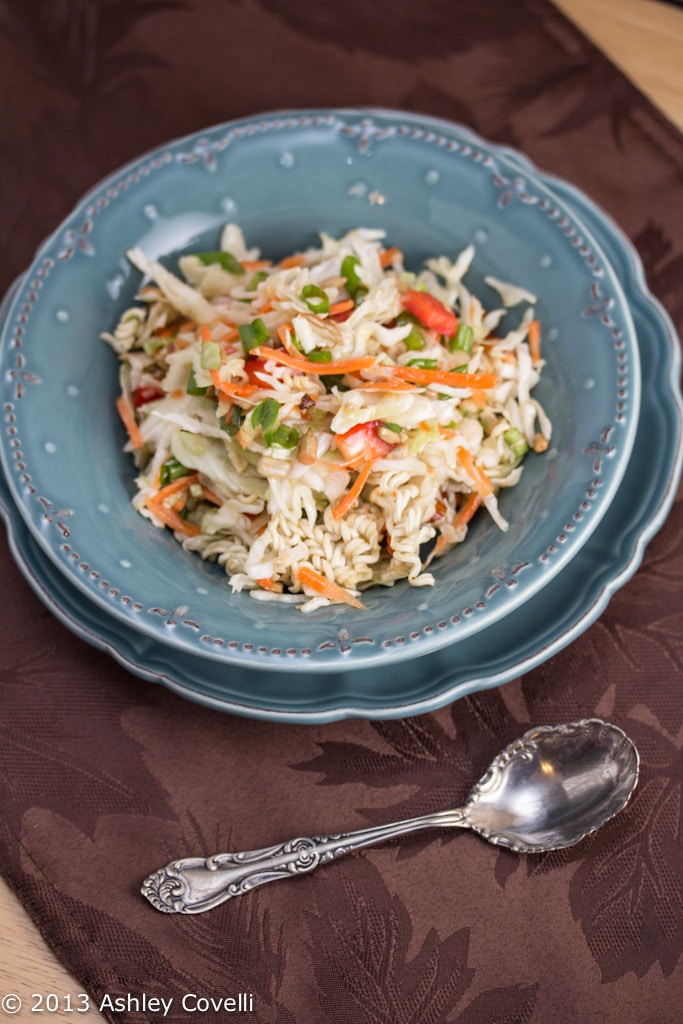 Crunchy Coleslaw
Quick, Cheap Comfort Food: 100+ Fresh Recipes for Meals in a Hurry - Victoria Shearer
Serves 6-8
Prep time: 15-18 minutes
1 package chicken-flavored ramen noodles
¼ cup slivered almonds
¼ cup sugar
¼ cup white vinegar
½ cup olive oil
1 (16-ounce) package 3-color cabbage slaw mixture
1 cup chopped red bell peppers
5 scallions, chopped
½ cup roasted sunflower seeds
Crush ramen noodles in package. Place almonds and ramen noodles (reserve seasoning packet) in 2 separate small skillets over medium-low heat. Toast the nuts and noodles, stirring occasionally, until lightly browned, about 5 minutes. Set aside.
Meanwhile, place ramen noodle flavor packet, sugar, and vinegar in a small bowl. Whisk to combine. Slowly add olive oil, whisking constantly. Set aside until needed.
Place slaw, bell peppers, and scallions in a large bowl. Add toasted noodles, almonds, and sunflower seeds. Toss to combine. Pour dressing over salad to taste. Toss until mixture is well coated with dressing.
To prepare in advance: Combine noodles, almonds, and sunflower seeds in a small zipper bag and set aside at room temperature. Combine slaw, bell peppers and scallions in serving bowl; cover with plastic wrap; and refrigerate until needed. Prepare dressing and refrigerate in a covered container until needed. Just before serving, combine slaw mixture, noodle mixture, and dressing, and toss to combine. Double this recipe to feed a gang.
Big Flavors Rating: 4 Stars