This post may contain affiliate links, which won't change your price but will share some commission.
A refreshing Japanese seafood meal with a kick!
Summer is winding down, vacations have come and gone, and things are getting back to normal in my tiny kitchen. It's amazing how much a little routine can help calm the craziness of life.
My son started Pre-K yesterday, and now that he'll be in school 5 mornings a week, I'm excited to catch up on the things that I couldn't get to this summer, including posting regularly here again. I have so many delicious recipes to share, plus a few of the food-focused trips I took over the summer. Lots of deliciousness is in the works!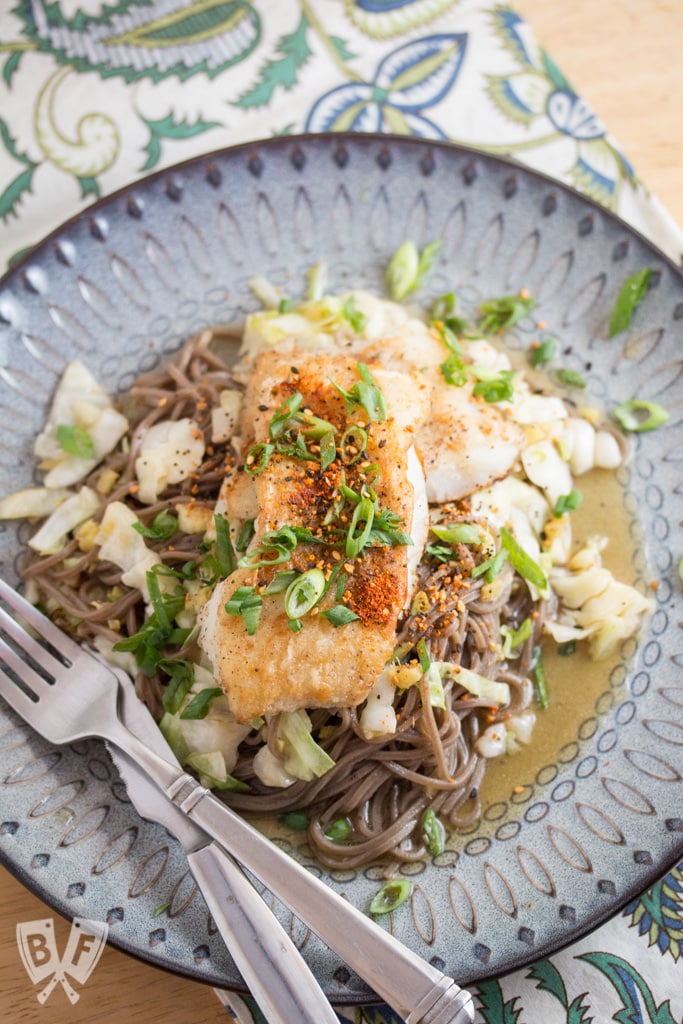 This meal is one that I made from Blue Apron a while back. I usually buy a box from them once or twice a month to help make meal planning/cooking easier, especially when I'm on a tight deadline. It's also a fun way to try out new ingredients and recipes without having a ton leftover. And we also like that it's portion controlled.
This cod dish was light and refreshing, with just the right amount of kick from the Togarashi spice blend.
I really enjoyed the mix of citrus and spice, and the fish was beautifully flaky. This is definitely one we'd enjoy again!
2 Cod Fillets
5 Ounces Soba Noodles
6 Ounces Green Cabbage
2 Scallions
1 1-Inch Piece Ginger
1 Tablespoon Mirin
1 Tablespoon Yuzu Juice
¼ Cup All-Purpose Flour
¼ Cup Light Soy Sauce
1 Teaspoon Togarashi Spice Blend (Sweet Paprika, Hot Paprika, Dried Orange Peel, Poppy Seeds, White Sesame Seeds & Black Sesame Seeds)
See Blue Apron for the full recipe.