This post may contain affiliate links, which won't change your price but will share some commission.
I can't believe it's already the last week in our celebration of 12 Weeks of Winter Squash! It's been a great  run, and there has been a lot of deliciousness posted by a wonderful group of bloggers. I'm honored to have been included!
I had a bit of a squash mishap this week - let's just say that my fresh butternut squash cubes were freakishly slimy a bit past their prime - so I substituted frozen. I figured that roasting them wouldn't necessarily work out too well. When I took them out to turn them, they just kind of collapsed into a big pile-o-mush, so I figured I'd just smash them together a bit more and call it a mash.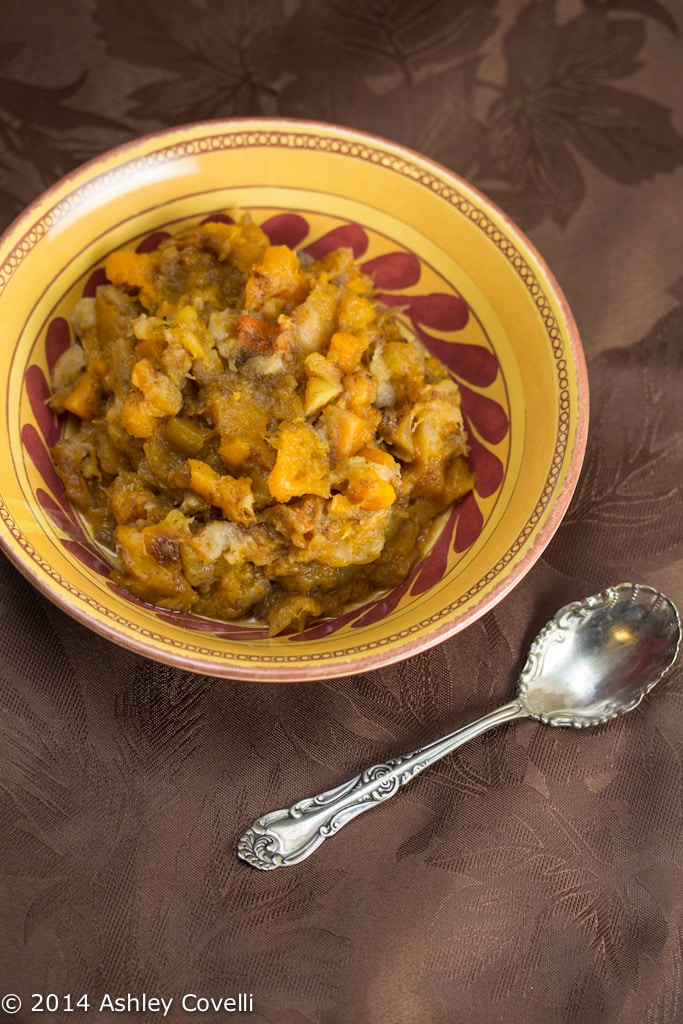 It worked out fine - I would have preferred them to be nice and golden on the edges, but this mash tasted great! The sweetness of the squash is wonderful, and there's a tiny bit of heat from the cayenne.
Be sure to click through to Inspired Taste to see some great tips on cutting butternut squash. They can be tricky, which is why I usually buy them already cut. I just don't have the patience for them sometimes!
I'll definitely try this out again sometime with fresh squash. Check out the roundup after the recipe below for more winter squash fun. And yes, I've already started a petition for 12 Weeks of Summer Squash 😉
Cinnamon Roasted Butternut Squash
Inspired Taste
Prep time: 15 minutes
Cook time: 45 minutes
Total time: 1 hour
Yield: 4 (1 cup) servings
1 large butternut squash, peeled, seeded and cut into 1-inch cubes (about 3 pounds or 8 cups, cubed)
2 tablespoons olive oil
2 tablespoons brown sugar
½ teaspoon ground cinnamon
1 teaspoon kosher salt
Dash cayenne, optional
Prepare Squash: Heat oven to 425º F and line two large baking sheets with aluminum foil.
Toss squash cubes with olive oil, brown sugar, cinnamon, salt and the cayenne until well coated. Tumble coated squash onto baking sheets and spread into one layer. Try not to crowd them too much or else they will not brown.
Roast Squash: Roast squash, turning once and rotating pans once, until edges are lightly browned and centers are tender; 40 to 45 minutes. (Since ovens can often run hotter than you have heated them to, check the squash every so often to make sure they are not roasting quicker than expected).
Big Flavors Rating: 4 Stars