This was one of the more unique meals we've tried from Blue Apron so far. Sweet, crunchy pistachios give a wonderful bit of crunch to the tender chicken and herbed veggies.
I wasn't expecting to be a big fan of the mix of vegetables in this dish, but I ended up really liking it. There was a nice variety of colors and textures, which made it all the more enjoyable to eat. I definitely found myself rationing the bits of candied pistachios toward the end so I could enjoy it with my final bites.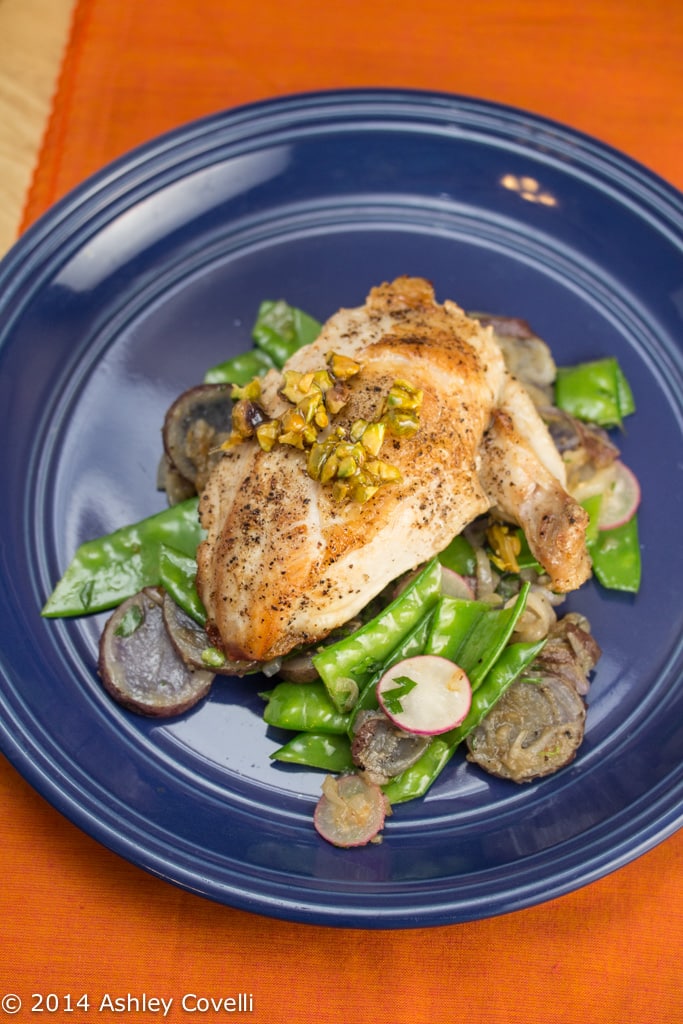 I'm glad that Blue Apron has been using the Airline cut - a boneless, skin-on chicken breast with the drumette attached. It looks and feels a bit nicer than your standard chicken breast. And cooking them is a cinch!
Just a note – the recipes from Blue Apron call for "1 bunch" of herbs, and that correlates to the size of the "bunch" they send if you're using their service (which I'm absolutely in love with!). I'd say their bunches are about 1-2 tablespoons.
4 Ounces Baby Purple Potatoes
3 Ounces Snow Peas
3 Radishes
1 ½ Tablespoons Roasted, Salted Pistachios
2 Airline Chicken Breasts
1 Bunch Tarragon
1 Shallot
1 Tablespoon Sugar
1 Tablespoon Butter
See Blue Apron for the full recipe.