This post may contain affiliate links, which won't change your price but will share some commission.
If you follow me on Instagram, you may have seen that I bookmarked this recipe a while back. I checked out this book from the library and this was the first recipe I bookmarked. I initially thought the book was going to be mostly meat-free recipes with a few meaty ones mixed in, but it turns out that it's more like recipes that use a little bit of meat instead of large amounts, and then there are other ingredients to bulk the recipes up. This recipe tasted really great, but there  was something off with the quantities, and also maybe I didn't cut the cauliflower small enough, and maybe my head of cauliflower was larger than what was called for. Next time, I'd double the mayonnaise part, and then really chop up the cauliflower - maybe even in the food processor. Again, the flavor was wonderful, but it just wasn't executed quite right.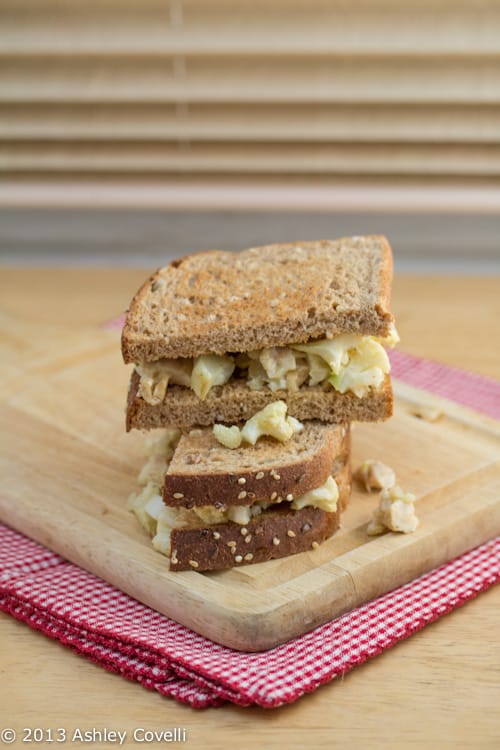 Chicken and Curried Cauliflower Salad Sandwiches
Almost Meatless - Joy Manning & Tara Mataraza Desmond
Serves 4 to 6
1 medium head cauliflower, chopped into 2-inch pieces (about 6 cups)
1 tablespoon plus 1 teaspoon canola oil
1 teaspoon hot curry powder
Kosher salt and freshly ground black pepper
1 (1-pound) bone-in, skin-on chicken breast
Mayonnaise
1 egg yolk
1 ½ teaspoons white wine vinegar
⅛ teaspoon salt
3 grinds black pepper
¼ teaspoon mustard
½ cup canola oil
2 scallions, white and green parts, sliced very thin
½ teaspoon hot curry powder
2 tablespoons grated onion
⅓ cup salted roasted cashews, coarsely chopped
⅓ cup golden raisins
Toasted slices rye, pumpernickel, or other brown bread
To prepare the cauliflower and chicken, arrange 2 racks in the oven and preheat to 400°F. Toss the cauliflower with the 1 tablespoon oil, curry powder, and ¼ teaspoon salt in a bowl, and arrange in a single layer on a rimmed baking sheet or in a glass baking dish. Put the chicken in a roasting pan or on a rimmed baking sheet, brush with remaining 1 teaspoon oil, and season with salt and pepper. Transfer both to the oven, one on each rack. Roast the cauliflower for 20 minutes. Remove from the oven and let cool. Let the chicken roast for an additional 10 to 15 minutes (30 to 35 minutes total), until a meat thermometer registers 160°F. Remove from the oven and cool.
To make the mayonnaise, whisk the egg yolk with the vinegar, salt, pepper, and mustard in a bowl. When well combined, begin adding the oil very slowly, a few drops at a time, until about a quarter of the oil has formed a smooth emulsion with the yolk. Add the remaining oil in a slow, steady stream, whisking constantly. To this half-cup of basic mayo, add the scallions, curry powder, and the grated onion. Taste for seasoning and adjust as needed, and refrigerate until ready to use.
To prepare and serve the salad, when the chicken is cool, remove and discard the skin, cut the meat from the bone, and dice it into ½-inch pieces. Give the cauliflower a rough chop so the pieces are no more than ½ inch. In a large bowl, combine the chicken, cauliflower, mayo, cashews, and raisins and toss until well mixed. Taste for seasoning, adding more salt, pepper, or curry if you like. Scoop the salad onto toasted bread and enjoy.
Tip: When making the mayo, pouring the oil from a measuring cup with a spout or squeeze bottle makes it easier to control the flow.
Big Flavors Rating: 4 Stars