This post may contain affiliate links, which won't change your price but will share some commission.
One of my best friends was in New York from Wisconsin recently to visit her sister, brother-in-law and their new baby girl. She was upstate, but rented a car to drive down to visit me for a day so we could catch up, get in some long overdue hugs and laughs and cook a nice vegetarian meal for her to bring back upstate to the new parents.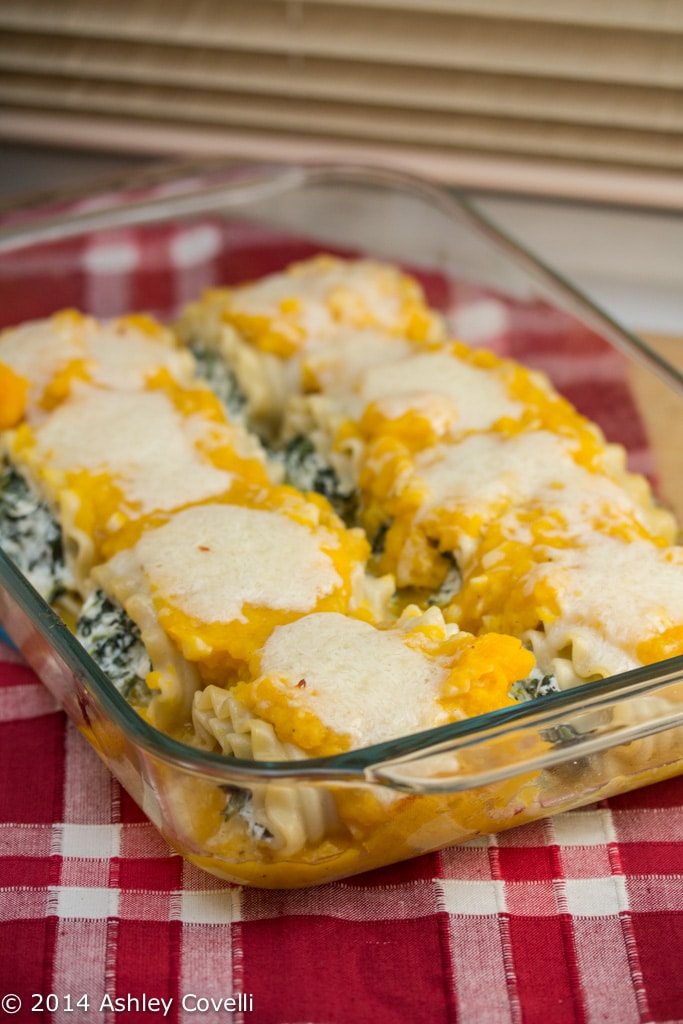 She recommended lasagna, and I was excited to try out this recipe that I've had pinned for quite some time now. I doubled the recipe so I could send one tray back with her, and we could enjoy one for dinner that night.
A few notes... this recipe took quite a bit of effort to pull off. You have to cook squash, cook lasagna noodles, thaw spinach, make a spinach/cheese mixture, blend a sauce (I used an immersion blender so I didn't have to get the blender dirty, too), and then dry off the lasagna noodles before you roll them up and pile them in the dish with the sauce and more cheese. Phew! It's worth it, but it took a lot longer than I was expecting.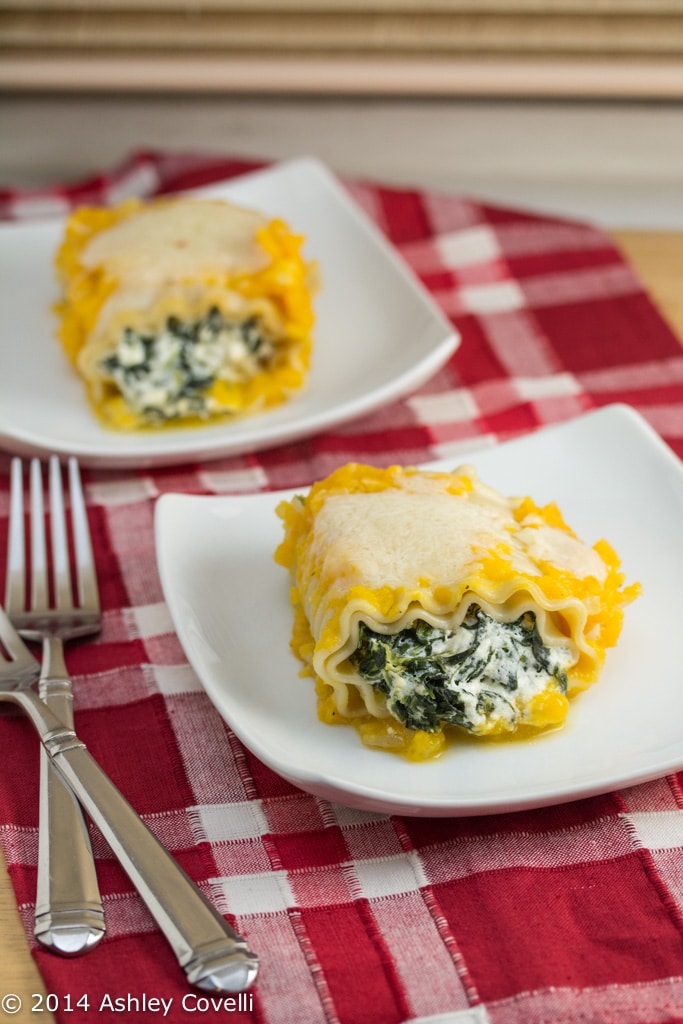 We all really enjoyed the flavor combination, but felt that it was a little bland. A few extra grinds of salt and pepper and a bit of freshly grated nutmeg did the trick for us. The spinach went really well with the sweetness of the squash. Not to mention I love cheese, and this had lots! And leftovers were great for lunch with a fried egg on top!
I think this is a great idea for a recipe, and I want to roll up all sorts of things in these individual portions now. I will say that one roll is nowhere near enough for dinner, unless you have a side salad or something else to go with it. We each ate 2-3 and were satisfied. I was able to fit 8 rolls in each pan, so I had a few cooked lasagna noodles leftover.
I'd say this is worth doubling and freezing some with the directions below. I also think it would be awesome with meat sauce. Yum!
Butternut Squash Lasagna Rolls
The Skinnytaste Cookbook - Gina Homolka (via Epicurious)
Serves 9, Serving size 1 lasagna roll
Butternut Squash
1 pound peeled butternut squash, diced
kosher salt
Lasagna Rolls
1 teaspoon olive oil
¼ cup minced shallots
2 cloves garlic, minced
2 ½ tablespoons fresh grated parmesan cheese
10 ounces frozen chopped spinach, cooked according to package directions, cooled, and squeezed dry
1 ¾ cups (15 ounces) fat-free ricotta cheese
½ cup grated Parmesan cheese
1 large egg
½ teaspoon kosher salt
Freshly cracked black pepper
9 lasagna noodles, wheat or gluten-free, cooked
9 tablespoons shredded part skim mozzarella cheese (about 3 ounces)
Preheat the oven to 350°F.
For the butternut squash
Place squash in a large pot with enough water to cover the squash by 2 inches. Add 1 teaspoon salt and bring to a boil. Cover and cook over medium-low heat until soft, about 12 to 14 minutes. Remove butternut squash with a slotted spoon and place in a blender with ¼ cup of the liquid it was cooked in. Reserve an additional 1 cup of liquid and set aside.
For the lasanga rolls
In a medium nonstick skillet, add the oil and saut¿he shallots and garlic over medium-low heat until soft and golden, about 4 to 5 minutes. Add pureed butternut squash, season with ¼ teaspoon salt and a pinch of fresh cracked pepper adding about ½ cup to ¾ cup of the reserved liquid to thin out the sauce until smooth. Stir in the parmesan cheese and set aside.
In a medium bowl, combine the spinach, ricotta, the remaining ½ cup Parmesan, egg, ¼ teaspoon salt, and the black pepper.
Ladle about ½ cup of the butternut sauce into the bottom of a 9 ¿13-inch baking dish.
Put a piece of wax paper on a work surface and lay the cooked lasagna noodles out on it. Make sure the noodles are dry. Spread ⅓ cup of the ricotta mixture over each noodle. Carefully roll them up and put them seam side down in the baking dish. Ladle the remaining sauce over the lasagna rolls and top each with 1 tablespoon mozzarella. Tightly cover the dish with foil.
Bake until the inside is heated through and the cheese is melted, about 40 minutes.
Skinnyscoop:
For best freezing results, freeze the lasagna rolls after you bake them in a freezer-safe zip-top bag or container. To reheat put the frozen lasagna rolls in a baking dish. Cover with foil and bake at 375°F for 45 to 50 minutes.
Big Flavors Rating: 4 Stars