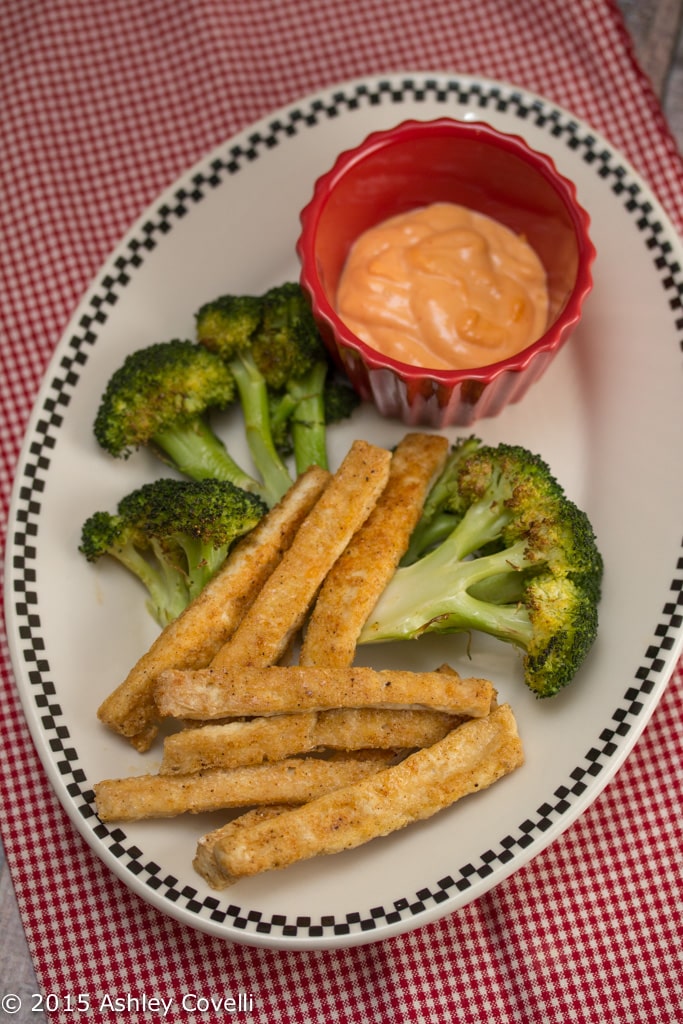 Broccoli Steaks with Tofu Fries
This post may contain affiliate links, which won't change your price but will share some commission.
Tofu is coated with spices and cornstarch, crisped in the oven and served with a garlicky Sriracha mayo dipping sauce.
This was another recipe from the latest issue of Cooking Light. It's a tasty vegetarian meal, and although the broccoli was nothing special, we really enjoyed the tofu fries and were seriously addicted to the sauce.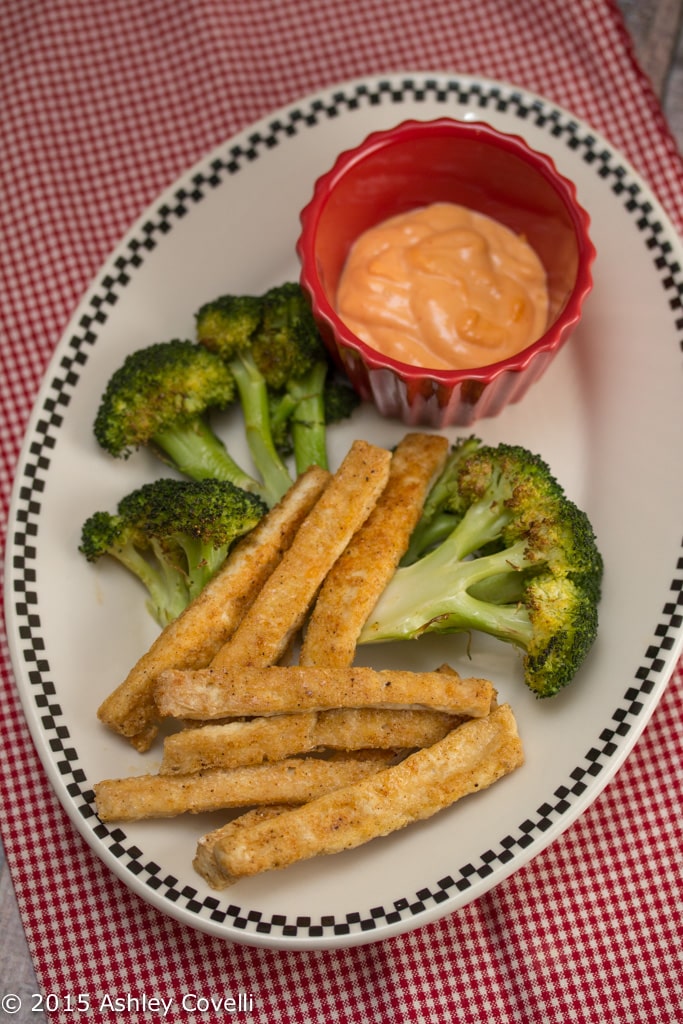 I really liked the method of seasoning the tofu and putting them on a hot baking sheet and baking them till crispy. I'd definitely make those again. And that Sriracha mayo would be great on SO many things! I didn't have canola mayo, but I did have light, so I used that.
Broccoli Steaks with Tofu Fries
Cooking Light January/February 2015
Serves 4 (serving size: one-fourth of broccoli, 6 tofu fries, and about 1 tablespoon sauce)
Hands-on time: 30 Minutes
Total time: 40 Minutes
1 (14-ounce) package water-packed extra-firm tofu, drained
1 1/2 pounds broccoli crowns
1/4 cup water
3/4 teaspoon kosher salt, divided
3 tablespoons cornstarch
1 teaspoon garlic powder
1 teaspoon onion powder
1/2 teaspoon paprika
1/2 teaspoon freshly ground black pepper
3 tablespoons canola oil
1/4 cup canola mayonnaise
1 1/2 teaspoons Sriracha (hot chile sauce, such as Huy Fong)
1 garlic clove, grated
Preparation
1. Place a large jelly-roll pan in oven. Preheat oven to 500° (leave pan in oven as it preheats).
2. Cut tofu crosswise into 4 (1/2-inch-thick) slabs. Arrange slabs on several layers of paper towels; cover with additional paper towels. Weight tofu down with a large skillet or roasting pan; let stand 5 minutes.
3. While tofu drains, place broccoli in a large microwave-safe dish. Add 1/4 cup water. Cover with plastic wrap; microwave at HIGH for 5 minutes. Uncover and cool slightly.
4. Uncover tofu; sprinkle evenly with 1/2 teaspoon salt. Cut each tofu slab lengthwise into 6 thin strips. Combine cornstarch and next 4 ingredients (through pepper) in a shallow dish. Gently dredge tofu in cornstarch mixture, gently shaking off excess.
5. Remove pan from oven. Add oil to pan; carefully tilt pan to coat evenly with oil. Add tofu to pan. Bake at 500° for 10 minutes.
6. Cut broccoli into 1-inch-thick "steaks." Remove pan from oven; carefully turn tofu over using a thin metal spatula, and move to one side of pan. Add broccoli to other side of pan. Bake at 500° for 10 minutes, turning broccoli after 5 minutes. Sprinkle with remaining 1/4 teaspoon salt.
7. Combine mayonnaise, Sriracha, and garlic. Serve with tofu and broccoli.
Nutritional Information:
Calories 325
Fat 21 g
Satfat 2 g
Monofat 10.2 g
Polyfat 8 g
Protein 14 g
Carbohydrate 22 g
Fiber 5 g
Cholesterol 0.0 mg
Iron 3 mg
Sodium 562 mg
Calcium 156 mg
Big Flavors Rating: 3 Stars