This post may contain affiliate links, which won't change your price but will share some commission.
Tofu is coated with spices and cornstarch, crisped in the oven and served with a garlicky Sriracha mayo dipping sauce.
This was another recipe from the latest issue of Cooking Light. It's a tasty vegetarian meal, and although the broccoli was nothing special, we really enjoyed the tofu fries and were seriously addicted to the sauce.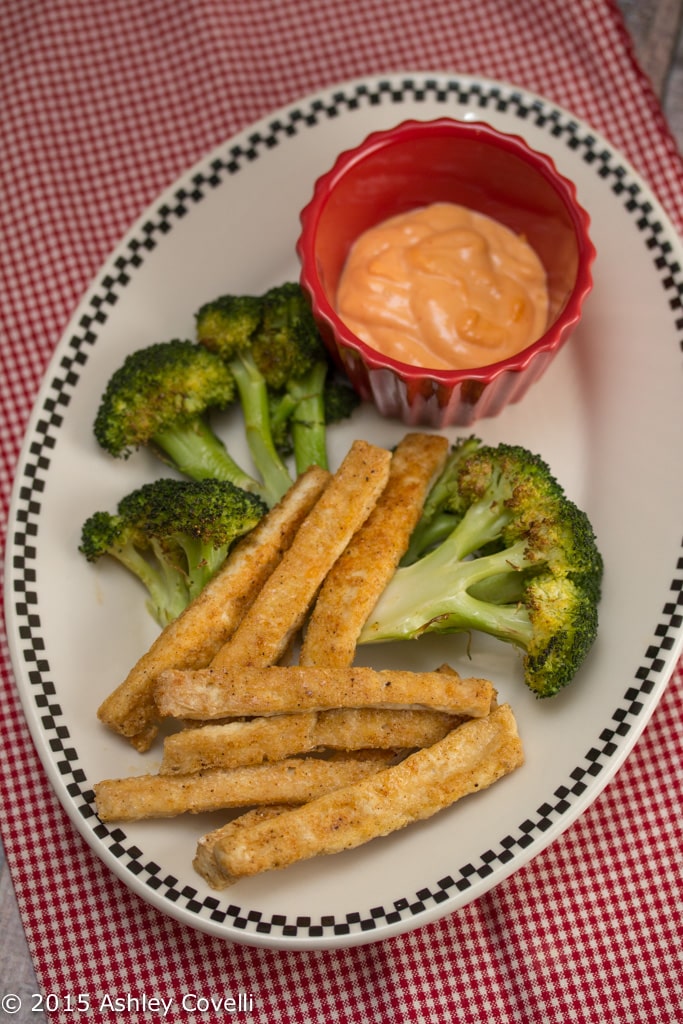 I really liked the method of seasoning the tofu and putting them on a hot baking sheet and baking them till crispy. I'd definitely make those again. And that Sriracha mayo would be great on SO many things! I didn't have canola mayo, but I did have light, so I used that.
Broccoli Steaks with Tofu Fries
Cooking Light January/February 2015
Serves 4 (serving size: one-fourth of broccoli, 6 tofu fries, and about 1 tablespoon sauce)
Hands-on time: 30 Minutes
Total time: 40 Minutes
1 (14-ounce) package water-packed extra-firm tofu, drained
1 ½ pounds broccoli crowns
¼ cup water
¾ teaspoon kosher salt, divided
3 tablespoons cornstarch
1 teaspoon garlic powder
1 teaspoon onion powder
½ teaspoon paprika
½ teaspoon freshly ground black pepper
3 tablespoons canola oil
¼ cup canola mayonnaise
1 ½ teaspoons Sriracha (hot chile sauce, such as Huy Fong)
1 garlic clove, grated
Preparation
1. Place a large jelly-roll pan in oven. Preheat oven to 500° (leave pan in oven as it preheats).
2. Cut tofu crosswise into 4 (½-inch-thick) slabs. Arrange slabs on several layers of paper towels; cover with additional paper towels. Weight tofu down with a large skillet or roasting pan; let stand 5 minutes.
3. While tofu drains, place broccoli in a large microwave-safe dish. Add ¼ cup water. Cover with plastic wrap; microwave at HIGH for 5 minutes. Uncover and cool slightly.
4. Uncover tofu; sprinkle evenly with ½ teaspoon salt. Cut each tofu slab lengthwise into 6 thin strips. Combine cornstarch and next 4 ingredients (through pepper) in a shallow dish. Gently dredge tofu in cornstarch mixture, gently shaking off excess.
5. Remove pan from oven. Add oil to pan; carefully tilt pan to coat evenly with oil. Add tofu to pan. Bake at 500° for 10 minutes.
6. Cut broccoli into 1-inch-thick "steaks." Remove pan from oven; carefully turn tofu over using a thin metal spatula, and move to one side of pan. Add broccoli to other side of pan. Bake at 500° for 10 minutes, turning broccoli after 5 minutes. Sprinkle with remaining ¼ teaspoon salt.
7. Combine mayonnaise, Sriracha, and garlic. Serve with tofu and broccoli.
Nutritional Information:
Calories 325
Fat 21 g
Satfat 2 g
Monofat 10.2 g
Polyfat 8 g
Protein 14 g
Carbohydrate 22 g
Fiber 5 g
Cholesterol 0.0 mg
Iron 3 mg
Sodium 562 mg
Calcium 156 mg
Big Flavors Rating: 3 Stars