This post may contain affiliate links, which won't change your price but will share some commission.
The second offering that we brought to our Supper Club's annual cookie/candy swap was these bourbon-infused salted caramel candies. I actually had a different recipe lined up to make, but when I saw these on Sommer's Instagram feed, I made a last minute change to my game plan.
And I'm glad I did! These were a huge hit with both our Supper Club and my husband's co-workers. This recipe makes a TON of caramel candy, so it's perfect for gift giving!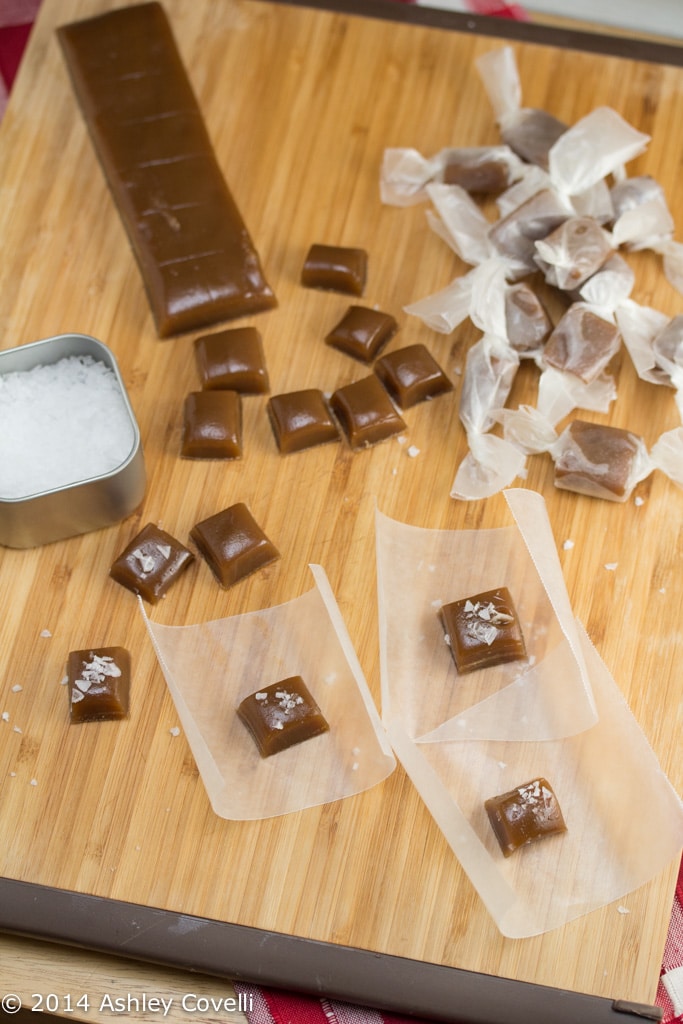 The only changes I made were that I didn't use California dairy, and I used unsalted butter (that's what I keep on hand), so I added ¼ teaspoon of kosher salt per stick of butter (so ½ teaspoon total for the recipe).
The caramel took quite some time to come to temperature. I ended up bringing a book into the kitchen to read while I waited (related: Mindy Kaling's book is a super fun read). Since that took so long, I decided to cool the caramel in the refrigerator overnight, and then the next morning, I took the container out and set it on the counter to come up to room temperature before cutting.
Cutting the caramels, salting them and wrapping them is quite an undertaking. Expect to spend quite a bit of time on it. But know that it will be totally worth it.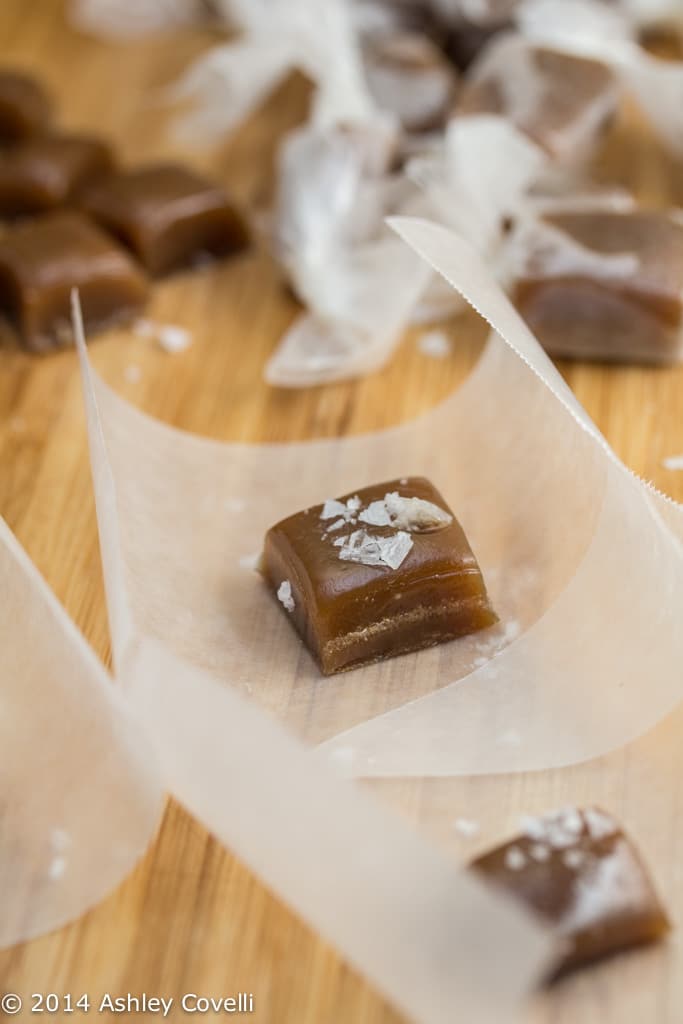 These bite-sized sweet-and-salty candies with a hint of bourbon are an impressive treat, perfect for holiday gift giving. A few of my husband's co-workers said that they'd put them in their mouths while sipping coffee and that it was pure heaven. They've been begging asking him to bring more ever since I made them!
Bourbon Salted Caramel Candy
A Spicy Perspective
2 cups packed brown sugar
1 cup granulated sugar
1 ½ cups California cream
1 cup salted California butter (2 sticks)
1 cup light corn syrup
½ cup bourbon
1 tablespoon vanilla extract
Course or flake sea salt
Place the sugars, heavy cream, butter, corn syrup and bourbon in a large sauce pot. Attach a candy thermometer to the edge of the pot with the tip touching the ingredients, then place over medium heat.
Bring to a boil, stirring occasionally, then reduce the heat to medium- low. Allow the mixture to simmer until it reaches 245-260 degrees F and is the desired color you like for caramel. If the temperature starts rising faster than the caramel is browning, lower the heat even more to give it time to caramelize.
Meanwhile, line a 9 X 13 inch baking dish with parchment paper and cut the corners so it folds into the dish neatly. Spray the parchment with non-stick cooking spray. Then prepare a cup of ice water to test the caramel. Once the caramel reaches at least 245 degrees F, use a spoon to drop a little bit of molten caramel into the ice water. Lift it out and test for texture. It should be firm enough to cut, yet soft enough to chew. If needed, simmer the caramel a little longer, but do not allow it to go over 260 degrees F. Once it's ready, stir in the vanilla extract.
Carefully pour the molten caramel into the prepared dish and allow it to cool completely. You can speed up the cooling process by placing the dish in the refrigerator. Once cooled, lift the whole sheet of caramel candy out of the dish by the edges of the parchment paper and cut into 1 inch squares. Sprinkle generously with sea salt, then wrap each candy in small pieces of wax paper.
NOTE: "California" butter and cream are butter and cream that are made in California.
Big Flavors Rating: 5 Stars