Hands-on virtual cooking classes designed to meet your needs
Private classes are such a great way to get individualized attention in the kitchen. Explore new recipes, techniques, and cuisines from the comfort of your own home.
My classes are laid back and interactive, as I encourage people to really enjoy cooking at home for themselves and their loved ones.
Popular types of private classes include:
1:1 classes for individual support
Small group classes
Special occasions and parties
Date nights
Customer appreciation events
Team building experiences
With a wide array of recipes and cooking techniques to offer, I just know that we'll find the perfect class to fit your needs.
Feel free to reach out via my contact form so we can discuss class options.
If you're looking for public classes, you can check out my full events schedule here.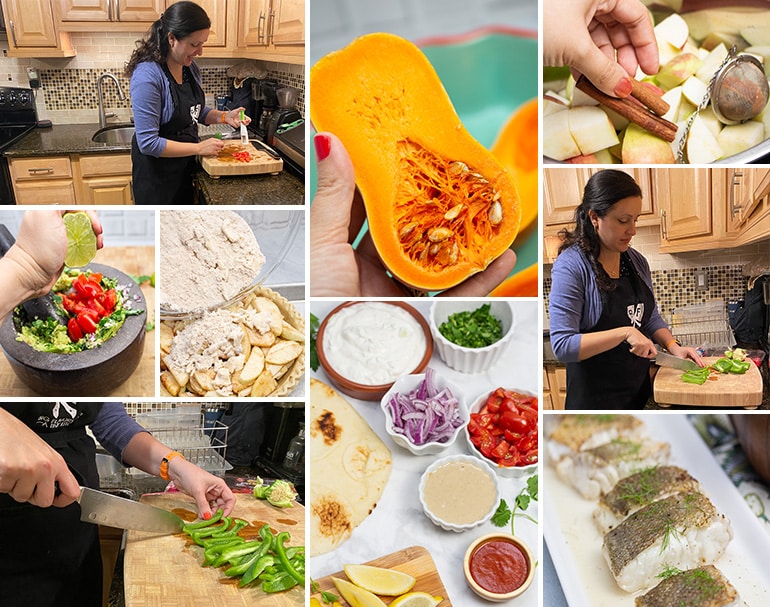 ---
Jump To:
---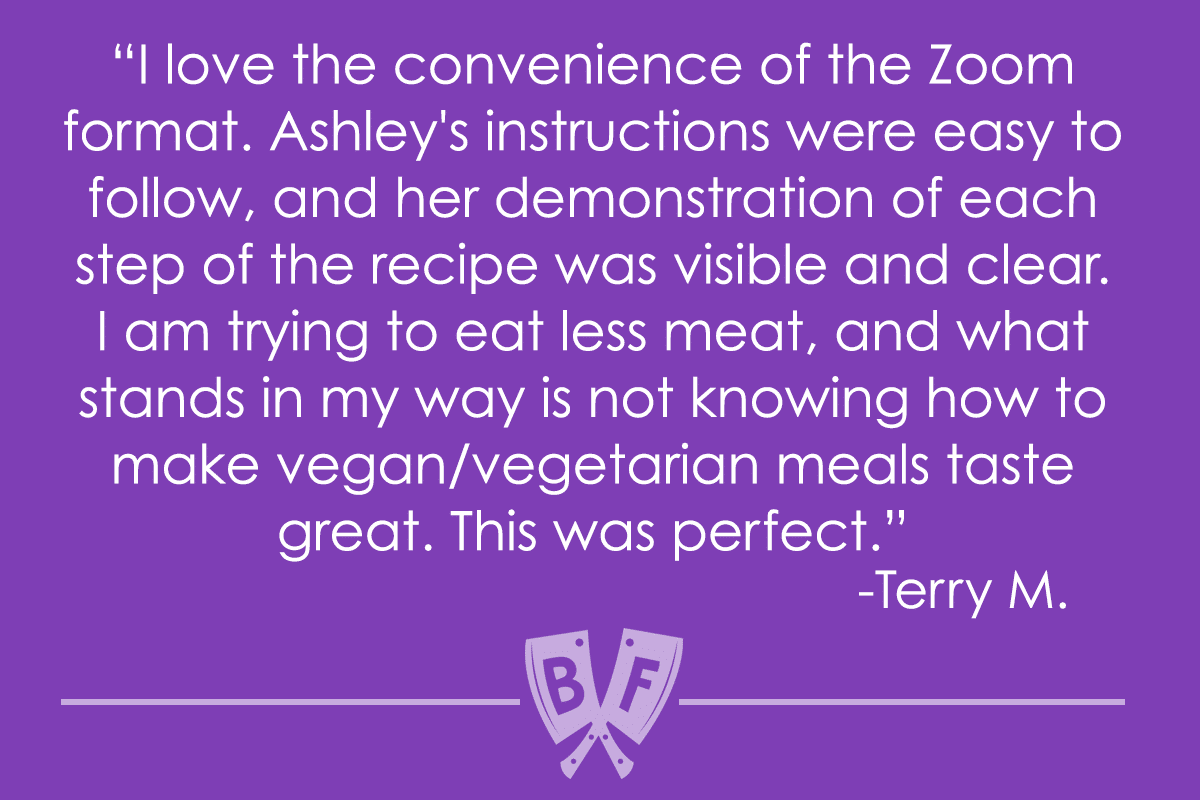 How virtual cooking classes work
Once you've chosen your class date and menu, I put together printable recipe cards as well as a list of any kitchen equipment/tools that are needed to participate.
I send that as a PDF along with Zoom information via email no later than 1 week before the event date.
I have a professional lighting, video, and audio setup with 2 cameras to make sure everything is easy to see so that participants are able to follow along.
Classes usually run for an hour, and I welcome questions and audience participation/feedback throughout the entire process. We have a lot of fun together!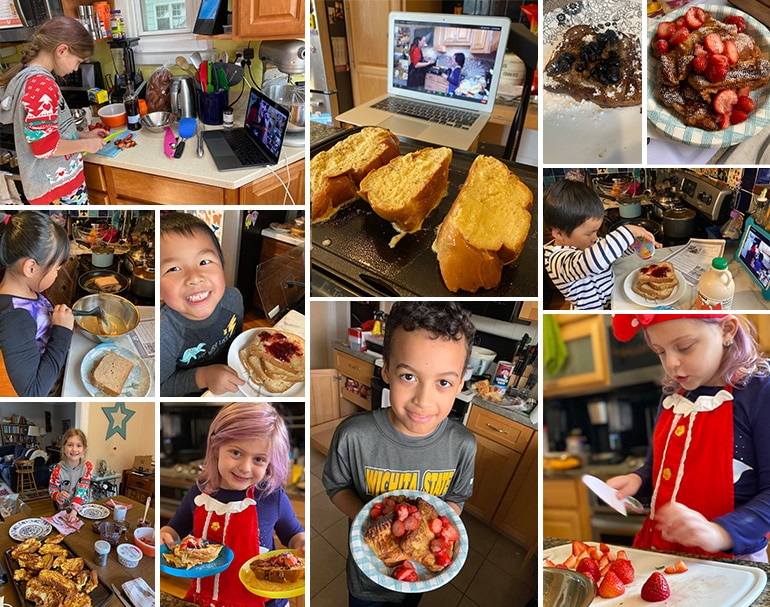 Examples of class themes and recipes
I have taught many, many different classes to kids, teens, adults, and families over the years. I have experience teaching everything from breakfast and brunch recipes to picnic and lunchbox-friendly spreads, appetizers and hors d'oeuvres for entertaining, family-friendly dinners, and delicious desserts.
There are many options to choose from, and I'm also happy to work with any themes or requests that you have. Many of my recipes are flexible enough to be made with meat-free alternatives if that's something that you think is of interest to you.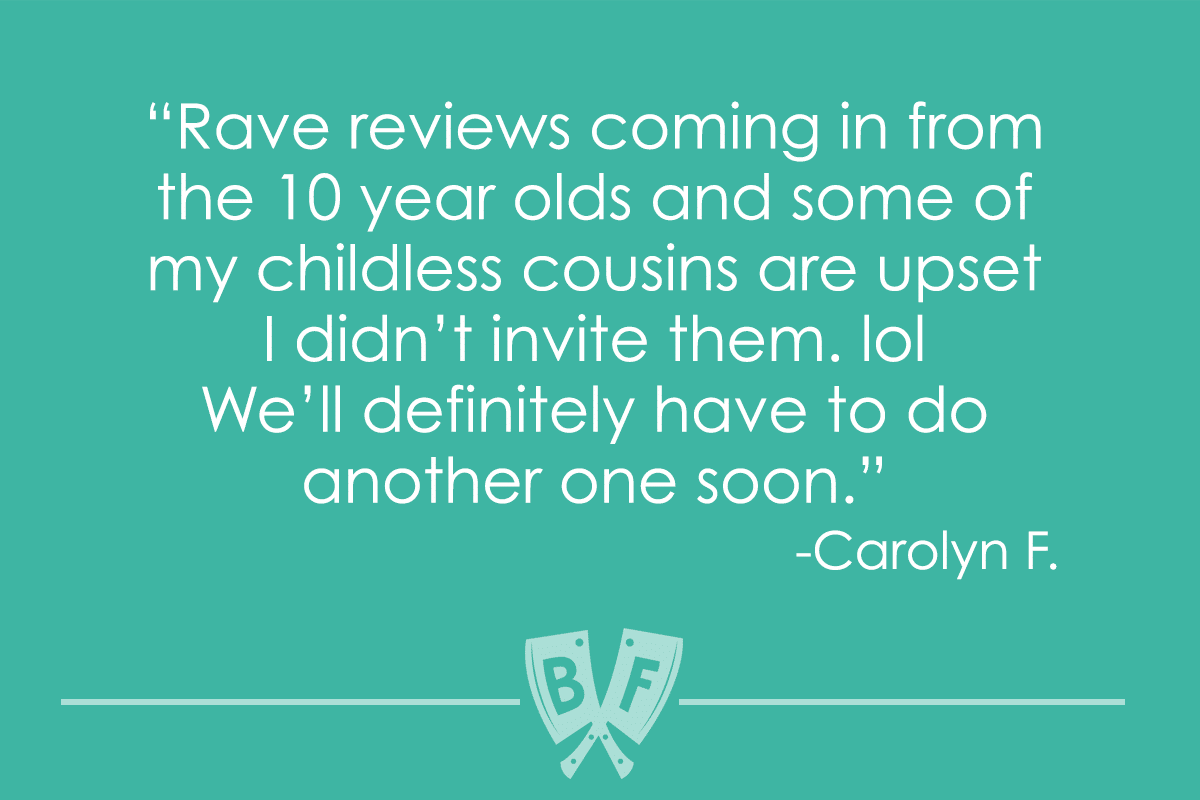 Here are a few examples of classes that I offer:
Option 1: Classic American Meal

Our Favorite Sloppy Joe Sandwiches (can be made with ground meat or vegan ground meat substitute)
Creamy Coleslaw
Lemony Roasted Green Beans
Option 2: Breakfast for Dinner

Challah French Toast
Macerated Strawberries
Option 3: Middle Eastern Sheet Pan Dinner

Broiler Kebab (can be made with ground meat or vegan ground meat substitute)
Mast-o-Khiar (Cucumber Yogurt Sauce)
Basmati Rice
Option 4: Plant-based Flatbread Night

Falafel Spiced Chickpea Flatbreads
Homemade Tzatziki
Option 5: Plant-Based Taco Night
• Roasted Sweet Potato and Black Bean Tacos with Cilantro Chimichurri
• Homemade Restaurant-stye Guacamole
Option 6: Single Skillet Comfort Food

Skillet Lasagna (can be made with ground meat or vegan ground meat substitute)
Garlic Bread
Creamy Balsamic Vinaigrette
Option 7: Middle Eastern Salad

Middle Eastern Fattoush Salad
Homemade Pita Chips
Sumac Vinaigrette
Option 8: Cozy Comfort Food

(Optionally Spicy) Three Bean Chili
Sweet Corn Muffins
Option 9: Pancake Pajama Party

Peppermint Hot Chocolate Pancakes
Peppermint Whipped Cream
Option 10: Entertaining Favorites

Garlicky Goat Cheese + Herb Stuffed Peppadews
Homemade Hummus with Seasoned Pita Chips
Option 11: Make-Ahead Party Appetizers

Gorgonzola Fruit Torta
Layered Taco Dip with Refried Beans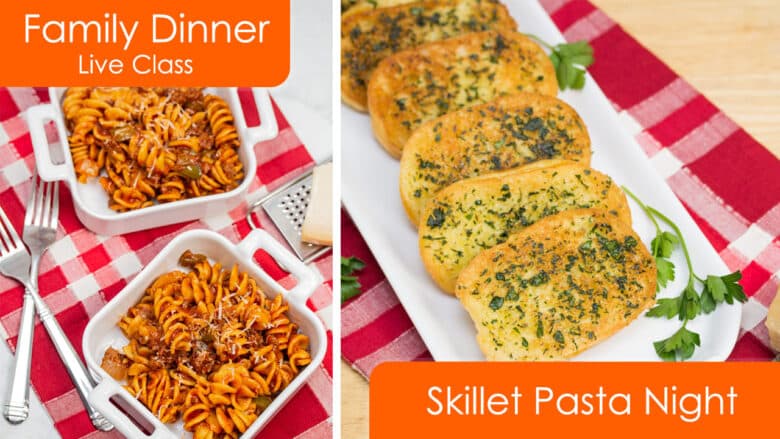 What clients are saying about working with me
"I enjoy your positive personality and the breadth of knowledge that you share... In addition, I really appreciate how well-prepared you are and how thought-out the program is. We love the programs and the recipes, but honestly, I think that we mostly love your personality and tune in to get a dose of positivity."
-Catherine R.
"There's never a dull moment -- Ashley is always doing something or talking about something that her audience can learn from! We really enjoy cooking with you and would love to come back for more."
-Gina E.
"I appreciate your positive attitude! Great recipes with clear and easy to follow, good directions. Ashley is fun and personable and easy to work with! She is very flexible."
-Diana L.
"I enjoy your upbeat personality and the fact that you are really good with kids! They love the food. It's a fun program, it gets the whole family together and teaches life skills."
-Terre T.
"This was, by far, my best webinar experience – it felt like we were almost really hanging out cooking together!"

-Cathy R.
"You are easy to be around. You're relaxed in the kitchen and you make others feel the same. You are always willing to change things and work with the client."
-Maggie B.
"You are professional and fun and bring great energy to the table. My clients loved your techniques. You have a great business and all of its components are very polished and professional. You are amazing!"
-Sami V.
"Truly loved it. Fun, easy to follow and now I have a great staple for an easy and delicious weeknight dish."
-Donna B.
"We have been stuck in a rut lately with meals so it was great to try something new."
-Lisa K.
"Great photos and recipe instructions. Good, clear, friendly instructions."
-Alexa B.
---
Contact me to discuss how a Big Flavors private cooking class can work for you!