This post may contain affiliate links, which won't change your price but will share some commission.
This recipe is super simple and completely delicious. It takes a long time to roast the tomatoes, but your patience will be rewarded with some delicious, sweet tomatoes. The flavor gets so rich - it's almost like a sun-dried tomato but nice and warm and plump. These are good straight out of the oven, or even drizzled with a little balsamic vinegar. In the magazine, it talks about pureeing them into a sauce, too. I'll definitely try that out sometime, but since I only made half a batch, I'll just stick to eating these straight up. Wow.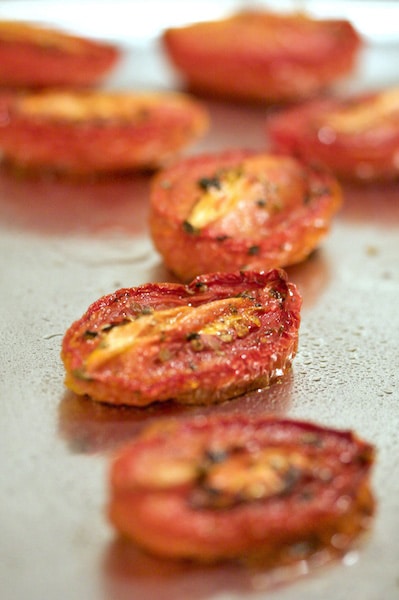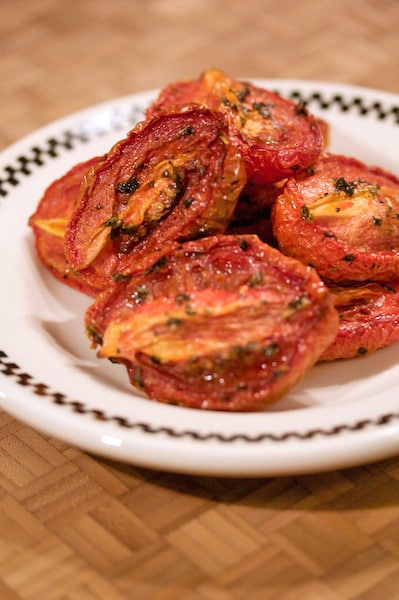 Aromatic Slow-Roasted Tomatoes
Cooking Light December 2009
Slow roasting is one of the best uses for winter tomatoes because it intensifies their sweetness.
Yield: 8 servings (serving size: 2 tomato halves)
1 tablespoon sugar
1 tablespoon extra-virgin olive oil
½ teaspoon salt
½ teaspoon dried basil
½ teaspoon dried oregano
¼ teaspoon freshly ground black pepper
4 pounds plum tomatoes, halved lengthwise (about 16 medium)
Cooking spray
1. Preheat oven to 200°.
2. Combine first 7 ingredients in a large bowl, tossing gently to coat. Arrange tomatoes, cut side up, on a baking sheet coated with cooking spray. Roast at 200° for 7 ½ hours.
Nutritional Information
Calories: 63
Fat: 2.2g (sat 0.3g,mono 1.3g,poly 0.4g)
Protein: 2g
Carbohydrate: 10.6g
Fiber: 2.8g
Cholesterol: 0.0mg
Iron: 0.7mg
Sodium: 157mg
Calcium: 26mg
MacGourmet Rating: 5 Stars