This post may contain affiliate links, which won't change your price but will share some commission.
This recipe was on the same page as the pasta recipe that I made last night. It must have been a lucky page, because this was another HUGE hit! It's an insanely refreshing beverage, and the little bit of chile makes it really interesting.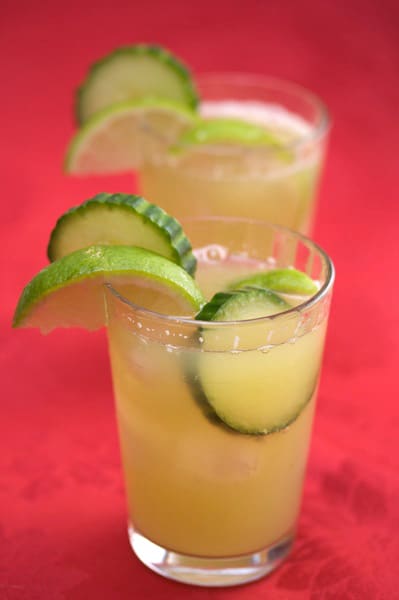 Agua Fresca de Pepino
Cooking Light June 2010
Serve this refreshing cooler on a hot day-it's perfect with spicy Mexican food. Because we only include a tiny amount of seeded serrano pepper, the beverage doesn't become very spicy but picks up the "green" vegetal flavors of the pepper. Use the remaining serrano pepper in your favorite salsa recipe, or toss it into a lime-based salad dressing with cilantro.
Yield: 4 servings (serving size: about 1 cup)
3 cups chopped seeded peeled cucumber (about 2 medium)
¼ cup sugar
3 tablespoons fresh lime juice
¼ serrano pepper, seeded
3 cups water
Ice
Lime slices (optional)
Cucumber slices (optional)
1. Combine first 4 ingredients in a blender; process until smooth. Add 3 cups water; cover and refrigerate the mixture overnight.
2. Strain cucumber mixture through a fine sieve over a pitcher; discard solids. Serve over ice; garnish with lime or cucumber slices, if desired.
Calories: 54
Fat: 0.1g (sat 0.0g,mono 0.0g,poly 0.0g)
Protein: 0.2g
Carbohydrate: 14g
Fiber: 0.2g
Cholesterol: 0.0mg
Iron: 0.1mg
Sodium: 6mg
Calcium: 11mg
MacGourmet Rating: 5 Stars