This post may contain affiliate links, which won't change your price but will share some commission.
This is a fantastic pasta dish that packs a lot of flavor. The goat cheese on top really takes it over the top. I served this with some of the leftover garlic bread I made a few days ago, and it really hit the spot! I definitely want to try it again when I get some tomatoes from the farmers' market - there's really nothing better than freshly grown tomatoes. Yum!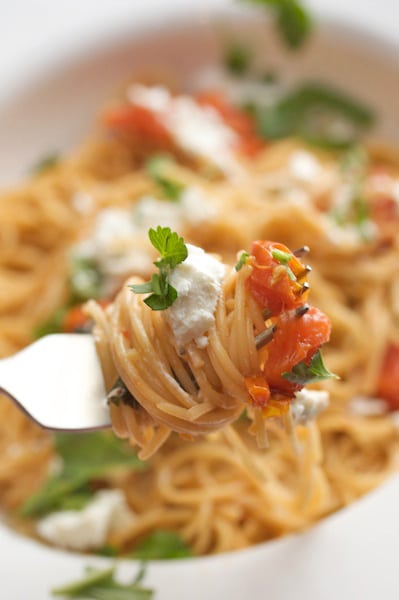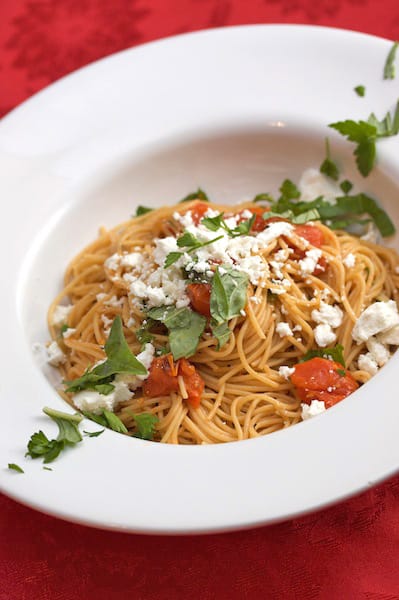 Quick-Roasted Cherry Tomato Sauce with Spaghetti
Cooking Light June 2010
OK, so tomatoes are fruits, not vegetables--but you use them like veggies. For the prettiest dish, use multicolored tomatoes from the farmers' market or, if you're lucky, your backyard.
Yield: 6 servings (serving size: about 1 ⅓ cups)
4 quarts water
1 tablespoon kosher salt
12 ounces uncooked spaghetti
2 pints cherry tomatoes
3 tablespoons extra-virgin olive oil, divided
1 tablespoon red wine vinegar
½ teaspoon kosher salt
⅛ teaspoon crushed red pepper
¼ cup chopped or torn fresh basil leaves
¼ cup chopped fresh flat-leaf parsley
¾ cup (3 ounces) crumbled semisoft goat cheese
1. Preheat oven to 450°.
2. Bring 4 quarts water to a boil in a large Dutch oven. Add 1 tablespoon salt and spaghetti to boiling water; cook 10 minutes or until spaghetti is al dente. Drain spaghetti in a colander over a bowl, reserving ½ cup cooking water. Return spaghetti to pan; set aside, and keep warm.
3. While spaghetti cooks, combine tomatoes, 1 tablespoon olive oil, vinegar, ½ teaspoon salt, and pepper on a jelly-roll pan, tossing well to coat. Bake tomato mixture at 450° for 10 minutes or until tomatoes are soft and lightly charred in places.
4. Add tomatoes and any tomato juice to spaghetti in Dutch oven. Add ¼ cup reserved cooking water to jelly-roll pan, scraping pan to loosen browned bits; carefully pour water mixture and remaining 2 tablespoons oil into spaghetti mixture. Place Dutch oven over medium heat. Add remaining reserved cooking water, 2 tablespoons at a time, until spaghetti mixture is moist, tossing frequently. Stir in basil and parsley. Sprinkle with cheese. Serve immediately.
Nutritional Information:
Calories: 328
Fat: 10.8g (sat 3.2g,mono 5.8g,poly 1.2g)
Protein: 11g
Carbohydrate: 46.6g
Fiber: 3.2g
Cholesterol: 7mg
Iron: 2.7mg
Sodium: 376mg
Calcium: 48mg
MacGourmet Rating: 5 Stars