This post may contain affiliate links, which won't change your price but will share some commission.
I was at a local gourmet market, and I decided to see what ingredients there inspired me to make a nice dinner. I got some thick cut pork chops, blue cheese, fresh figs (I hadn't worked with them before) and green beans to work with. This is what I came up with: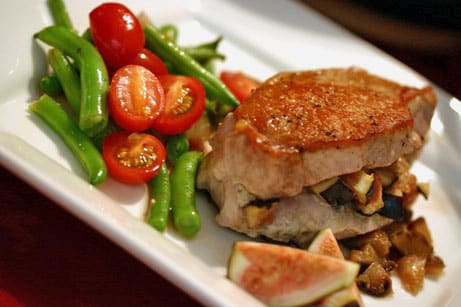 When I was looking at the blue cheese, and this label caught my attention ("very tasty") ha!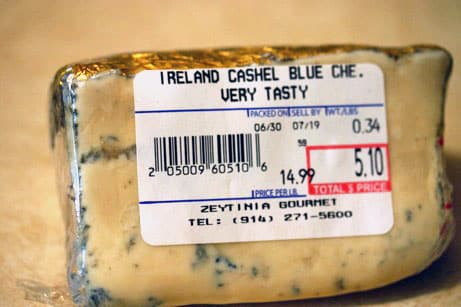 So these are all of the ingredients that I worked with for the main course: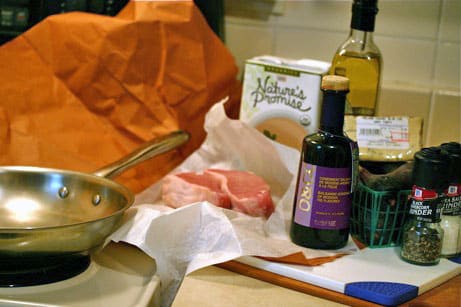 The pork turned out really well! It was super moist, and the "very tasty" blue cheese went really well with the figs. There was a nice sweet/salty balance to the dish, and I definitely want to make it again! Dino loved it! If you try it out, let me know what you think! I've only made it once, and tried to take down the ingredient list the right way, but it hasn't been tested again yet.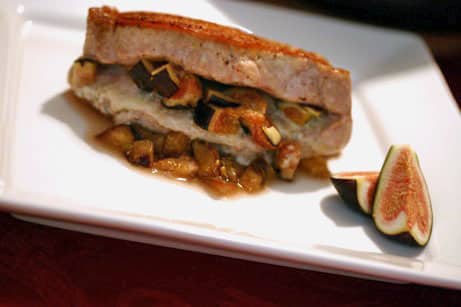 Pork Chops Stuffed with Figs and Blue Cheese
2 thick cut boneless pork loin chops
2-3 tablespoons blue cheese, (I used Ireland Cashel)
4 fresh figs, stemmed and diced
chicken broth
salt and freshly cracked black pepper
fig balsamic, (I recommend O&Co brand)
2 tablespoons extra-virgin olive oil
Preheat oven to 350°F.
Butterfly pork chops, being careful not to cut all the way through. Smush blue cheese inside the seam of both chops, spreading almost out to the edges of the meat. Add some of the chopped figs and fold closed.
Heat oil in an ovenproof skillet that's not much bigger than the 2 chops together. Season both sides of the chops with salt and pepper. Sear the chops on both sides, making sure not to move until they're fully seared (they don't stick to the pan anymore). Pour in chicken broth (I'm not sure what the perfect amount is yet - I did it up to the bottom half of the chops) and throw remaining figs into broth.
Bake until chops are cooked through. Remove pork and boil the broth and figs on the stovetop until they thicken (again, I need to play with the amount of broth to make this work well, and maybe consider adding a slurry).
Put some sauce on a plate, top with the pork chop, and drizzle a little fig balsamic on top. Enjoy!
MacGourmet Rating: 5 Stars
---
The side dish that I put together turned out pretty well, too. I bought the green beans, and used other things that I had on hand.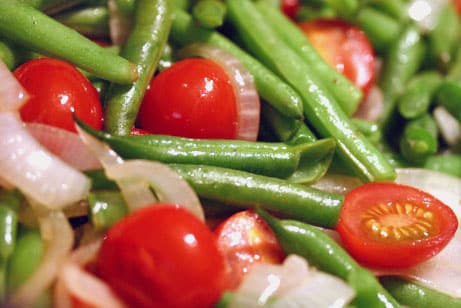 Sautéed Green Beans and Grape Tomatoes
½ pound green beans, trimmed and halved
1 clove garlic, minced
½ yellow onion, sliced
1 cup grape tomatoes, halved
squirt fresh lemon juice
salt and freshly cracked black pepper
1 tablespoon extra-virgin olive oil
Heat oil in a nonstick pan and sauté garlic and onion. Add green beans and season with salt and pepper. Cook until tender-crisp. Add tomatoes and heat through. Remove from heat and squeeze with fresh lemon juice.
MacGourmet Rating: 4 Stars