This post may contain affiliate links, which won't change your price but will share some commission.
I pinned this recipe a while back and finally got around to making it this past week. It's basically a big plate of the spring roll filling, without the fuss of wrapping it in rice paper.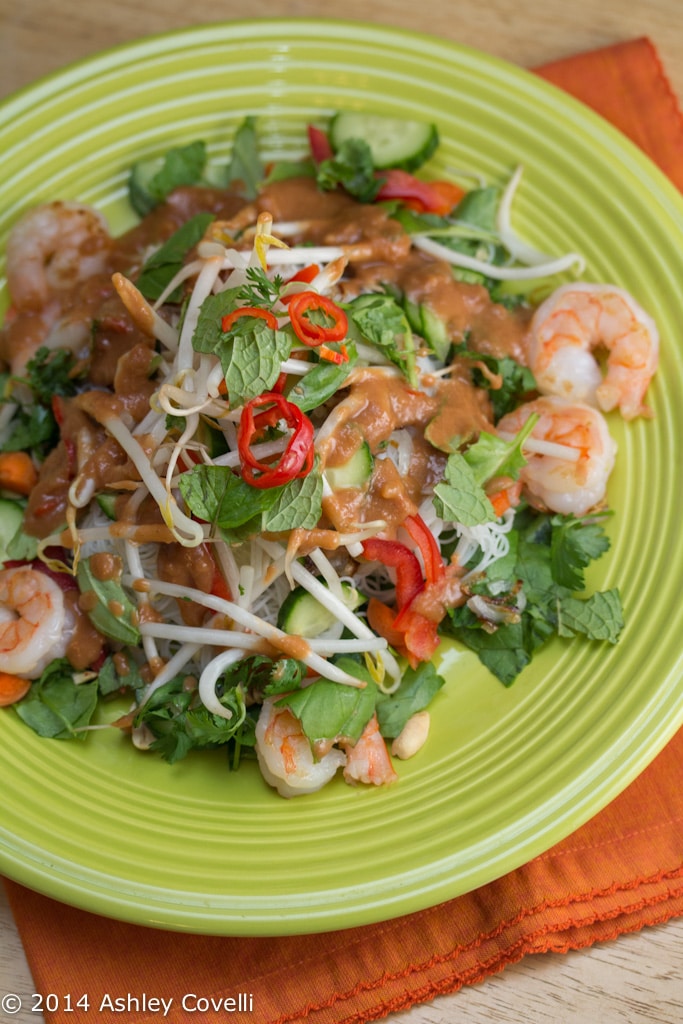 The peanut dressing was the perfect accompaniment. I'll definitely try it with the other dressing option sometime, but it's just so hard to pass up a good peanut sauce!
This dish took a lot of prep work (all those veggies don't cut themselves!), but it was totally worth it. I could see prepping all the components ahead of time and just cooking the shrimp right before dinner to make this easier on a busy day. It's also not a ton of shrimp - we ate all the shrimp the first night I made it, so we didn't have any for leftovers. Next time, I'd double the amount of shrimp to make 4 servings.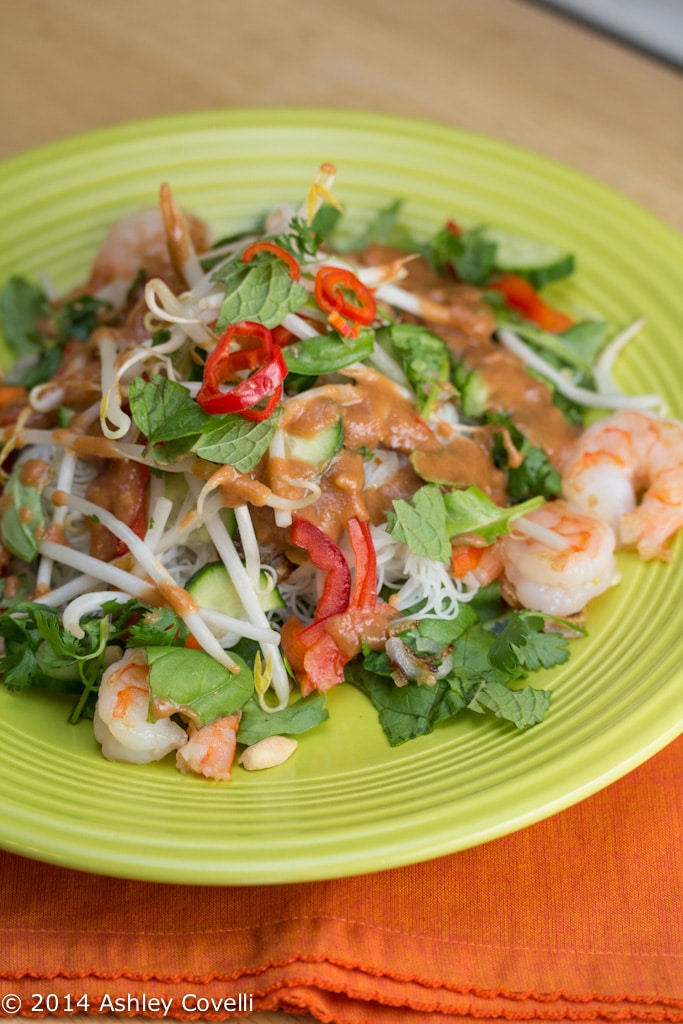 All in all, this was a huge hit. It was delicious, texturally interesting, fresh and healthy. Good stuff!
Vietnamese Summer Roll Salad
Closet Cooking
A salad inspired by the ingredients of Vietnamese summer rolls with shrimp and rice noodles along with plenty of vegetable and herbs in a peanut or nuoc cham dressing.
Servings: 4
Prep Time: 15 minutes
Cook Time: 10 minutes
Total Time: 25 minutes
Ingredients
8 ounces vermicelli rice noodles, cooked as directed on package
1 tablespoon oil
2 shallots, thinly sliced
8 ounces shrimp, shelled and deviened
2 cups lettuce, torn
1 cup cucumber, sliced
1 cup carrot, julienned
1 cup bean sprouts
½ red bell pepper, thinly sliced
2 green onions, sliced
¼ cup basil, torn
¼ cup cilantro, torn
¼ cup mint, torn
¼ cup peanuts, toasted and coarsely chopped
2 birds eye chilies, sliced
¼ cup peanut dressing (recipe follows) or nuoc cham
Heat the oil in a pan over medium-high heat, add the shallot and cook until lightly golden brown, about 3-5 minutes, and set aside.
Add the shrimp and cook until pink, about 1-2 minutes per side, and set aside.
Assemble the salad, toss in dressing and enjoy.
Vietnamese Peanut and Hoisin Sauce/Dressing
Closet Cooking
A sweet, sour and garlicky peanut and hoisin dipping sauce.
Servings: ¼ cup
Prep Time: 5 minutes
Cook Time: 5 minutes
Total Time: 10 minutes
1 teaspoon oil
2 cloves garlic, chopped
¼ cup peanut butter
2 tablespoons hoisin sauce**
½ cup water*
1 teaspoon fish sauce
1 teaspoon brown sugar
2 tablespoons lime juice (~ 1 lime)
1 birds eye chili, sliced (or 1 teaspoon chili sauce)
Heat the oil in a pan over medium heat, add the garlic and saute until fragrant.
Add the peanut butter, hoisin sauce, water, fish sauce, lime juice and chili and simmer until it thickens a bit, about 5 minutes.
*For a thicker dipping sauce rather than a dressing only use ¼ cup water.
Note: This sauce can come much darker depending on the ratio of peanut butter to hoisin sauce. I prefer the peanut butter to be the dominant flavour but you can experiment with the amounts to get it just the way you like it.
Option: Change the flavours up a bit by using different nut butters like cashew butter or almond butter.
**Optional: use Gluten Free
Big Flavors Rating: 5 Stars