This post may contain affiliate links, which won't change your price but will share some commission.
I had a lot of beautiful tomatoes from the CSA haul, and I asked some friends if anyone had a good tomato gratin recipe. One of them sent this link to me, saying she hadn't tried it, but that it had been bookmarked for quite some time. I only needed to buy onions and a pie crust to get this beauty cookin', so I went for it. Maybe next time, I'll try out the recommended pie crust recipe - I didn't feel like fussing with one today. This turned out to be amazing. The tomatoes melt down and get kind of jammy with the caramelized onions and balsamic, and the brightness from the lemon zest really brings it to life. I absolutely adored this. I probably should have added a second tablespoon of flour, because my tomatoes ended up being pretty juicy, but I didn't mind. Yum!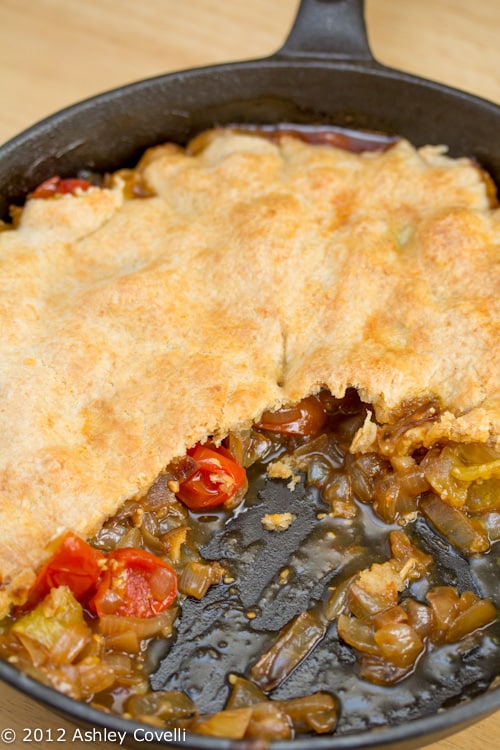 Tomato Tarte Tatin
101 Cookbooks
2 medium yellow onions, chopped
2 tablespoons extra-virgin olive oil or clarified butter
1 ½ pounds / 24 oz small tomatoes (here it's a mix of heirloom cherry & early girls)
scant ½ teaspoon fine grain sea salt
2 teaspoons balsamic vinegar
a bit of flour
zest of one lemon
1 pie crust, this rye crust is my go-to
1 egg whisked with a tablespoon of water
Preheat the oven to 400F / 205C.
While the oven is warming, uses a large skillet over medium heat to saute the onions and a couple pinches of salt in the oil/clarified butter. Cook, stirring regularly, until the onions are deeply golden and caramelized, 10-15 minutes. Remove from heat.
While the onions are cooking, cut any larger early girl tomatoes in half. I typically leave the small cherry tomatoes whole. Add to the caramelized onions along with the sea salt and balsamic vinegar. Transfer to a 10 or 11-inch cast iron skillet or equivalent deep pie dish. If you get the sense that your tomatoes are quite juicy, and might release a lot of liquid, you can toss the mixture with a tablespoon or two of flour at this point. Sprinkle mixture with lemon zest.
Roll out your pie dough, and use it to cover the tomato mixture - tucking in the sides a bit. Brush the crust with the egg wash, cut a few decorative slits in the crust, and bake in the top third of the oven until the crust is deeply golden and the tomatoes are bubbling a bit at the sides, 25 - 30 minutes.
Serves 6-8.
Prep time: 10 min - Cook time: 45 min
Big Flavors Rating: 5 Stars