This post may contain affiliate links, which won't change your price but will share some commission.
The title of this recipe sounded promising, and I liked the fact that it was no-cook, but in my opinion, this is the best peanut sauce recipe I've tried. Wow...has it really been since 2006?! Anyway, the one tonight was good, though, but it was too heavy on the peanut butter, which threw everything else out of balance a little. It could be that the natural peanut butter I used was more peanut buttery than normal peanut butter...I'm not sure. Either way, it was still really good, and doctored with a little soy sauce and maybe some more lime juice, it's a lot better.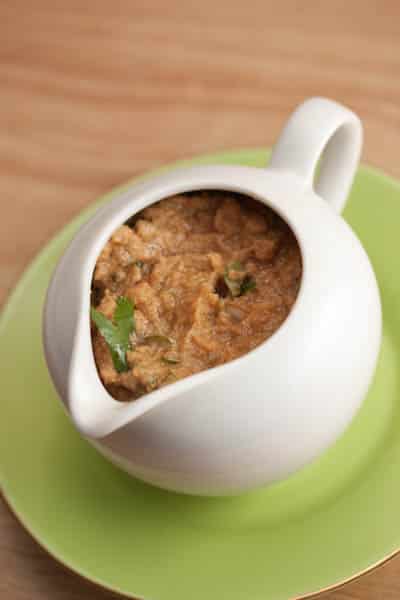 The Best Thai Peanut Sauce
Allrecipes - Stephanie M.
"This easy no-cook peanut sauce has a terrific authentic Thai taste. It is spicy and peanutty, and is perfect as a dipping sauce for chicken, shrimp, and beef... or even to use tossed with warm cooked noodles for a quick pasta dish."
Ready In: 15 Min
Yield 16 servings
1 ½ cups creamy peanut butter
½ cup coconut milk
3 tablespoons water
3 tablespoons fresh lime juice
3 tablespoons soy sauce
1 tablespoon fish sauce
1 tablespoon hot sauce
1 tablespoon minced fresh ginger root
3 cloves garlic, minced
¼ cup chopped fresh cilantro
In a bowl, mix the peanut butter, coconut milk, water, lime juice, soy sauce, fish sauce, hot sauce, ginger, and garlic. Mix in the cilantro just before serving.
Amount Per Serving Calories: 160 | Total Fat: 13.7g | Cholesterol: 0mg
Big Flavors Rating: 3 Stars