This post may contain affiliate links, which won't change your price but will share some commission.
This soup was really nice and different. I loved the depth of flavor that the fish sauce added. Don't forget to add the lime juice at the end - I forgot and when we were eating it, Dino said it felt like it was missing something. That reminded me to go grab some lime wedges. Ha! It really completes the soup. I couldn't find light coconut milk this week, so I used regular. This is a pretty easy soup to put together, and if you use an immersion blender at the end, you don't have to worry about blending it in batches in a regular blender. Awesome!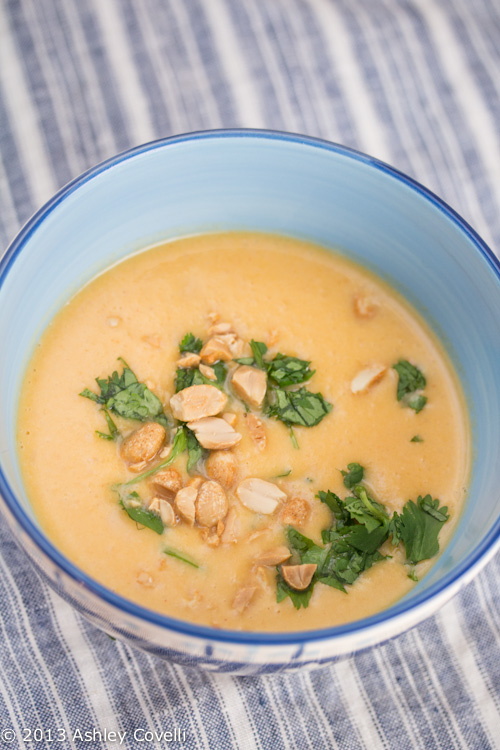 Thai Butternut Soup
Cooking Light March 2013
If you can't find frozen pureed squash, you can cook this soup with 4 cups cubed butternut squash. Just add 5 extra minutes to the cooking time in step 2.
1 teaspoon canola oil
1 cup chopped onion
2 ½ teaspoons red curry paste
1 ½ teaspoons minced fresh garlic
1 teaspoon minced fresh ginger
1 cup fat-free, lower-sodium chicken broth
2 teaspoons brown sugar
2 (12-ounce) packages frozen pureed butternut squash
1 (14-ounce) can light coconut milk
1 ½ teaspoons fish sauce
¼ teaspoon salt
½ cup chopped unsalted, dry-roasted peanuts
¼ cup cilantro leaves
1 lime, cut into 8 wedges
1. Heat a medium saucepan over medium-high heat. Add oil; swirl to coat. Add onion; sauté 3 minutes. Add curry paste, garlic, and ginger; sauté 45 seconds, stirring constantly.
2. Add broth and next 5 ingredients (through salt); cover. Bring to a boil. Reduce heat, and simmer 5 minutes, stirring frequently. Place half of squash mixture in a blender. Remove center piece of blender lid (to allow steam to escape); secure blender lid on blender. Place a clean towel over opening in blender lid (to avoid splatters). Blend until smooth. Pour into a large bowl. Repeat procedure with remaining squash mixture. Spoon about 1 cup soup into each of 4 bowls; top with 2 tablespoons peanuts and 1 tablespoon cilantro. Serve with lime wedges.
Big Flavors Rating: 4 Stars