This post may contain affiliate links, which won't change your price but will share some commission.
This month's Supper Club theme was Spice Grab Bag. During one of our past events, we all picked a spice and wrote the name down on a piece of paper. We tossed them in a bag and we all grabbed one, and that had to be the featured flavor in the dish for this month. I drew cinnamon, and I was going to make a dessert, but Dino had nutmeg, and he couldn't find something non-desserty to make that really featured nutmeg. So I found this corn dish and thought it sounded interesting. It sounded kind of like a cinnamon-spiced creamed corn to me. I used a stick of butter instead of margarine. It was super simple to put together, but it took me 1 ½ hours to get it to cook all the way, which I was not planning on. Luckily, even though it doesn't look too great, it tastes wonderful! It's like a really sweet creamed corn pudding. I was calling it "corn brulée". It was one of those recipes that's just weird enough to be a hit. I think this could be served as a dessert, with a scoop of vanilla ice cream on top. And you could definitely cut back on the amount of sugar in the recipe and still have it be plenty sweet. Yum. I meant to get a photo of it after we dug in to show off the creamy texture, but I forgot. Oops!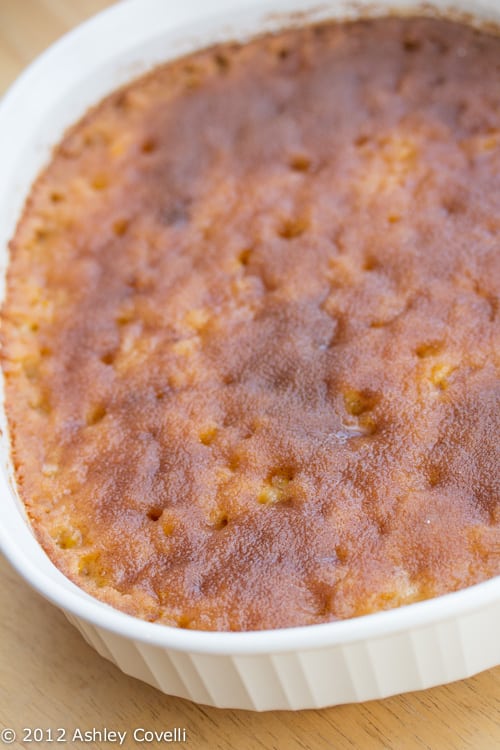 Cinnamon Corn
Allrecipes - Linda Rier
"This sweet, creamy corn dish has been a family favorite for almost 30 years. Family and friends continue to request it."
Prep Time: 5 Min
Cook Time: 1 Hr
Ready In: 1 Hr 5 Min
Yield 4 to 6 servings
½ cup margarine
½ cup white sugar
¼ cup all-purpose flour
⅔ cup evaporated milk
2 (15 ounce) cans whole kernel corn, drained
¼ cup white sugar
1 teaspoon ground cinnamon
Preheat oven to 350 degrees F (175 degrees C). Lightly grease a 1 1/2 quart casserole dish.
In a large saucepan, heat margarine and ½ cup sugar until margarine is melted. Mix in flour, then remove from heat. Whisk in evaporated milk, then mix in corn. Pour into prepared casserole dish.
Bake in preheated oven for 60 minutes, until a knife inserted in center comes out clean. Sprinkle ¼ cup sugar and cinnamon over top.
Nutritional Information
Amount Per Serving Calories: 481 | Total Fat: 22.1g | Cholesterol: 10mg
Big Flavors Rating: 4 Stars