This post may contain affiliate links, which won't change your price but will share some commission.
This chutney was great alongside the turkey. The only thing we didn't think of was that 15 apples makes a LOT of chutney. And the consistency was more like applesauce. This is a shot of the plate with all of our Supper Club's apple offerings. The chutney is in the upper right - I forgot to get a shot of it by itself. This was a great meal - it was like Thanksgiving in October!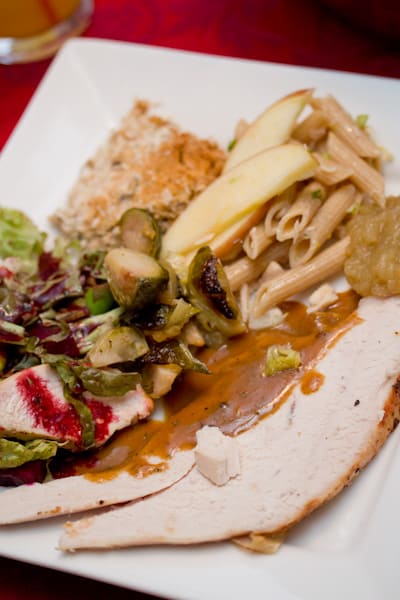 Apple Chutney
Allrecipes - CATSEO
"This easy chutney is a great companion for so many dishes from turkey sandwiches to pork chops."
15 tart apples - peeled, cored, and finely chopped
1 yellow onion, quartered
3 (1 inch) pieces fresh ginger root, peeled
1 cup white wine vinegar
½ cup white sugar
½ cup brown sugar
½ teaspoon cinnamon
½ teaspoon white pepper
½ teaspoon ground cardamom
¼ teaspoon ground nutmeg
In a saucepan, mix the apples, onion, ginger, vinegar, white sugar, brown sugar, cinnamon, white pepper, cardamom, and nutmeg. Bring to a boil, reduce heat, and cover. Simmer 30 minutes, stirring frequently, until the apples are tender. Mix in some water if necessary to keep the ingredients moist. Remove the onion and ginger, and store in the refrigerator until ready to serve.
Amount Per Serving Calories: 49 | Total Fat: 0.1g | Cholesterol: 0mg
Big Flavors Rating: 4 Stars