This post may contain affiliate links, which won't change your price but will share some commission.
Oh my goodness. I found the coolest thing to do with some of the recent batch of rhubarb that I picked up from the Farmers' Market. When I saw this post over at Vintage Mixer, I was floored. Making a pie filling now to be enjoyed at some point in the future when I need a dessert fix? Sign. Me. Up. So I made the filling this afternoon and it's sitting in my freezer right now. I may have licked the spatula, you know, for purely scientific purposes, and it tasted great! I hope I'll be up for baking the gingersnap crust when I end up making this pie, but I could always just thaw it out and pour it into a pre-made pie crust, too. Easy as (freezer) pie. I'll be sure to report back with my findings and an official rating...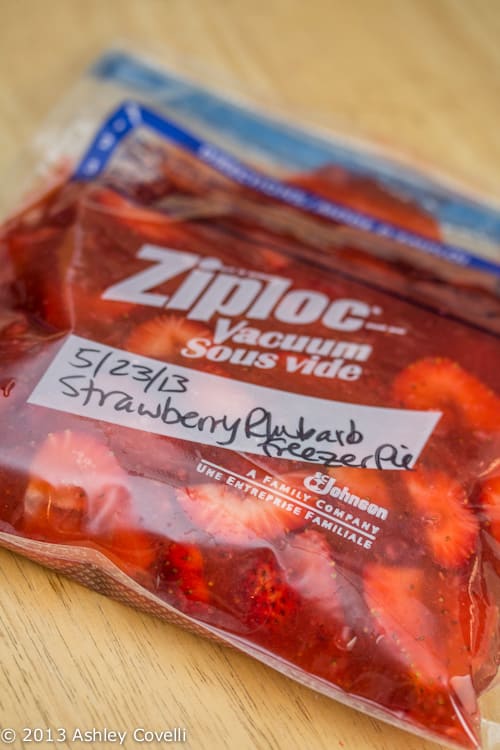 Strawberry Rhubarb Freezer Pie
Vintage Mixer
Yield: 1 Pie
for the pie filling (double or triple if you want to freeze multiple pies)
4 cups strawberries, sliced and dived in half
2 cups rhubarb, sliced
1 cup sugar
2 tablespoons cornstarch
juice from ½ lemon (2 tablespoons)
1 teaspoon vanilla bean extract (optional)
for the crust:
5-6 tablespoons unsalted butter or coconut oil, melted, plus additional for greasing pie plate
1 cup finely crushed gingersnap cookies (5 oz)
½ cup finely chopped pecans (2 oz)
⅛ teaspoon salt
Cook 2 cups of the strawberries and 2 cups of the rhubarb over medium heat for about 10 minutes or until they start to break down. Stir occasionally. Using a potato masher or fork, mash the fruit to break it up more. Add sugar, cornstarch and lemon juice and cook for about 3 minutes over medium high heat until mixture thickens.
Remove from heat and let cool.
Add remaining 2 cups sliced strawberries and stir in 1 teaspoon vanilla bean extract or beans from 1 vanilla bean pod.
Transfer to a freezer safe ziplock back and freeze for a rainy spring day.
To make the crust: Put oven rack in middle position and preheat oven to 350°F. Grease pie dish. Toss together all crust ingredients in a bowl with a fork until crumbs are moistened, or use a food processor to combine. Press the crust mixture evenly over bottom and up side of pie plate. Bake crust 6 minutes, then cool on a rack.
constructing the pie
Top cooled crust with defrosted strawberry rhubarb mixture. Chill pie until ready to serve. Before serving top with whipped cream.
Notes: the recipe is for one freezer bag pie but you may double the recipe so that you have two pies waiting for a perfect pie day.