This post may contain affiliate links, which won't change your price but will share some commission.
This was an easy and impressive dessert. This drink tastes like a camping trip - toasted marshmallows are just awesome! And having them cold in a drink really makes it interesting. The only thing I'll change next time is to use less milk, because it made the milkshakes too runny. I think maybe half the amount of milk would have been better. I'll definitely tweak this one for parties in the future.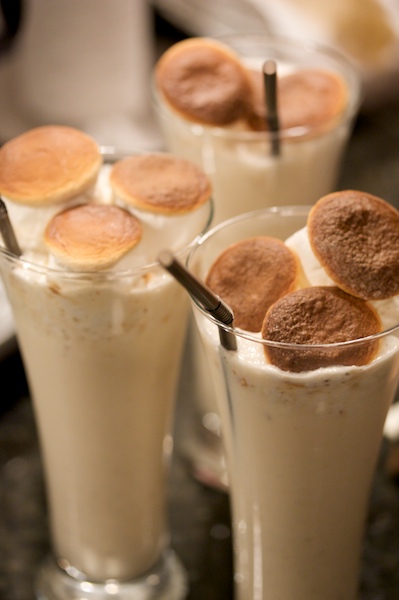 Spike Mendelsohn's Toasted Marshmallow Milkshakes
Everyday with Rachael Ray February 2010
Makes 4
Prep 10 Min
Cook 10 Min
One 1-pound bag jumbo marshmallows*
2 cups milk
2 cups vanilla ice cream
1 tablespoon sour cream
1. Preheat the broiler. On a foil-lined baking sheet, place half of the marshmallows in a single layer; broil until charred, 3 minutes. Transfer to a plate to cool. Place the remaining marshmallows on the sheet and roast until just toasted, 2 minutes; let cool.
2. In a blender, mix the milk, ice cream, sour cream and charred marshmallows. Serve topped with the toasted marshmallows.
*Optional: use Gluten Free
Big Flavors Rating: 4 Stars