This post may contain affiliate links, which won't change your price but will share some commission.
I was flipping through the newest issue of Cooking Light and this recipe stood out to me. I had some dill leftover from when I made that awesome 5 Layer Greek Dip (that I may actually be making again next week for a potluck!), and I love trying to use up ingredients that I already have on hand. I also have an open package of bacon in the fridge, so I figured this recipe would be perfect. It's been a while since I made scallops, too (wow - did I not make them at all in 2012!?). This was also in the 20 minute recipe section of the issue. It's like this recipe was basically screaming my name. So, after a long day, I picked my husband up from the train station, left him to entertain our baby, and cooked up a batch of scallops. This was really tasty! It was a great combination of ingredients, and pretty easy to prepare. It took a while for me to shred the cabbage in the food processor, but other than that, it was a breeze. The scallops were tender and sweet, and the bacon added just the right amount of crunch. The only note I have is that it pretty much made 2 servings for us. All we had left was a little slaw. I didn't serve it with anything else (CL suggests roasted potatoes), but hey...201 calories per serving means that our servings were only 402, so that's not too shabby!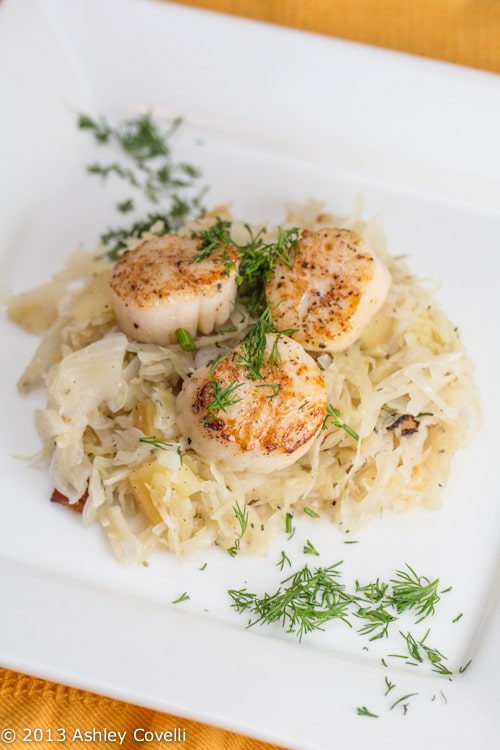 Seared Scallops with Bacon, Cabbage, and Apple
Cooking Light January 2013
Quick but hearty. Serve with roasted potatoes.
Yield: Serves 4
3 center-cut bacon slices, cut crosswise into ½-inch pieces
6 cups thinly sliced green cabbage
1 tablespoon chopped fresh thyme
½ cup water
1 ½ cups chopped Fuji apple (1 medium)
3 tablespoons cider vinegar
½ teaspoon freshly ground black pepper, divided
1 tablespoon canola oil
16 large sea scallops (about 1 pound)
¼ teaspoon salt
2 teaspoons chopped fresh dill
1. Cook bacon pieces in a Dutch oven over medium-high heat until crisp. Remove bacon pieces from pan, reserving 1 ½ tablespoons drippings in pan. Add sliced cabbage and chopped thyme to pan; sauté 2 minutes, stirring cabbage mixture occasionally. Add ½ cup water, scraping pan to loosen browned bits. Bring mixture to a boil. Reduce heat to medium; cover pan. Cook 5 more minutes. Stir in chopped apple and cider vinegar; cover. Cook 5 minutes. Stir in cooked bacon and ¼ teaspoon pepper.
2. Heat a large, heavy skillet over high heat. Add oil to pan; swirl to coat. Sprinkle scallops with ¼ teaspoon salt and remaining ¼ teaspoon black pepper. Add scallops to pan; cook 3 minutes on each side or until scallops are done. Place about 1 cup cabbage mixture on each of 4 plates. Arrange 4 scallops on each serving. Sprinkle each serving with ½ teaspoon dill.
Amount per serving
Calories: 201
Fat: 6.1g
Saturated fat: 1.2g
Monounsaturated fat: 2.3g
Polyunsaturated fat: 1.3g
Protein: 22.4g
Carbohydrate: 15.1g
Fiber: 3.9g
Cholesterol: 43mg
Iron: 1.2mg
Sodium: 458mg
Calcium: 86mg
Big Flavors Rating: 4 Stars