This post may contain affiliate links, which won't change your price but will share some commission.
When Joe over at Culinary in the Country posted this recipe on facebook, I thought it looked amazing! He mentioned that he used evaporated milk instead of heavy cream. I had some evaporated milk in the fridge leftover from when I made Cinnamon Corn a while back, and I had no idea what I was going to do with it until that moment. I mean...goat cheese and pasta!? How can you go wrong? This was a really easy recipe to put together, and it was fantastic! It was creamy and tangy, and the flavor of the basil really pulls it all together. This is definitely going to be a repeat recipe in our house!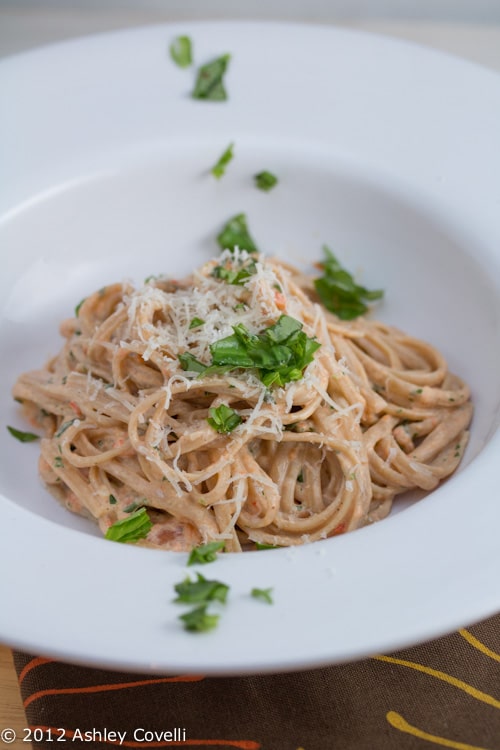 Roasted Red Pepper and Goat Cheese Alfredo Pasta
Closet Cooking
Sweet roasted red peppers in a creamy and tangy goat cheese alfredo sauce served over pasta.
Servings: makes 2 servings
Prep Time: 5 minutes
Cook Time: 10 minutes
Total Time: 15 minutes
½ pound pasta
2 tablespoons butter
1 clove garlic, grated
½ cup heavy cream
4 ounces goat cheese
¼ cup parmigiano reggiano (parmesan), grated
2 roasted red peppers, coarsely chopped
salt and pepper to taste
1 handful basil
Cook the pasta as directed on the package.
Melt the butter in pan over medium heat, add the garlic and cook until fragrant, about a minute.
Add the cream, goat cheese, parmesan and roasted red peppers and simmer until the cheese has melted.
Remove from heat, season with salt and pepper, add the basil and puree with a hand blender or in a blender or food processor.
Serve hot over the pasta garnished with more parmesan and basil.
Big Flavors Rating: 5 Stars