This post may contain affiliate links, which won't change your price but will share some commission.
There are so many beautiful varieties of squash popping up at the Farmers Market lately. I love that I know which farms they each came from, and that they don't contain any pesticides or GMOs. I picked up a bunch of different types to cook with this week, and the first thing that came to mind was making a roasted butternut squash soup. I love trying to repurpose things that I'd normally be throwing away, so in an effort to waste less, I decided to try out roasting the seeds, too. Roasted pumpkin seeds are so great, so why not butternut squash seeds? They turned out beautifully, and added a really nice texture to the top of the soup. Plus, they were awesome to snack on while the soup was coming together. I also put together a sweetened, herbed yogurt sauce to give the soup something creamy and cool on top. It was full of fall flavors - this would be perfect for a Thanksgiving meal! I also used homemade slow cooker vegetable stock that I made out of leftover veggie bits a while back. All in all, this was a really nice, warming autumn soup with lots of rich flavors that really hit the spot tonight.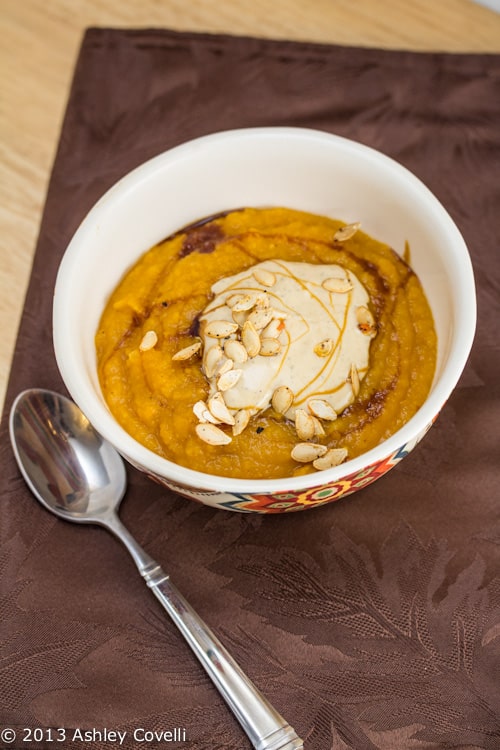 Roasted Butternut Squash Bisque with Sweet Sage Yogurt
Ashley Covelli
Serves 4
1 large organic butternut squash (around 3 pounds)
2 tablespoons extra-virgin olive oil
Sea salt and freshly cracked black pepper
1 tablespoon butter
1 small yellow onion, chopped
1 clove garlic, minced
2 - 4 cups of vegetable stock
For the yogurt:
1 cup plain, low fat yogurt (such as Stonyfield Organic)
1 ½ teaspoons dried rubbed sage
½ teaspoon freshly grated nutmeg
⅛ teaspoon ground cloves
2 teaspoons molasses, plus more for garnish
Preheat oven to 400°F. Cut squash in half lengthwise and remove the seeds and pulp to a small bowl. Add some water to the bowl and use that to help you pull the seeds out of the pulp. Place the seeds onto a baking sheet, and while they're still wet, season with sea salt and pepper. Toss to combine and spread them into a single layer. Drizzle oil onto another baking sheet or roasting pan and place the squash, cut side down on the oil. Place both trays in the oven and bake for 5 minutes. Pull the sheet with the seeds out and stir them, spreading them back into a single layer, and return to the oven for another 5 minutes. Check to see if the seeds are crunchy when you bite into them. Mine took 10 minutes total, and they were perfect. Remove the seeds from the oven and let them cool while the squash finishes roasting. Bake the squash for another 30 minutes, or until tender when pierced with a knife. Remove from the oven and when cool to the touch, scoop the flesh out of the skin with a spoon.
Melt butter in a large stock pot on the stovetop. Add onions and garlic, season with salt and pepper and sauté until softened. Add the roasted squash and 2 cups of vegetable stock and heat through, stirring and breaking the squash up with your spoon as it simmers. Using an immersion blender, purée the soup until smooth, adding more vegetable stock as needed, until it reaches your desired consistency. Taste for seasoning and adjust if necessary. (Note - you can also blend this in batches in a blender, just make sure to open the vent on the lid and cover it with a kitchen towel so the steam can escape while it comes together).
Mix the yogurt, sage, nutmeg, cloves and molasses in a bowl.
To serve, ladle soup into bowls and top each with a dollop of yogurt, some of the roasted seeds, and an extra drizzle of molasses. Enjoy!
Big Flavors Rating: 4 Stars
*Note: I'm entering this recipe into a Stonyfield's #fightpesticides recipe challenge. I received free yogurt to work with, and am eligible to win a prize for myself, and one to give away to a reader! All opinions are 100% my own.