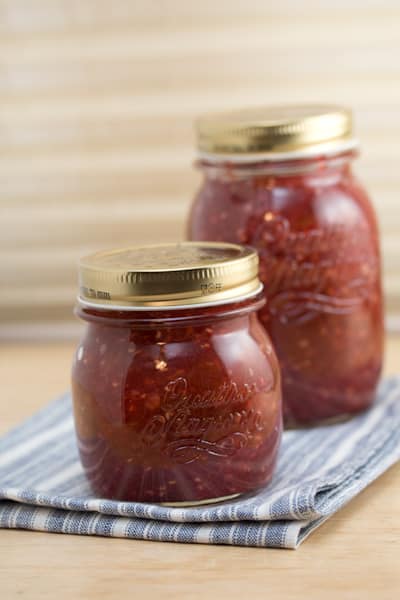 I really love rhubarb, and I wanted to use up the rest of last season's stash from my freezer as well as some fresh rhubarb that's growing in my garden right now. I came across this recipe, and it looked perfect! It was my first time making homemade jam, and it was really easy! You have to let the rhubarb, lemon juice and sugar sit in the fridge overnight, but other than that, it comes together pretty quickly. It has a lovely balance of sweet and tangy, and it was great on English muffins. I think I may try to make a tart or some kind of dessert with some of it since it doesn't last too long.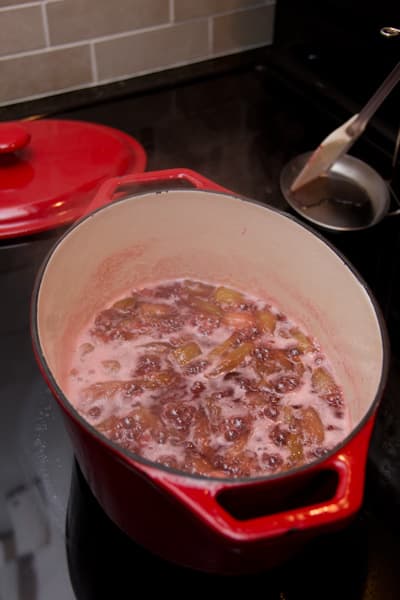 Rhubarb-Raspberry Jam
Bon Appétit April 1994
yield: Makes about 2 cups
This jam has a good, concentrated flavor: The only liquid comes from the rhubarb and berries interacting with sugar and lemon juice. The quick-to-prepare jam also makes a nice filling for tarts.
4 cups 1-inch pieces fresh rhubarb (about 1 ½ pounds)
2 cups sugar
1 tablespoon fresh lemon juice
1 ½-pint basket raspberries
½ teaspoon ground cardamom
Combine rhubarb pieces, sugar and fresh lemon juice in heavy large Dutch oven. Cover and refrigerate until juices form, stirring occasionally, at least 8 hours or overnight.
Bring rhubarb mixture to simmer over medium heat, stirring until sugar dissolves. Increase heat to high and boil until rhubarb mixture thickens slightly, about 5 minutes. Add raspberries and boil until mixture is thick, stirring occasionally, about 6 minutes longer. Remove jam from heat. Stir in ground cardamom. Cool jam completely. (Jam can be made 1 week ahead. Store in covered container in refrigerator.)
Big Flavors Rating: 5 Stars