This post may contain affiliate links, which won't change your price but will share some commission.
When I saw this recipe, I was immediately intrigued. It looked like some sort of falafel made out of quinoa...stuffed with kale!
After making Tahini Kale Stuffed Belgian Waffles with Avocado Tomato Salad last month, I figured this sounded like another winner.
These patties were a little messy to put together, but well worth it. I loved her suggested toppings - the creamy avocado was great with it, and the tanginess from the lemon juice was great.
I think this type of patty would be great as a vegetarian burger, too. I'm definitely going to play around with this type of thing in the future.
The only drawback to this recipe really was that it didn't reheat too well for me, and it made a lot. I served this with Garlicky Lemon Dill Tilapia.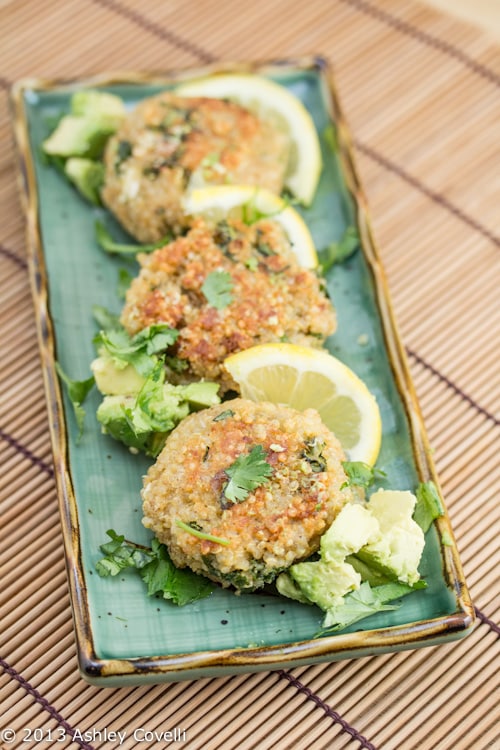 Quinoa Kale Patties
Yummy Supper (adapted from Heidi Swanson's Super Natural Every Day)
1 cup quinoa
2 cups water
4 eggs, whisked
⅓ cup Parmesan cheese
3 spring onions, sliced thin
3 cloves garlic, minced
½ teaspoon sea salt
1 cup steamed kale, chopped
1 cup breadcrumbs (GF friends: be sure to use GF breadcrumbs. I always make my own.*)
1 teaspoon olive oil
optional toppings: avocado, cilantro, lemon juice, salsa verde, garlic oil
If you happen to already have leftover cooked grains on hand, this recipe calls for 2 ½ cups. Otherwise, whip up some quinoa from scratch... Rinse 1 cup of quinoa thoroughly and place the grains in a medium sauce pan with 2 cups of water. Allow quinoa to soak for 15 minutes. Then, with the lid on the pan, bring the water to a boil and reduce to a simmer. Cook until quinoa is tender and has absorbed the liquid - about 20 minutes. Let cool to room temp.
In a large bowl, mix together cooked quinoa, eggs, Parm, spring onions, garlic, salt, steamed kale, and breadcrumbs. Let everything sit for a few minutes to absorb the liquid. You want the batter to be moist, but not runny. Form patties and get your pan ready for cookin'.
Heat 1 teaspoon olive oil in a large skillet over medium-low heat. Cook up to 6 patties at at time (don't overcrowd the pan). Cover the pan and let the cuties cook for 7-10 minutes until the underbellies are a deep rich brown. Flip and cook the other side for another 7-10 minutes until both sides are nice and brown. Let patties rest on a cooling rack while you finish the next batch.
I ate my patties topped with avocado, lemon juice, cilantro, a drizzle of really nice olive oil, and sea salt. If you want to pack your patties to eat for lunch at work and want an easy topping, just chop up some avocado and place it in a container with salsa verde and you're ready to go.
Note: If you don't want to eat all the patties right away, go ahead and refrigerate the batter and cook patties up to order at a later moment.
*A Note on gluten-free breadcrumbs... For my gluten-free friends who are new to making his/her own breadcrumbs, here's how you do it. Toast up a few slices of bread (or those lonely end-pieces) until they're dry. Tear the toasted bread up into chunks, toss them in the blender. Pulse a few times and you've got homemade breadcrumbs. So easy... and I love to put scraps to good use!
makes 12 small patties
Big Flavors Rating: 4 Stars