This post may contain affiliate links, which won't change your price but will share some commission.
I had some red lentils hanging around from when I made Red Lentil Dal with Charred Onions a few weeks ago, and I also had some cilantro to use up, so this soup looked perfect!
It's a vegan soup that is hearty and full of flavor. We really enjoyed it! It takes a little time to put it together, but it's really quite easy.
The flavor form the spices and the roasted tomatoes is smoky and wonderful. I'm a big fan of putting sour cream on a lot of foods, and I figured I'd want to add some, as recommended in the recipe, but I really felt it had plenty of flavor without it.
I was surprised that it didn't need any salt and pepper, either! I used Cholula Original Hot Sauce and it was great. We dunked some hearty multigrain bread into our bowls.
This was a really nice recipe, and I think next time, I'll definitely double it and freeze some. YUM!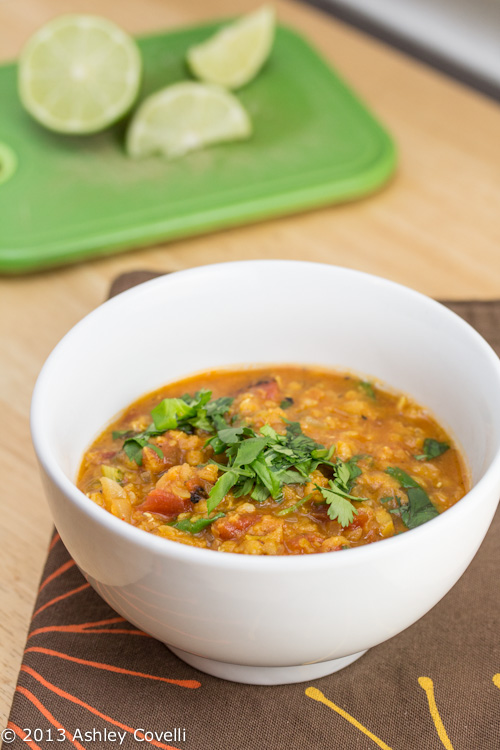 Mexican Red Lentil Stew with Lime and Cilantro
Kalyn's Kitchen (Adapted from Mexican Lentil Stew at Budget Bytes and Spicy Red Lentil and Tomato Soup at Andrea Meyers.)
Makes 4-6 servings, but this freezes well and can easily be doubled.
Ingredients:
1 cup dry red lentils
2 cups water
1 T olive oil
1 onion, finely chopped
1 cup finely chopped celery
1 T minced garlic (or less, but I like a lot of garlic)
¼ tsp. ground turmeric
1 tsp. ground cumin
1 tsp. chile powder
1 can roasted tomatoes (I like petite dice tomatoes for soup)
2 cups vegetable broth
1 tsp. green Tabasco sauce (or other hot sauce of your choice. Green Tabasco is fairly mild, so you may want less if you use a stronger hot sauce.)
salt and fresh ground black pepper to taste
¼ cup fresh squeezed lime juice (2-3 limes, or less if you're not that into lime)
½ - 1 cup chopped fresh cilantro
Optional: cut limes and sour cream or vegan sour cream substitute for serving the soup
Instructions:
Put red lentils in a small pot, rinse and drain if needed, then add 2 cups water. Bring to a boil, turn off heat and cover. Let lentils sit in the hot water 30 minutes.
While lentils are cooking in the water, finely chop onions and celery and mince garlic (or you can use minced garlic from a jar like I did.) Heat olive oil in heavy soup pot, add onion and celery and saute for 3-4 minutes, just long enough that vegetables are starting to soften. Add garlic and cook a few minutes more. Add ground turmeric, ground cumin, and chile powder, stir, and cook 1-2 minutes more.
Add diced roasted tomatoes, vegetable broth, and hot sauce. Add lentils after they have soaked for 30 minutes, then let soup simmer for 15-30 minutes (or until lentils are as soft as you'd like them. I simmered it about 25 minutes.)
While soup cooks, wash, dry and finely chop ½ - 1 cup fresh cilantro and squeeze limes to get ¼ cup fresh lime juice. When the lentils are softened as much as you'd like, stir in chopped cilantro and lime juice and cook 5 minutes more.
Serve hot, with additional cut limes to squeeze into the soup. Can top with sour cream or vegan substitute if desired.
Big Flavors Rating: 4 Stars