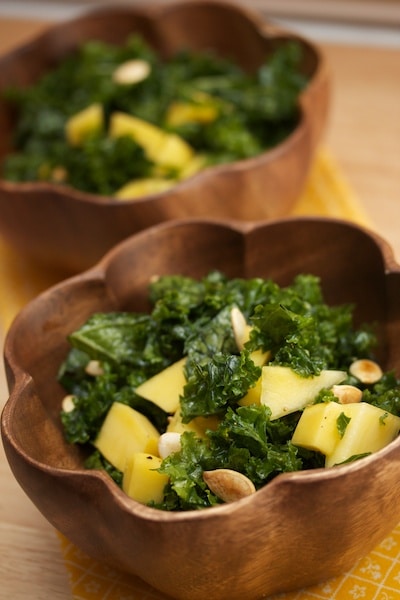 This post may contain affiliate links. Thank you for supporting the brands that keep me creative in my tiny kitchen!
This was the side dish that Aarti made on the first episode of her new show on Food Network. It was very different and tasty. On the show, she said that when you massage the kale, it will start to smell like bananas – and it did! It's a nice, refreshing summer salad, and it was great using kale in the kitchen.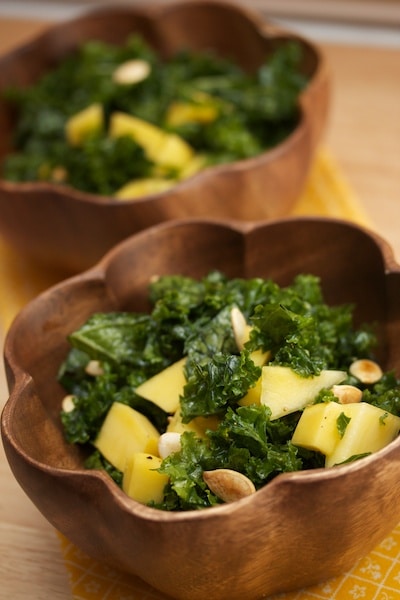 Massaged Kale Salad
Aarti Party – Aarti Sequeira
Recipe courtesy Aarti Sequeira, 2010
Prep Time: 20 min
4 servings
1 bunch kale (black kale is especially good), stalks removed and
discarded, leaves thinly sliced
1 lemon, juiced
1/4 cup extra-virgin olive oil, plus extra for drizzling
Kosher salt
2 teaspoons honey
Freshly ground black pepper
1 mango, diced small (about 1 cup)
Small handful toasted pepitas (pumpkin seeds), about 2 rounded tablespoons
In large serving bowl, add the kale, half of lemon juice, a drizzle of oil and a little kosher salt. Massage until the kale starts to soften and wilt, 2 to 3 minutes. Set aside while you make the dressing.
In a small bowl, whisk remaining lemon juice with the honey and lots of freshly ground black pepper. Stream in the 1/4 cup of oil while whisking until a dressing forms, and you like how it tastes.
Pour the dressing over the kale, and add the mango and pepitas. Toss and serve.
Big Flavors Rating: 3 Stars