This post may contain affiliate links, which won't change your price but will share some commission.
My husband mentioned wanting to eat lamb burgers recently. I checked my blog archives and realized I hadn't made any since 2010! Woah! It's due in part to the fact that I didn't have a good source for lamb locally. I do now, so expect to see lots more tasty lamb recipes in the future 🙂
On a related note, he pointed out that if you search for lamb on my blog, everything I've made to date has been absolutely delicious! It's a great ingredient.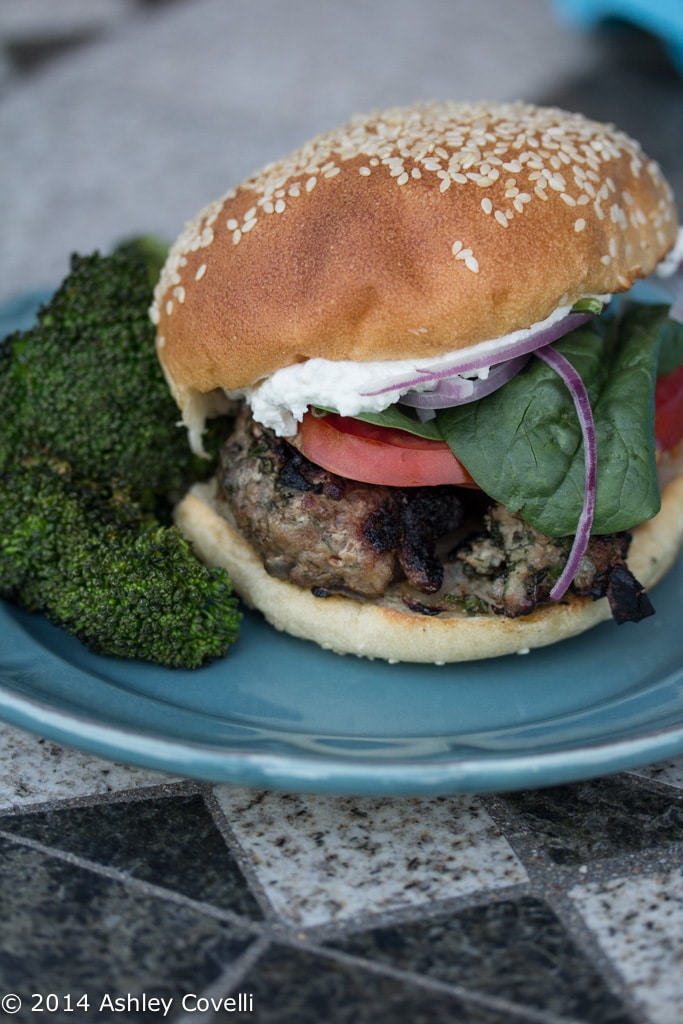 I searched for a new burger recipe and came across this one from Anne Burrell. I didn't make the homemade whole wheat pitas, but I'll definitely try out that recipe in the future. It got rave reviews on the Food Network site.
These burgers pack a ton of flavor from a combination of fresh herbs, lemon zest and red onion. Tangy pickled feta spread is smeared on for a deliciously creamy condiment. I had never pickled cheese before, which is surprising since I love all things pickled and all things cheese. Yum!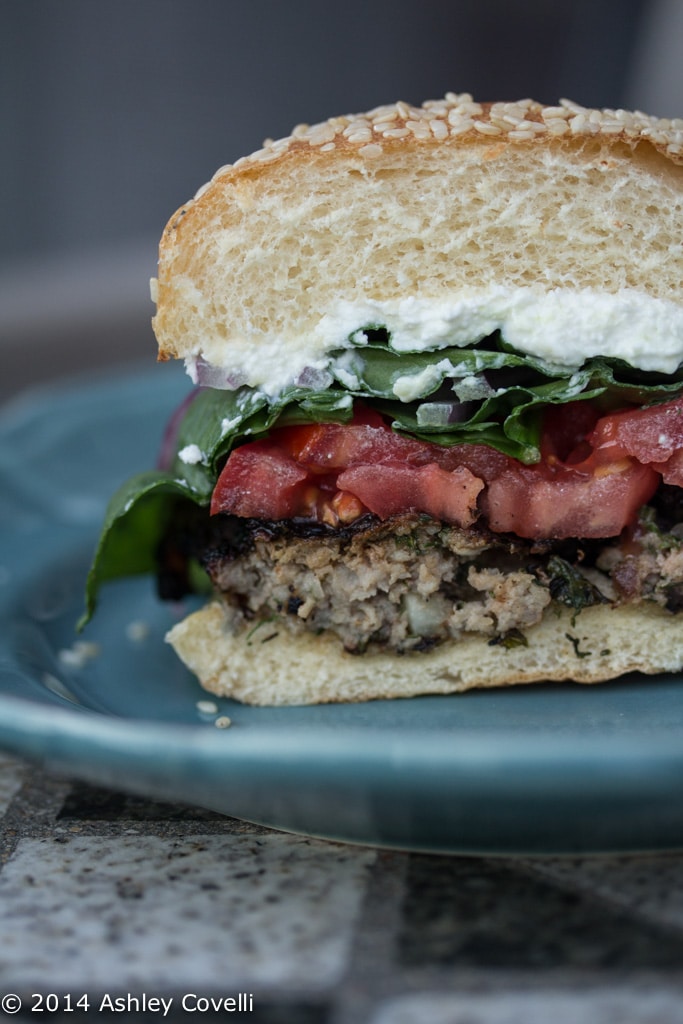 My only note is that when I was making it, my instinct was to not add water to the meat as directed. I added it anyway, and the burgers ended up being really crumbly and falling apart. There was too much liquid. So they fell apart on the grill. They still tasted great, but next time I will definitely omit the water.
The pickled feta takes a few hours to come together (mostly marinating time), so be sure to plan ahead when starting this recipe.
Lamb Burgers
Anne Burrell
Total Time: 5 hr 30 min
Prep: 25 min
Inactive: 4 hr 15 min
Cook: 50 min
Yield:4 servings
Ingredients
Extra-virgin olive oil
2 red onions, 1 cut into ¼-inch dice and 1 sliced for garnish
Kosher salt
Pinch crushed red pepper
2 cloves garlic, finely smashed
1 ½ pounds ground lamb
½ bunch fresh dill, finely chopped
½ bunch fresh mint, finely chopped
2 sprigs fresh oregano, finely chopped
Zest of ½ lemon
4 Whole-Wheat Pitas, recipe follows, or 4 seeded hamburger buns
Pickled Feta Spread, recipe follows
1 beefsteak tomato, sliced for garnish
2 cups baby spinach, for garnish
Whole-Wheat Pitas:
1 ¼ cups warm water
1 teaspoon sugar
1 envelope active dry yeast
1 ½ cups bread flour, plus a little more for dusting
1 ½ cups whole-wheat flour
2 teaspoons cumin seeds, toasted and ground
2 teaspoons kosher salt
Pinch cayenne pepper
¼ cup extra-virgin olive oil, plus more for oiling bowl
Pickled Feta Spread:
1 cup champagne vinegar
1 tablespoon sugar
½ tablespoon kosher salt
2 mint tea bags
1 bay leaf
3 fresh mint stems (leaves reserved for something else), optional
3 fresh dill stems, same deal as the mint stems
3 fresh oregano stems, same deal as the mint stems
8 ounces feta, coarsely crumbled
½ cup plain Greek yogurt
Coat a large sauté pan with olive oil, toss in the diced onions and season with salt and crushed red pepper. Bring the pan to medium-high heat and cook the onions for 3 to 4 minutes. Add the garlic and cook for 2 to 4 more minutes. Turn the heat off and let cool.
In a large bowl, combine the lamb, the cooled onion mixture, the dill, mint, oregano, lemon zest and ½ to ¾ cup water. Sprinkle with salt and combine well. Make a little "tester patty," cook it and taste for seasoning.
Preheat the grill.
Form the lamb mixture into 4 equal patties and sprinkle with salt. Grill the burgers to your desired doneness, 4 to 5 minutes per side for medium-rare. Remove the burgers from the grill and let rest for 3 to 4 minutes.
Cut the Whole-Wheat Pitas in half. Schmear each half generously with the Pickled Feta Spread. Top one half with a burger, then tomatoes, sliced onions and spinach. Place the other pita half on top.
Whole-Wheat Pitas:
In a small bowl, combine the warm water, sugar and yeast and let sit for 15 minutes.
In the bowl of a stand mixer, combine the flours, cumin, salt and cayenne. Add the yeast mixture and the olive oil. Mix on medium speed to combine and knead the dough. It should take 6 to 7 minutes. The dough will be firm and not sticky or tacky.
Place the dough in a lightly oiled mixing bowl, cover with plastic wrap and let rise in a warm place until the dough has doubled in size, about 1 ½ hours.
Preheat the oven to 500 degrees F.
Divide the dough into 8 equal pieces and roll into 7-inch rounds (¼-inch thick). Divide the dough between 2 sheet trays, cover them loosely with a clean tea towel or plastic wrap and let rest for 20 minutes.
Bake the pitas for 3 to 4 minutes, then turn the pitas over and bake for 2 more minutes. Let cool and use as desired.
Pickled Feta Spread:
Place the vinegar, sugar, salt, tea bags, bay leaf and herb stems, if using, in a small saucepan along with 1 cup water. Heat until the sugar and salt has dissolved. Remove from the heat and let cool.
Place the feta in a small container. Add the vinegar mixture and be sure that the feta is submerged in the liquid. Let sit for a couple of hours outside the refrigerator if using right away, or in the refrigerator if using in the future.
Strain the feta from the pickling liquid and discard the tea bags, bay leaf and stems. Place the feta in a food processor and add the yogurt. Pulse until combined.
Big Flavors Rating: 4 Stars