This post may contain affiliate links, which won't change your price but will share some commission.
To soak up all of the delicious mushroom gravy from the Salisbury Steak that I made for dinner, I decided to make mashed potatoes. I normally put lots of sour cream, butter and milk in my mashed potatoes (and even cream cheese if I have any on hand), but my sour cream was… let's just say beyond sour.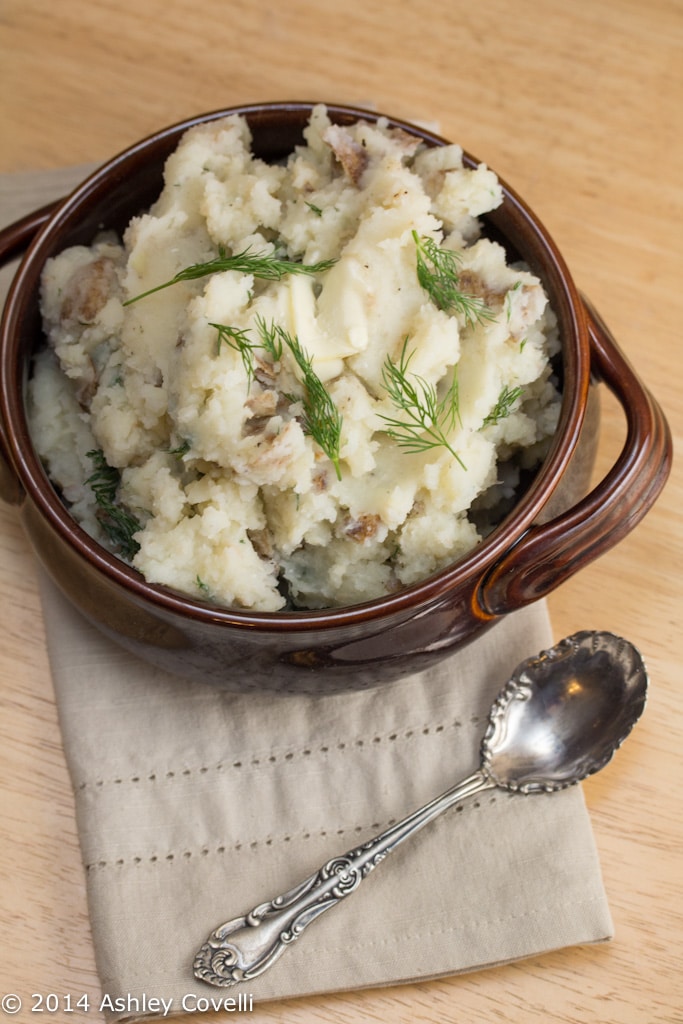 I did have some buttermilk in the fridge, and I figured that would add a nice tangy note to the potatoes. I also added horseradish to make it a little spicy, and fresh dill for a bit of brightness. It went really well with the steak, and was great slathered in mushroom gravy. And without the sour cream, extra butter and cream cheese, these are actually pretty healthy. Bonus!
If your mashed potatoes are too dry, add another splash of buttermilk. If you like 'em spicier, add more horseradish. You can certainly peel your potatoes if you don't enjoy eating the skins, but my family loves them, plus there's more nutritional value in them if you leave them unpeeled. Not to mention it means less prep work, which is a good thing on a busy weeknight.
Horseradish Dill Mashed Potatoes
Big Flavors from a Tiny Kitchen - Ashley Covelli
Make sure you cut your potatoes into consistently-sized pieces to ensure even cooking. The smaller the dice, the more quickly they'll cook.
4 russet potatoes, scrubbed clean, diced
1 dried bay leaf
2 tablespoons unsalted butter
1 ¼ cup buttermilk
1 tablespoon prepared horseradish
Kosher salt and freshly cracked black pepper, to taste
¼ cup chopped dill
Place diced potatoes in a large pot and cover with cold water by a few inches. Add bay leaf and a pinch of salt. Place on stovetop over high heat. Once the water boils, reduce heat and simmer until potatoes are tender when pierced with a knife, about 15 minutes, depending how large your potato pieces are.
Drain potatoes and add butter, buttermilk, horseradish, salt and pepper. Using a potato masher, smash the potatoes in the pot until they're as smooth as you like them and all the ingredients are mixed in. Stir in dill.
Enjoy!
Big Flavors Rating: 4 Stars