This post may contain affiliate links, which won't change your price but will share some commission.
Back when we first met, my husband said he didn't like soup. I believe his exact words were, "...it tastes like someone took a perfectly good meal, and then threw hot water on it".
Riiiiight.
Not to be deterred, I went from only making things like my grandpa's beef stew and spicy, meaty, three bean chili to lighter soups on occasion. What can I say, I like proving him wrong encouraging him to enjoy new things.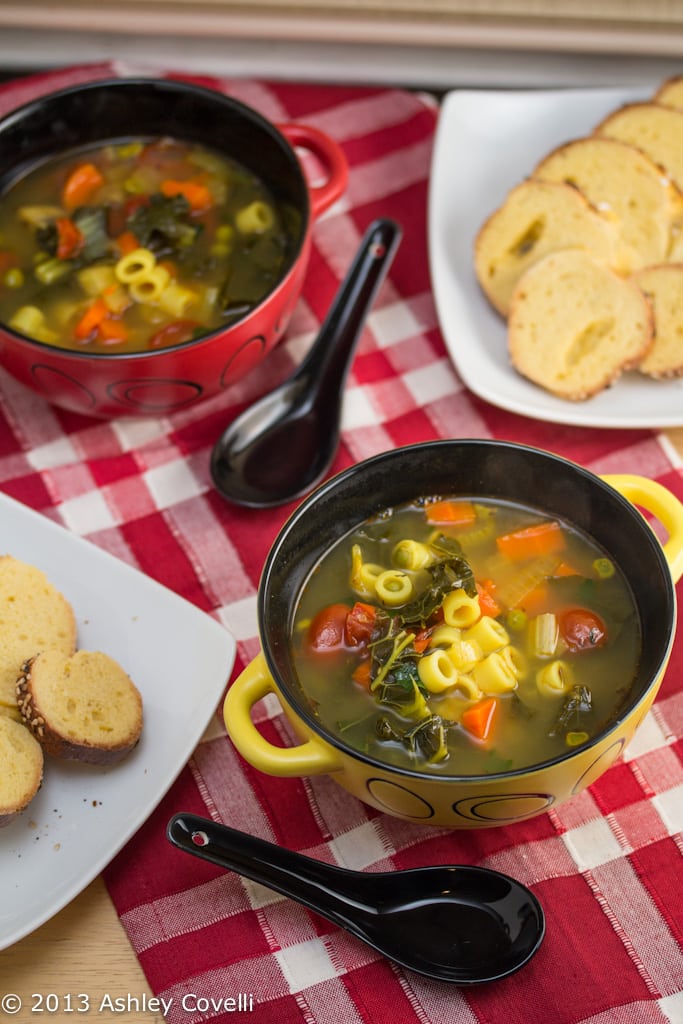 This soup is hearty and delicious, and full of nutrients. I wanted to load up on "good stuff" since we've been in the middle of a nasty streak of bad health in the house as of late. I love keeping chicken soup base on hand, because it adds such a rich, wonderful flavor to dishes. Plus, chicken soup is supposed to be great when you're sick, right? I"m sure this would also be good with vegetable soup base if you want to avoid animal products.
I added pasta at the end for bulk, but also because my son loves eating pasta. Ditali worked really well here, but any small pasta would be fine. Of course, ditali lends itself nicely to being worn on toddler fingers, but that may or may not be a concern in your house 🙂
Hearty, Restorative Vegetable Soup with Ditali
Big Flavors from a Tiny Kitchen - Ashley Covelli
2 tablespoons extra virgin olive oil
3 cloves garlic, minced
2 medium yellow onions (about 2 cups total), chopped
3 large carrots, chopped
4-5 stalks celery (about 2 cups total), chopped
Kosher salt and freshly cracked black pepper, to taste
2 cups sliced mushrooms
2 cups grape tomatoes, halved
3 ½ tablespoons Penzeys Chicken Soup Base and Seasoning (or vegetable, if preferred)
2 dried bay leaves
1 tablespoon freshly grated ginger
1 teaspoon dried thyme
1 teaspoon dried marjoram
1 teaspoon dried turmeric
14 cups water
2 cups (tightly packed) kale, roughly chopped
2 cups frozen peas
1 ½ cups ditali or other small pasta
½ cup parsley, chopped
Heat oil in a large stock pot over moderate heat. Add garlic, onions, carrots and celery. Season with salt and pepper and sauté until the veggies begin to soften. Add mushrooms and tomatoes followed by the chicken soup base and stir well. Add bay leaves, ginger, thyme, marjoram and turmeric and stir well to combine. Add water and bring to a boil, stirring occasionally.
Once water begins to boil, add kale and peas and stir to combine. Taste for seasoning and add more salt and pepper if needed. Reduce heat and allow the soup to simmer for 10 minutes, stirring occasionally.
Bring soup up to a boil and add the pasta. Cook according to package directions. Once pasta is al dente, stir in parsley, do one last check for seasoning, adjusting if necessary, and serve.
Big Flavors Rating: 4 Stars