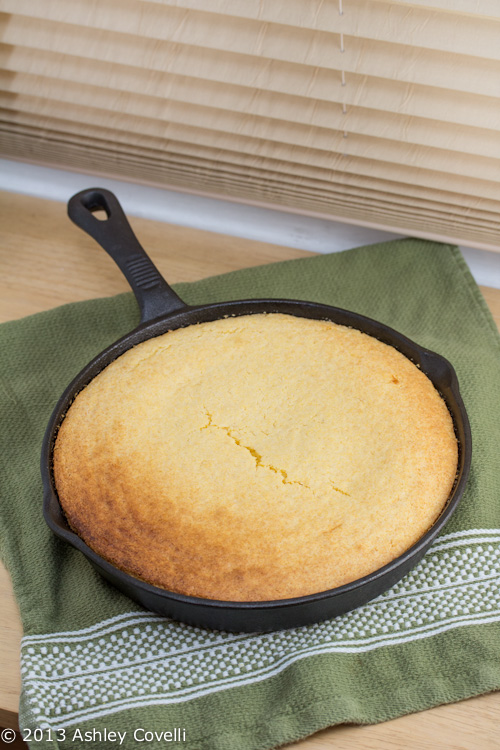 This post may contain affiliate links. Thank you for supporting the brands that keep me creative in my tiny kitchen!
When I was digging around in the pantry to put away the bread flour that I bought to make Garlic Naan, I came across an almost full container of cornmeal that needed to be used soon. Luckily, I have a few go-to recipes that call for cornmeal, including this awesome cornbread. I like making it in a cast iron skillet because it bakes up really nicely, has its own handle, and… is cast iron! Cast iron if just one of those things that makes people happy. Most dishes that come out of a cast iron skillet or Dutch oven are associated with comfort food in my house, and this one is no exception. This is nice and sweet and tender. Yum!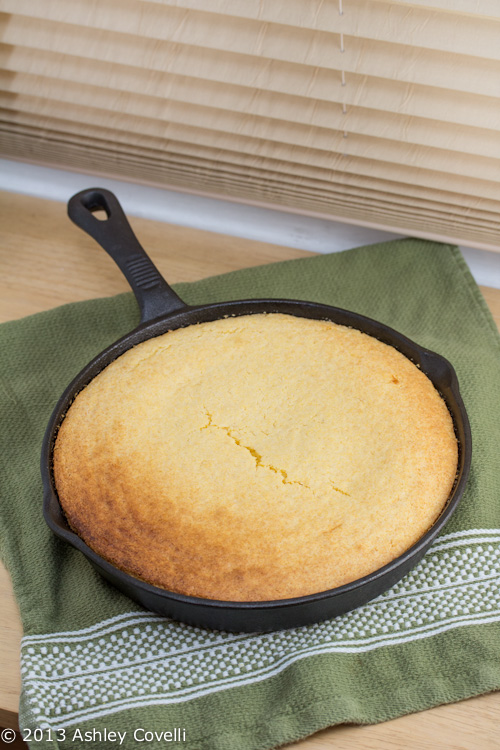 Golden Cornbread
CLBB LLR
Prep Time: approx. 10 Minutes.
Cook Time: approx. 25 Minutes.
Ready in: approx. 35 Minutes.
Makes 1 – 9 inch round pan
(12 servings)
1 cup all-purpose flour
1 cup yellow cornmeal
⅔ cup white sugar
1 teaspoon salt
3 ½ teaspoons baking powder
1 egg
1 cup milk
⅓ cup vegetable oil
Preheat oven to 400 degrees F (200 degrees C). Spray or lightly grease a 9-inch round cake pan.
In a large bowl, combine flour,cornmeal, sugar, salt and baking powder. Stir in egg, milk and vegetable oil until well combined. Pour batter into prepared pan.
Bake in preheated oven for 20 to 25 minutes, or until a toothpick inserted into the center of the loaf comes out clean.
Big Flavors Rating: 5 Stars