This post may contain affiliate links, which won't change your price but will share some commission.
This pork recipe was awesome! Just keep in mind that it needs 3 hours total (marinating time plus resting) before you start to cook it, so make sure you take that into account. The sauce is rich and goes great with the pork. This also used ingredients that I always have on hand, and I had a piece of pork tenderloin leftover from when I made Szechuan Pork a few days ago. I served this dish with some Brussels Sprouts with White Beans and Pecorino, and since I halved that recipe, I made a quick side dish with the other half of the can of beans. I tossed them in a bowl with some diced tomato, thinly sliced red onion, sea salt, freshly cracked black pepper, aged balsamic and a nice olive oil. It really rounded out the meal well, and we enjoyed every bite. This pork recipe will definitely be going into our regular rotation.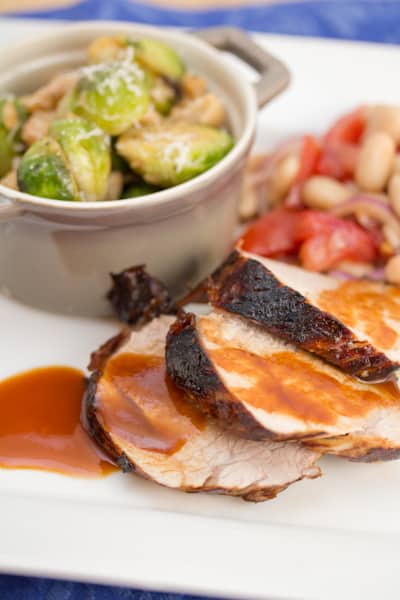 Ginger-Marinated Pork Tenderloin
Gourmet November 2003
1 ⅔ cups chicken broth (13 ½ ounces)
¼ cup soy sauce
¼ cup packed brown sugar
3 tablespoons ketchup or 2 tablespoons tomato paste
3 tablespoons finely grated peeled fresh ginger
3 garlic cloves, minced
1 tablespoon cider vinegar or balsamic vinegar
1 (¾ pound) pork tenderloin
1 tablespoon olive oil
Special equipment: an instant-read thermometer
Whisk together ⅔ cup broth, soy sauce, brown sugar, ketchup, ginger, garlic, and vinegar and pour into a large sealable plastic bag. Add tenderloin and seal bag, then marinate, chilled, turning bag over occasionally, 2 hours.
Bring tenderloin to room temperature, about 1 hour.
Put oven rack in middle position and preheat oven to 425°F.
Pat tenderloin dry and reserve marinade. Heat oil in a 12-inch ovenproof skillet over moderately high heat until hot but not smoking, then brown tenderloin on all sides, turning with tongs, about 3 minutes total. Transfer skillet to oven and roast pork until thermometer inserted diagonally into center of meat registers 155°F, 12 to 15 minutes. Transfer to a cutting board and let stand, loosely covered with foil, 10 minutes.
While meat is roasting, pour marinade through a fine-mesh sieve into a small saucepan and boil until reduced to about ⅓ cup, 10 to 15 minutes. Stir in remaining cup broth and bring sauce to a simmer. Serve slices of tenderloin with sauce.
Cooks' note: Pork keeps, wrapped tightly in foil and chilled, 3 days.
Big Flavors Rating: 5 Stars