This post may contain affiliate links, which won't change your price but will share some commission.
I've been on a slow cooker kick this summer. It's just nice to put a little effort into a meal early in the day and then walk away and enjoy the delicious smells until dinnertime. This one was really simple to put together, and the flavor was great! One thing that I decided that I am d-o-n-e with, though, is trying to thicken any type of sauce in the slow cooker by adding a cornstarch slurry and letting it cook on high for a few minutes. It has never worked for me. Ever. And I've had a few different slow cookers. I gave it one last shot with this recipe, and after getting frustrated and pouring it into a saucepan to thicken, I decided that this was the last time. It's not a big deal and usually doesn't take long, but it does add another pan to clean up after dinner. Anyway, this was nice and sweet and tangy, and my whole family enjoyed it. My toddler was having a blast dipping the chicken into the sauce over and over and over again. I served this over some steamed white rice (yep - had the slow cooker AND the rice cooker both going at once today!) with Roasted Okra on the side. It was a great meal, and a nice way to end the week.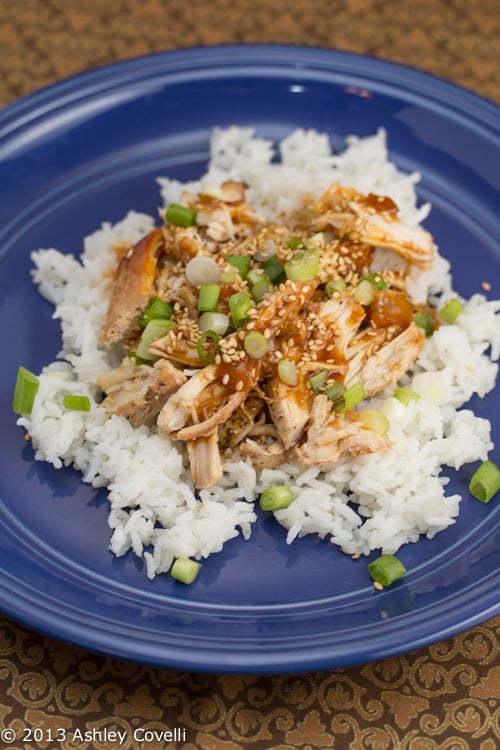 Crock Pot Honey Sesame Chicken
The Comfort of Cooking - adapted from Six Sisters' Stuff
YIELD: Serves 4-5
6-8 boneless, skinless chicken thighs or 4 chicken breasts
Salt and pepper
½ cup diced onion
2 cloves garlic, minced
½ cup honey
¼ cup ketchup
½ cup low-sodium soy sauce*
2 tablespoons vegetable oil or olive oil
¼ teaspoon red pepper flakes
4 teaspoons cornstarch
⅓ cup water
2 packets minute rice, optional
½ tablespoon (or more) sesame seeds
3 scallions, chopped
Place chicken in Crock Pot and lightly season both sides with salt and pepper.
In a medium bowl, combine onion, garlic, honey, ketchup, soy sauce, oil and red pepper flakes. Pour over chicken. Cook on low for 3-4 hours, or high for 2 hours.
Remove chicken to a cutting board, leaving sauce. Shred chicken into bite-sized pieces; set aside. Prepare rice according to package instructions.
In a small bowl, dissolve 4 teaspoons cornstarch in ⅓ cup water; add to crock pot. Stir to combine with sauce. Cover and cook sauce on high for ten more minutes, or until slightly thickened.
Add cooked rice to 4 plates, top with chicken and spoon sauce over top. Sprinkle evenly with sesame seeds and chopped scallions.
Enjoy!
*Optional: use Gluten Free
Big Flavors Rating: 4 Stars