This post may contain affiliate links, which won't change your price but will share some commission.
The theme for June's Supper Club was Hot & Spicy, Cool & Refreshing. I think the idea was that each couple would make one spicy and one cool dish, but I decided to add a little of both to my dish.
This soup is cool and refreshing with just a little kick of heat at the end. It's great because you can make it ahead of time and keep it stashed in the refrigerator until you're ready to serve it.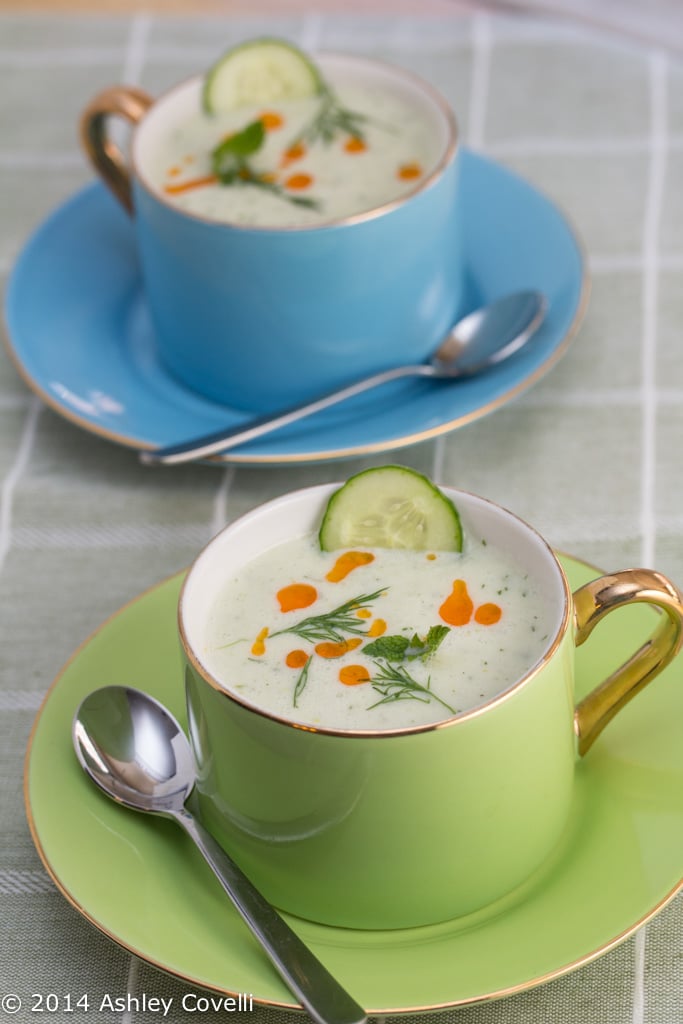 This was a cool and creamy way to counteract all of the heat that the other dishes generated. It was a great way to use some of the fresh mint from my garden, and it was pretty, to boot!
Chilled Cucumber Mint Soup w Hot Chili Oil
Big Flavors from a Tiny Kitchen - Ashley Covelli
Serves 6
1 tablespoon extra-virgin olive oil
1 shallot, halved and sliced (about 1 ½ tablespoons)
2 cloves garlic, minced
2 green onions, sliced (about ½ cup)
¼ teaspoon kosher salt
⅛ teaspoon freshly cracked black pepper
3 English cucumbers, peeled, seeded and chopped (about 7 cups)
2 cups vegetable stock
16 ounces nonfat Greek Yogurt (I prefer Stonyfield 0% Fat Plain Greek Yogurt)
Zest of 1 lemon plus 1 tablespoon of the juice
1 teaspoon kosher salt
¼ teaspoon freshly cracked black pepper
1 tablespoon fresh mint, roughly chopped
1 tablespoon fresh dill, roughly chopped
Hot chili oil, for garnish
Heat olive oil in a small skillet over moderate heat. Add shallot, garlic, green onions, salt and pepper and sauté until fragrant. Remove from heat to cool
In a large blender, place cooled shallot mixture along with cucumber, vegetable stock, yogurt, lemon zest and juice, salt, pepper, mint and dill. Blend until smooth. (You may need to do this in batches in a smaller blender - it fit just right in my Vitamix). Taste for seasoning and adjust if necessary.
Pour soup into a large container. Cover and chill in the refrigerator until ready to serve.
To serve, spoon soup into 6 bowls and top each with a few drops of hot chili oil. Garnish with additional herbs and sliced cucumber, if desired.
Big Flavors Rating: 4 Stars