This post may contain affiliate links, which won't change your price but will share some commission.
This installment features a favorite upscale coastal restaurant + raw bar in Bethany Beach, Delaware + Q&A with Chef Douglas Ruley, who shares his tips for successful seafood dishes.
For the past 4 years, my family has enjoyed a weeklong summer vacation in Ocean City, Maryland. It's a great place to lay back, relax, and enjoy some of the freshest seafood you can imagine.
The first year we went, we were driving through Delaware, and I spotted a little restaurant on the side of the highway with a RAW BAR NOW OPEN sign.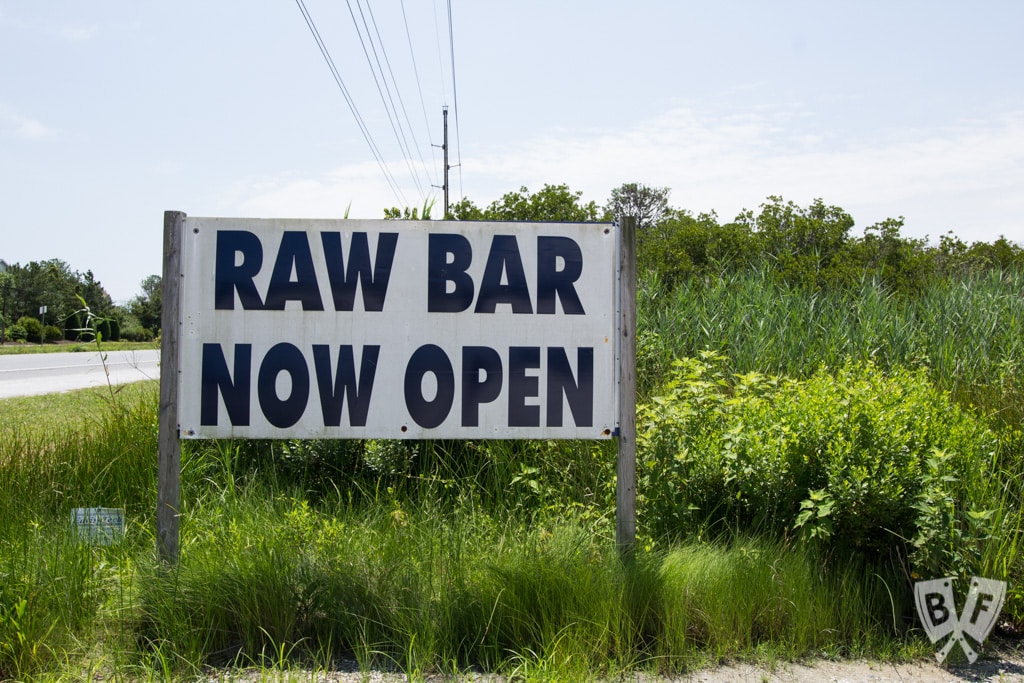 We made a point to stop in for dinner before we left town, and it ended up being, hands-down, one of the best meals we've ever had. We stop in for at least one meal every time we're in town now, and can't recommend it highly enough.
The food, service, and ambiance are all completely on point every time we go, and it's well worth the wait to score a table for dinner.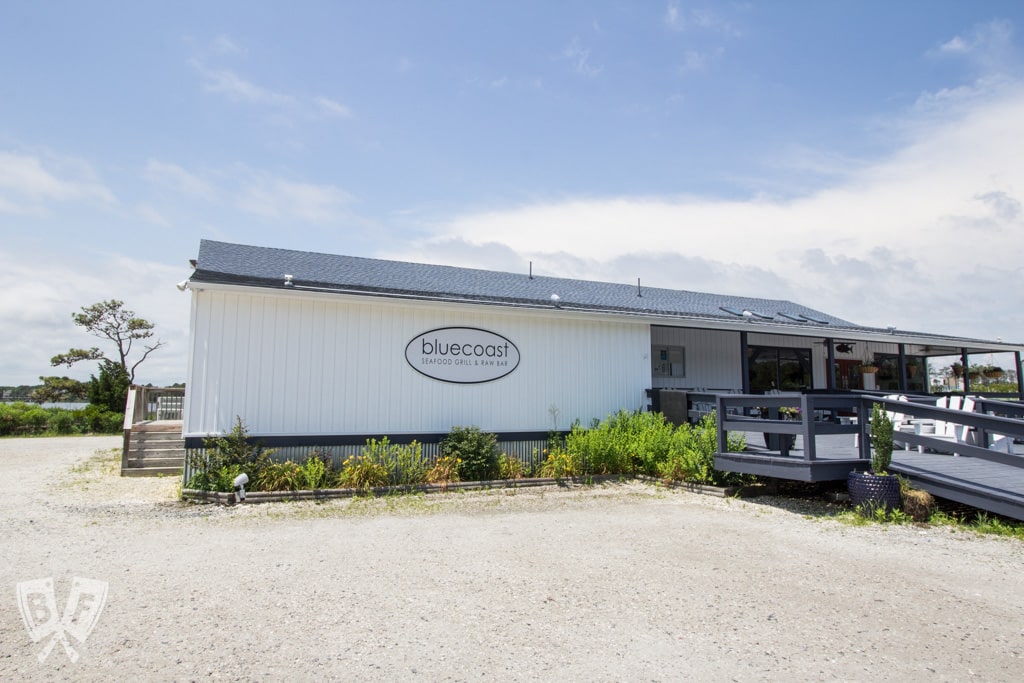 I spent some time in the kitchen with Chef Douglas Ruley, who also serves as Vice President of SoDel Concepts - an award-winning hospitality group that is responsible for a slew of successful seafood restaurants scattered throughout the state.
Big Flavors: How did you get into cooking?
Douglas: Growing up, my grandparents had a farm. We had cattle, pigs, just a couple of each, and a big garden. I would go over there on the weekends… I didn't really know what was going on at the time. I didn't really like it. But looking back, it was kinda cool… home cooked meals, collard greens, picking the beans on the porch, watermelons. I remember the first thing I ever grew was a watermelon in a small patch in the front yard… I was like 5 years old trying to carry it.
They would take the cattle and slaughter it at the end of the year whenever it was big enough and kind of divvy it out to the family. We had a smokehouse - it was very small, but looking back, I didn't appreciate it. I was too young. So I think that kind of ingrained into my soul just a little bit.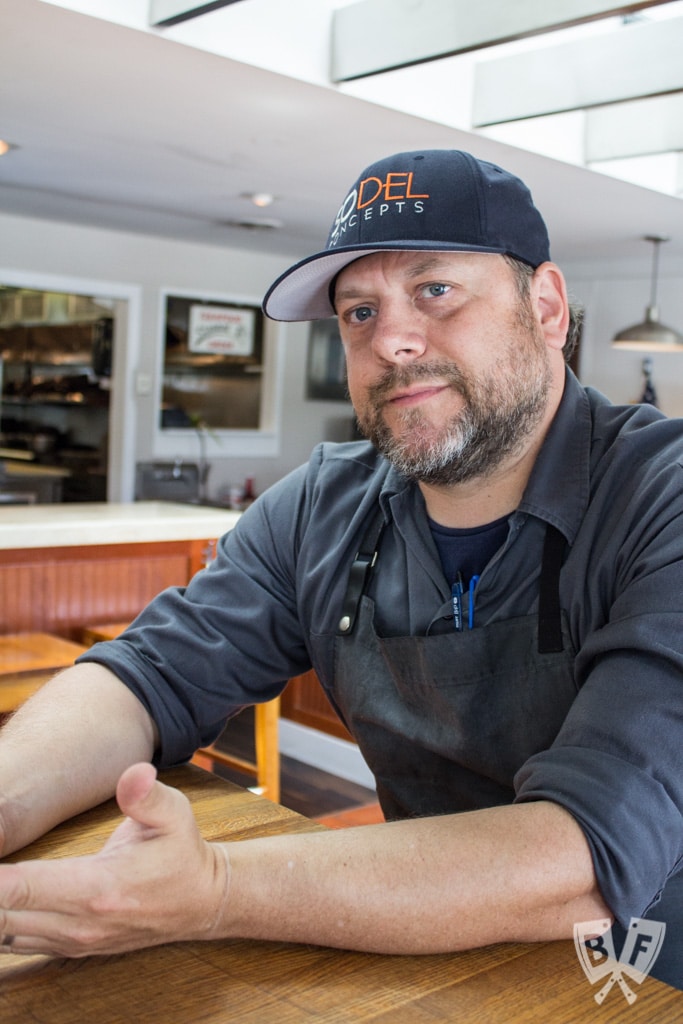 I did well in school, I just never caught on with a career. So I went to community college, University of Delaware, and I didn't really fit in. I'd always come down to the beach and work during the summer. I started out at a place called The Country Squire. It was a biker bar toward the boardwalk… I was like 19… and I got a server job there. It was a free-for-all, it was crazy… George Thorogood is from Delaware, so he used to play there way back when… and another guy would go out and play his guitar out on the parking meters, or he'd take a toaster out of the kitchen and play guitar with a toaster.
They had pool tables and wet t-shirt contests… but they had breakfast and dinner… and one day some of the cooks didn't show up, so they were like, "hey, you're gonna hafta cook" so I started cooking. They paid me under the table all summer, so I had shoeboxes full of money under my bed because I didn't have a bank account at the time. But after that I moved back up, tried to do University of Delaware again, started working at a diner on Main Street called Jude's Diner. Jude was a rough old lady and she'd tell ya how it is. She told me I should go to culinary school. She got all the information, gave it to my mother and basically sent me on my way.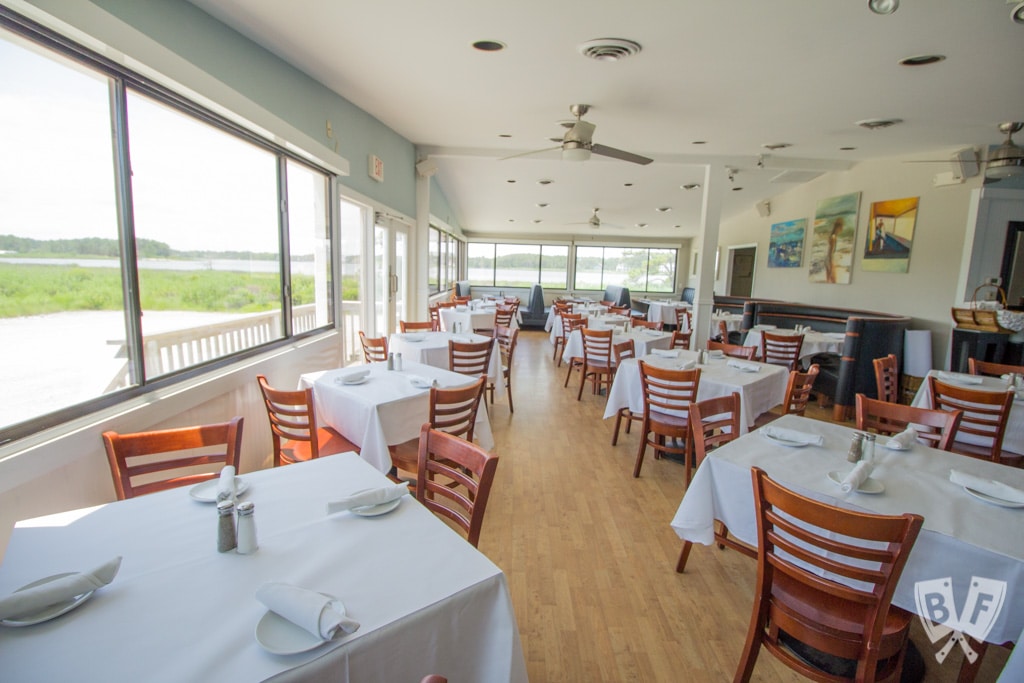 I went to Johnson & Wales in Rhode Island. If it wasn't for her telling me what I should do, I don't know what I would have done… after I got my degree, I moved to South Carolina and did an internship in Hilton Head for about 6 months, moved back to Newark Delaware… Iron Hill Brewery was just building their first restaurant a block away from where I had worked with Jude.
I walked in and got a job making salads. 5 years later I was the Executive Chef of the restaurant.
I worked there for 10 years… we lived with my aunt while our house was being built down here. She lives right on the water next to the owners of The Cultured Pearl… I think it was voted Top 10 Sushi Places in America… so my aunt told them that she had a nephew who was a chef and wanted to know where would be a good place for him to get a job.
They gave her a card - and I still have it today - it has Matt Haley's name and number on it… we met 5 or 6 times during the year just talking food… he hired me 6 months before I moved down here… so this is my 10th summer here.
If you work a summer at the beach somewhere it's like working 2 years at a normal place.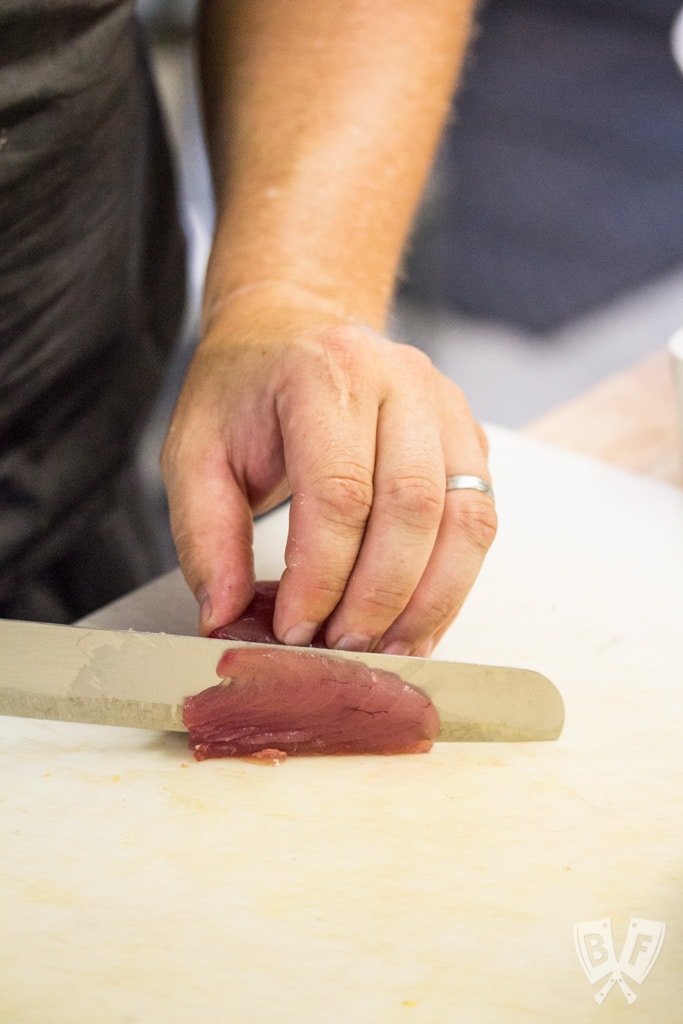 Big Flavors: Tell me a little bit about SoDel Concepts and how Bluecoast came to be.
Douglas: SoDel Concepts was founded by Matt Haley, who recently passed away, in 2014. Bluecoast used to be called Redfin. Matt and a partner had a falling out. I like to say that Matt won back the restaurant in an auction, and he quickly turned it around and renamed it Bluecoast in 2005. From then on, he opened 6, 7, 8 restaurants up and down the coast of Delaware.
I came on board in 2006 and was the chef here, then opened Lupo Italian Kitchen in Rehoboth with Matt, still being the chef here, so I was overseeing two. Then we bought a restaurant in Fenwick called Shark's Cove and changed the name to Catch 54 - right on the water just before Ocean City.
It burnt down in 2011, which was a good thing, because it was an old building… so everything is brand new now, the building is beautiful now. So I helped rebuild that and was the chef when that opened.
Never thought I'd say that a building burning down is a good thing, but looking back, it was.
Then Matt's Fish Camp opened in North Bethany with Northeast Seafood in Ocean View, it's about a mile away from Bluecoast.
In 2013 we opened Papa Grande's right across from Catch, and in 2014 we opened another Papa Grande's in Rehoboth.
Then we took some time off, opened things like Meals on Wheels - we do 300-400 breakfast, lunch and dinners out of our second restaurant, Fish On, which is in Lewes. So we're in there at 4 to 5 o'clock in the morning crankin' out meals. We have volunteers that come and deliver it to the people's houses. They're out of there by 10:00 and then the chefs come in and do a dinner service. It's something we're giving back to the community and it gives us a little bit of revenue as well.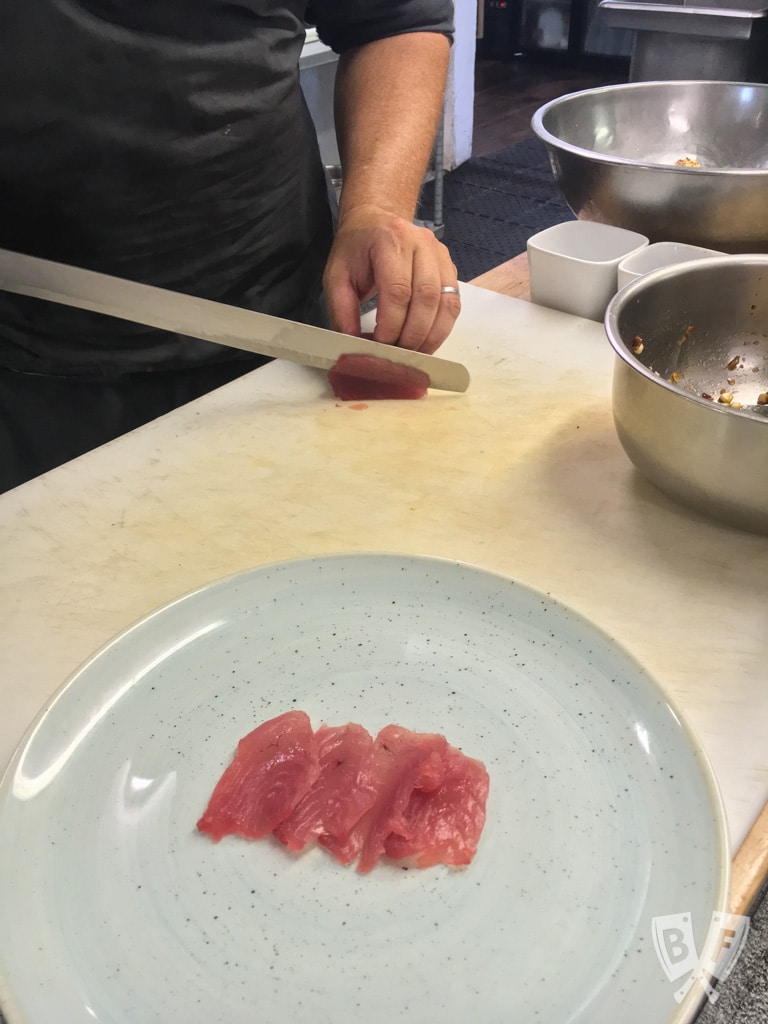 We also do a breakfast at The Bellmoor hotel in Rehoboth. We run that out of Lupo di Mare, so instead of actually opening another restaurant, we just added different revenues to our existing restaurants. And then just a few months ago, we opened Matt's Fish Camp in Lewes.
Matt's Fish Camp in Bethany is basically an old diner about a block away from the ocean. And we had the chance to actually build… it's almost looks like a Cape Cod kind of shack, kind of house, with the shutters and you walk in and there's all types of memorabilia… it's really nice, really well designed. It's kind of like the little brother of Matt's Fish Camp in Bethany. We got to do a couple different things on the menu… so we took some liberties and kind of changed a couple things, but basically the same menu.
A lot of times when you have a restaurant that's been around for a while, it's kinda hard to change the staples.
Matt passed away, Scott Krammerer was the Vice President of the company, he stepped up and bought the company… we kept movin'. It was like lightning - we were doing things super, super fast. It was crazy.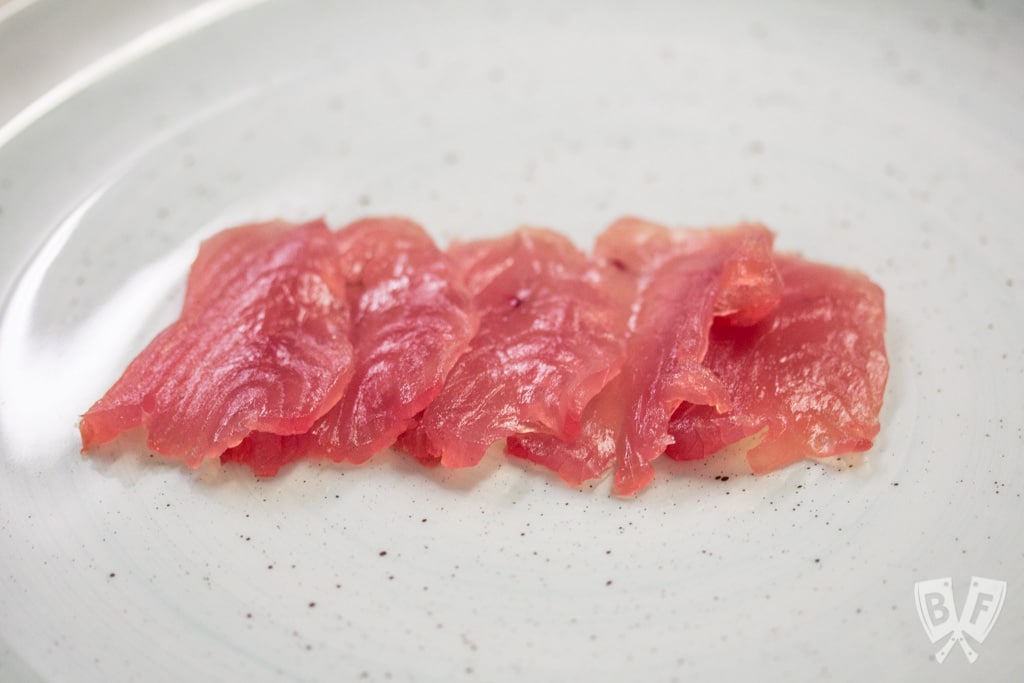 Big Flavors: How do you get inspiration for new recipes?
Douglas:  Back in the day I would just study magazines and cookbooks - the internet was around but it wasn't like it is now with Instagram and Facebook… but I like looking at other people's menus, seeing what other people are doing - especially not around here, in similar areas. I'm not gonna look to see what somebody's doing in Ohio, they're obviously not gonna be using fresh fish as much as we do here. But you go through spurts.
I came up with this dish yesterday - I was thinking that you wanted it to be something that someone could do at home, but I wanted it to be something that I could serve here as well. I always go back to simple, beautiful, fresh - not a lot of ingredients. The popcorn is probably a little too much for my taste, but if you eat it, it gives it a little bit of crunch.
Just walking down the street you're gonna get ideas.
Actually taking a little break from food helps you recharge and just sitting down, having a beer, looking at one of my favorite magazines, like The Local Palate.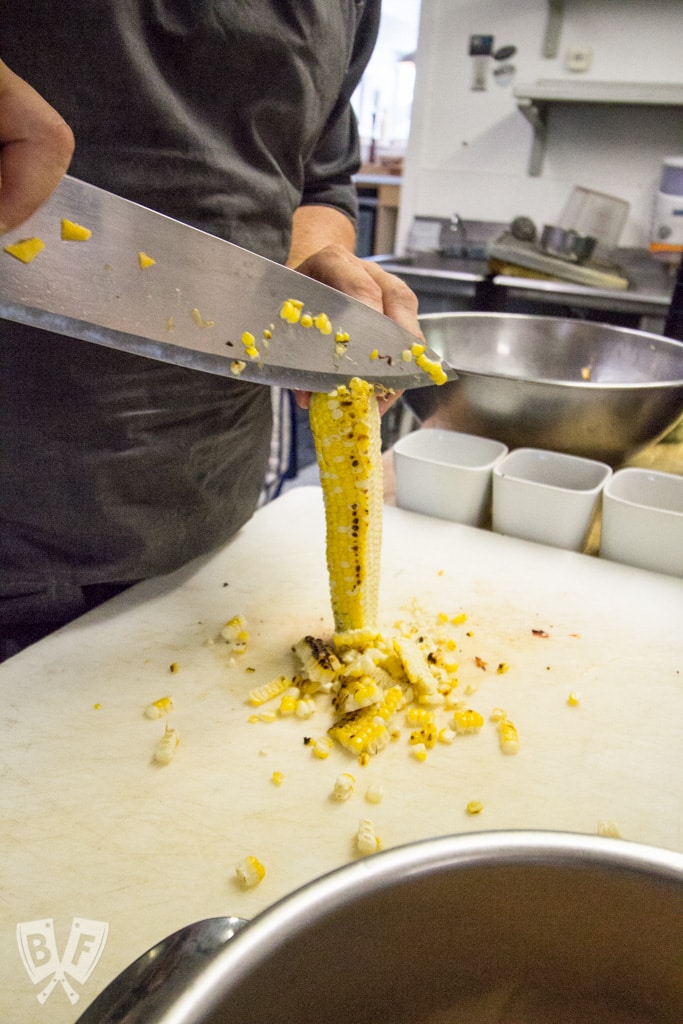 Big Flavors: What's your favorite menu item right now?
Douglas: I like the tuna… we have a chef in our company that was a sous chef here before I started… he came up with this stuff called "love dust". It's coriander, black pepper, fennel, a little star anise, some cinnamon - and it's just coarsely ground into a crust. And then you sear the tuna.
So we do it here with a little bit of feta and 2 types of watermelon with a little bit of arugula. We take some Vidalia onions and char them and make a vinaigrette out of them. It's nice and fresh and local.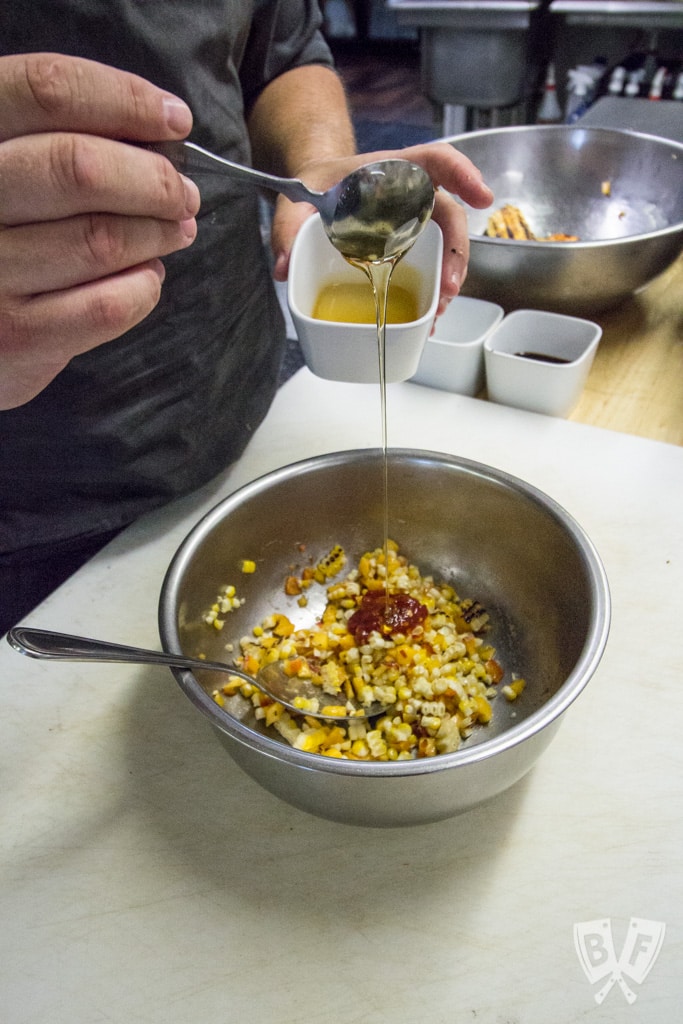 Big Flavors: My brother just got into town this morning from Indiana, and he's gonna try to get into seafood while he's out here. What would you recommend - what's a good starting point for someone like him?
Douglas: Scallops are always good. They're mild. And even tuna… you put it in your mouth and it's just like butter. Especially if it's really fresh. And the thing with tuna is that if you sear it, you have to slice it properly. It's a whole process… bigger chunks… you kind of just want to pick it up and eat it and not have to cut it.
Shrimp is always easy, lobster, and even an oyster, like a Sweet Jesus oyster - it's a local oyster from Hollywood, Maryland - it's not too briny, not too salty - just kinda nice and mild. And then you put a little cocktail or mignonette, which is just shallots and vinegar.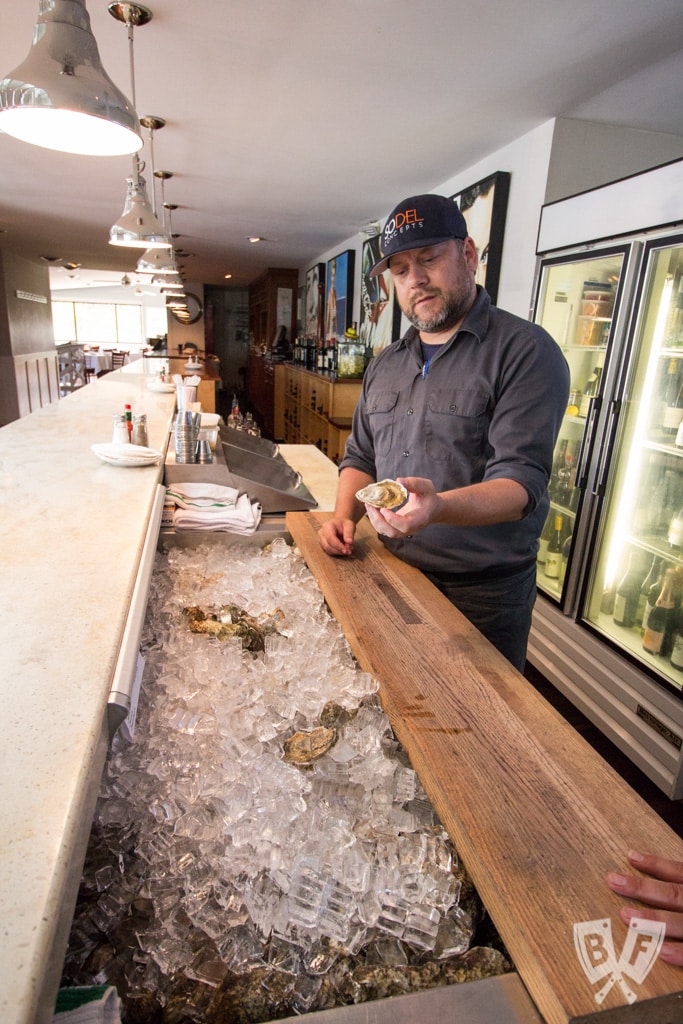 Does he like vodka? Because he could do an oyster shooter. Fried calamari is always… not offensive. We have fried baby lobster tails that have been on the menu for 10 years. Oysters are tough because of the texture. It depends on if he doesn't like seafood at all - I'd maybe start with something fried.
Big Flavors: Do you have any tips for people when it comes to cooking or choosing seafood, especially when it comes to people who don't live on the coast?
Douglas: Freshness is key. Frozen is fine - you have to get it from the right person, basically. A lot of sushi tuna is frozen, because it kills all the bacteria. Just get it from a good purveyor. King crab legs are always good because they're frozen right on the boat. Pasteurized crab meat in a can is always fine.
I've seen frozen crab meat - I don't really recommend that because of the water. But unfortunately a lot of the crab that we get is from overseas… I'm not sure if it's because of the laws, or that we don't have enough pickers, but it's crazy.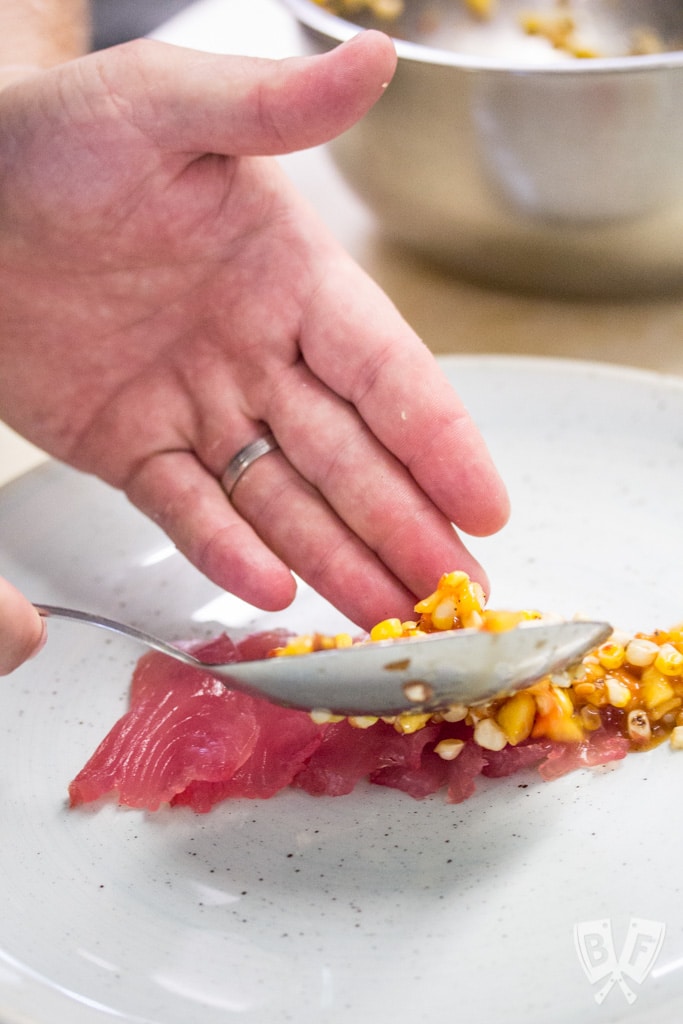 Big Flavors: What's the last meal that you cooked for yourself?
Douglas: It was actually a piece of tuna, because I was thinking about this last night. I took a little piece home, lightly blackened it. My son just turned 9 and he loves sushi. My daughter is 12 and she won't touch it.
So my wife said she was making spaghetti, and I told her I was bringing this tuna home. I just seared it rare, diced it up, tossed it in a bowl with a little bit of soy sauce, sea salt and a squeeze of lime.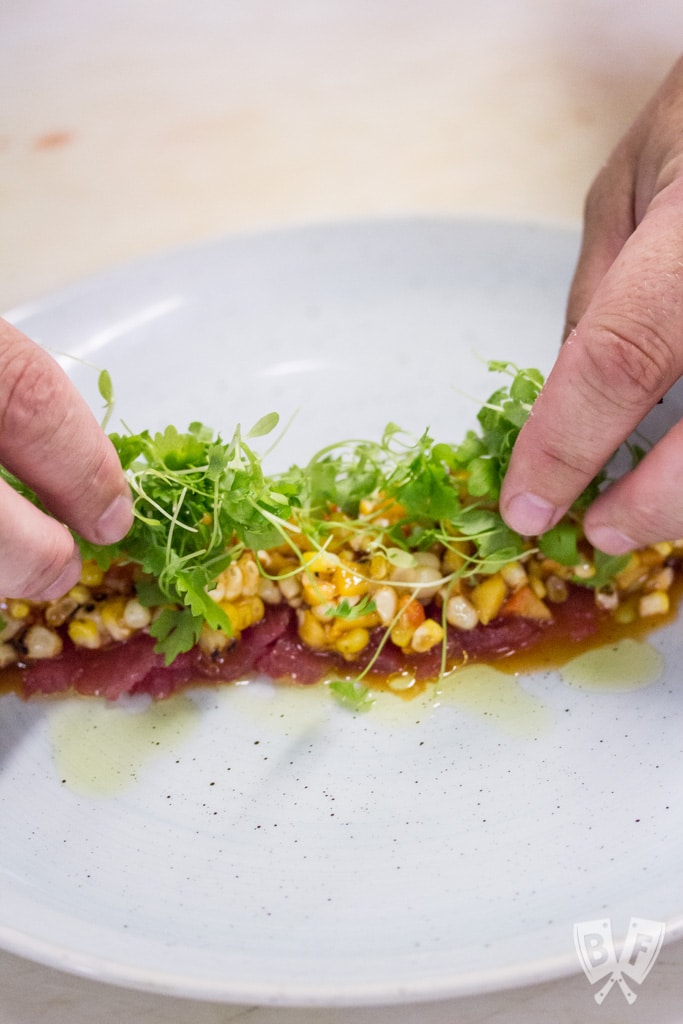 Big Flavors: What was it like to be the featured chef at the James Beard House?
Douglas: It was fun. The first time was ridiculous - not knowing where to go, where to park, where am I staying, how do I get all this food up there? I mean… you can't drop your food off the night before, so we have a truck with coolers in a parking garage. It's really guerrilla warfare. You go and you don't know what to expect, and then you get in there and go, "oh, these guys are just like us". They have their problems, they got guys not showing up to work, they're running around trying to get everything straight… but it was cool, we sold it out 3 times.
The first time we had probably 60, the second we had over 80 - we had tables in places they've never been put before, so that was cool. It was great - hopefully we'll get to go back and do it again. It always ends up in the winter, and I'm always trying to get a September or October because they have a great courtyard and bar out back and we've never been able to use it. I want to feature local produce and seafood, which we do, but it's harder to do in the off season. But we have more time.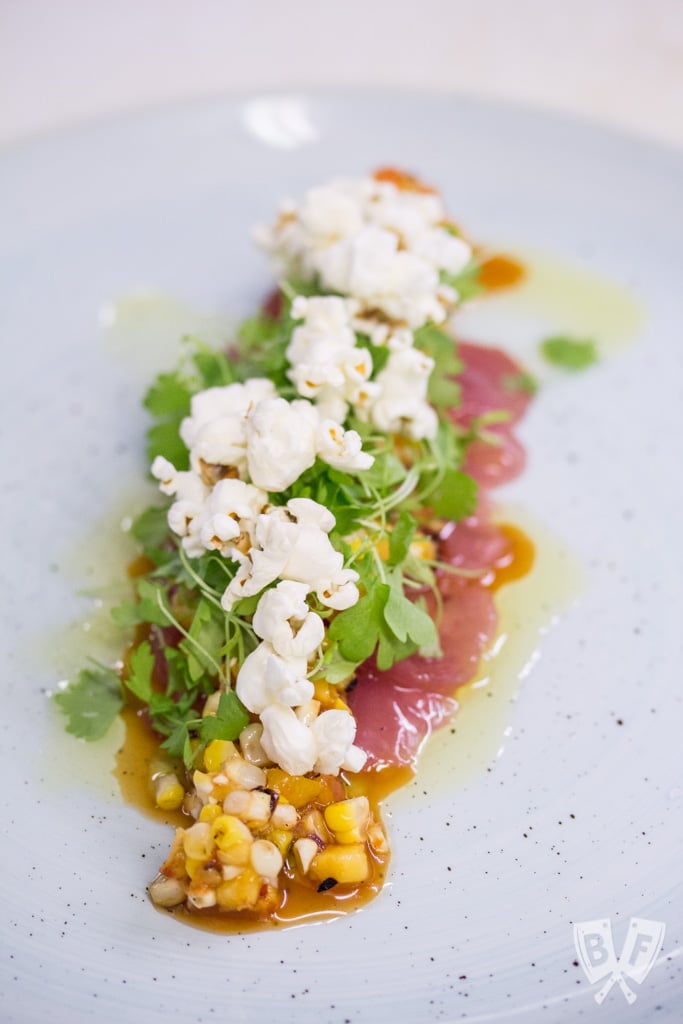 Big Flavors: Since you're in a place where so many people go on vacation, where do you go to unwind?
Douglas: Actually I try to stay home. There's a concert venue right down the street from our house called [The Freeman Stage at] Bayside and they have like Huey Lewis and the News - tonight I'm gonna go see Melissa Etheridge and Pat Benatar. Rusted Root plays there, The Wailers. Heart played there last year, the Beach Boys. We have a good relationship with Michelle Freeman and The Freeman Stage, so we got some free tickets, so that was the concert I picked.
Either that or just going to the neighborhood pool. My daughter does competitive dancing with a group… they travel a lot… and my son plays travel baseball. I help coach little league and watch him play.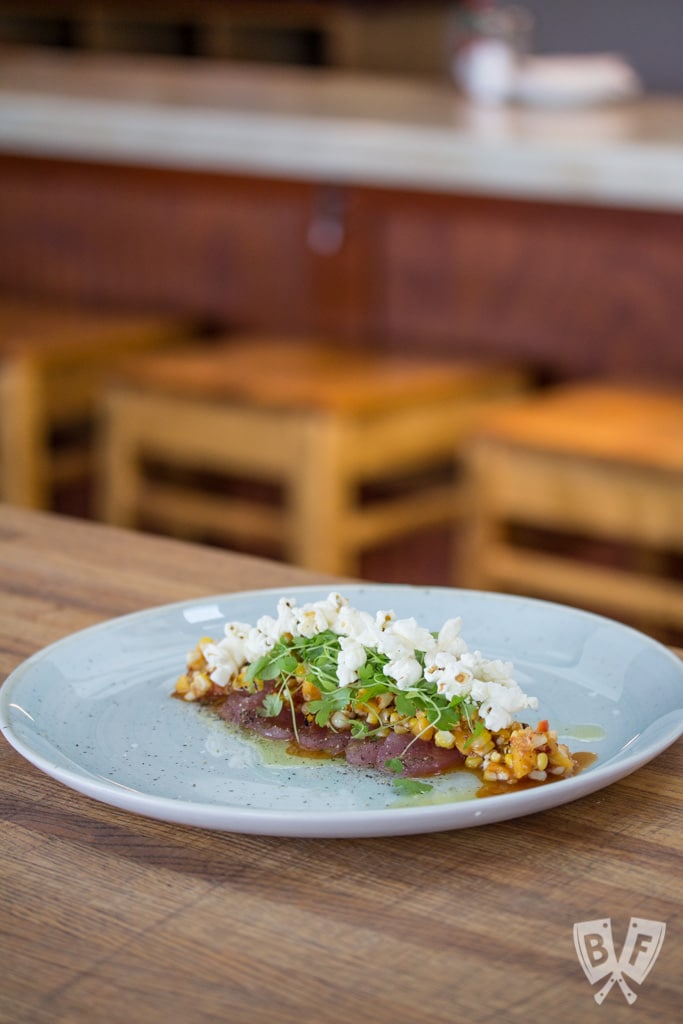 Thanks again Chef Douglas Ruley and his team for their hospitality and for letting my readers get a peek at into their crazy delicious culinary creations.
You can find all things Bluecoast on their website, Facebook, Instagram and Twitter.
Bluecoast Seafood Grill is located at 1111 Coastal Highway in Bethany Beach, Delaware.
Get the recipe for Chef Ruley's Raw Tuna, Quick Pickled Local Peach & Corn, Yuzu, Soy, Chili, Virgin Oil & Micro Celery and see how it turned out when I made it in my tiny kitchen by heading to this post!
Here's a little teaser to hold you over: