This post may contain affiliate links, which won't change your price but will share some commission.
UPDATE: This location in TriBeCa has closed but the original Grazin' restaurant is doing well and is located on 717 Warren Street, Hudson, NY 12534.
This is the first installment of a new series here on Big Flavors from a Tiny Kitchen where I'll be showcasing restaurant recipes that can be made at home. I'm going into professional kitchens, chatting with chefs and watching them prepare some of their favorite dishes. I'll be bringing the recipes home to cook in my tiny kitchen and will share those recipes along with my results so you can try them out for yourself!
I want to help demonstrate that professional-quality meals are absolutely possible to make at home, and that it can be easier than you think to step up your own cooking game. Each post will consist of 2 parts - my restaurant kitchen experience + interview with the chef and then my results when making the restaurant recipe at home.
I'm really excited about this new feature. It's also a way for me to introduce you to some of my favorite local eateries, which I encourage you to check out for yourself if you haven't already!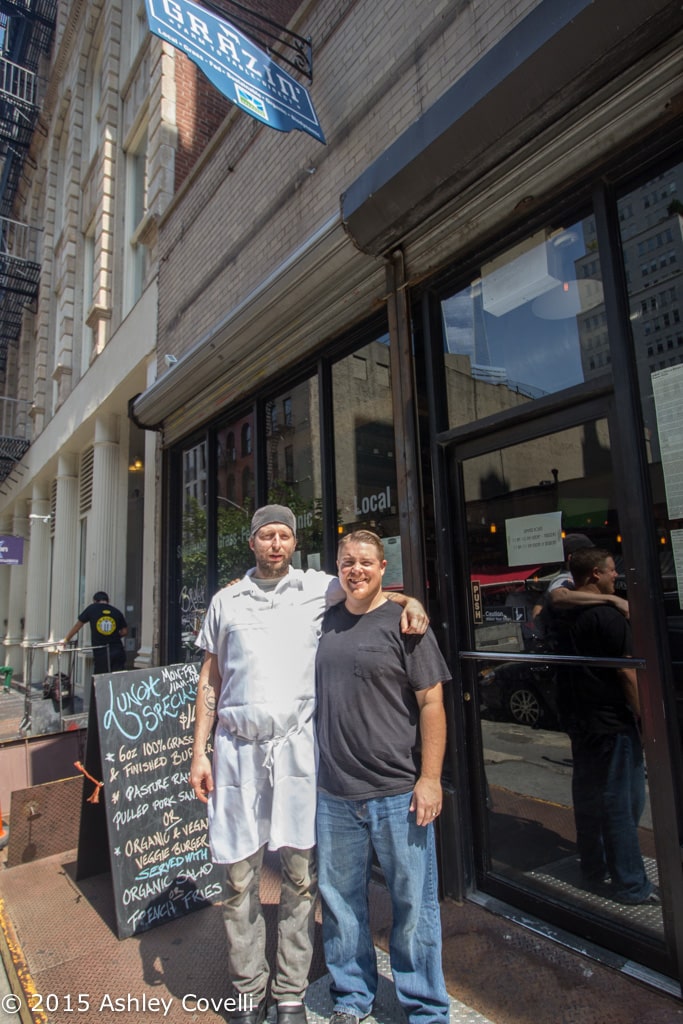 I've known the folks behind Grazin' for several years now. I recently sat down to chat with owner Andrew "Chip" Chiappinelli (above, right) and Chef Steven Reese (above, left) at Grazin' TriBeCa to talk about all things burger. I also learned more about the story of how they became so passionate about the food that they prepare and their commitment to animal welfare.
Grazin' Angus Acres, is set on an absolutely breathtaking 2,000 acres in Ghent, NY. The farm is committed to an ecologically friendly and economically sustainable environment. The cattle are grass-fed and finished Black Angus. They currently have 300 herd plus 9 large egg mobiles (1000 heritage laying hens) as well as pigs and fresh produce. The farm is also the first in the region to harness the area's natural wind power for a large percentage of their electrical needs.
Back in 2011, Grazin' opened their first Farm-to-Table: Direct organic burger joint up in Hudson, NY. They make everything in-house, down to the condiments and even the syrups to make sodas. Grazin' TriBeCa is the latest addition to the scene, opening in NYC in March 2015.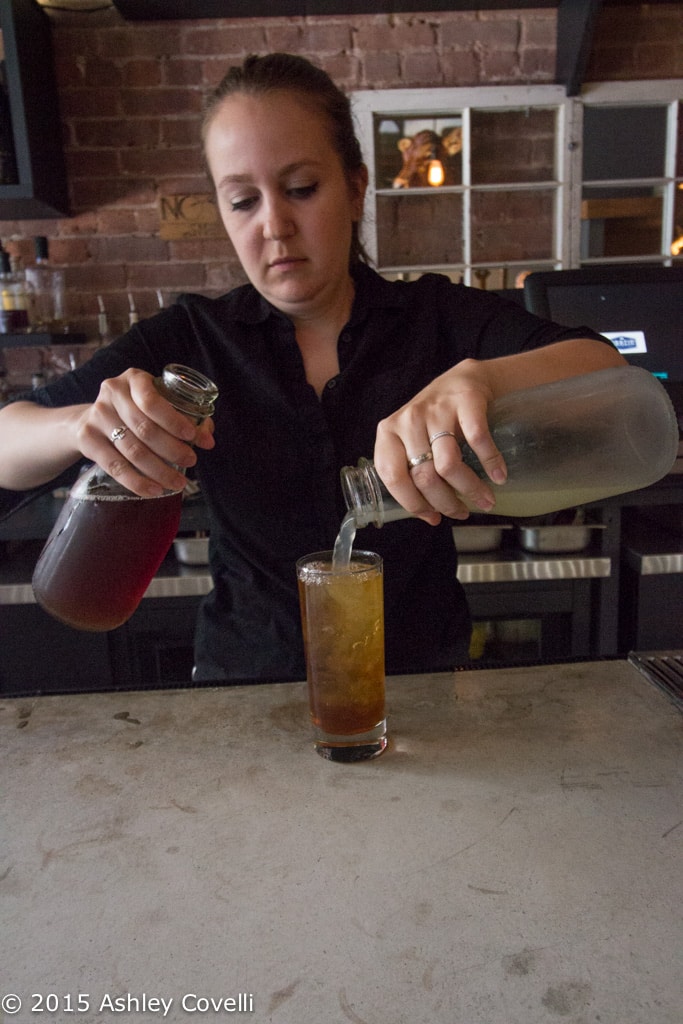 Every animal protein that's served at their restaurants comes from a small family farm that is pasture-based and is held to the highest livestock welfare standards. And most of the proteins come directly from Grazin' Angus Acres.
The Grazin' restaurants are the first ever completely Animal Welfare Approved restaurants in the world - a trend they hope to see spread. They are seriously passionate about what they do!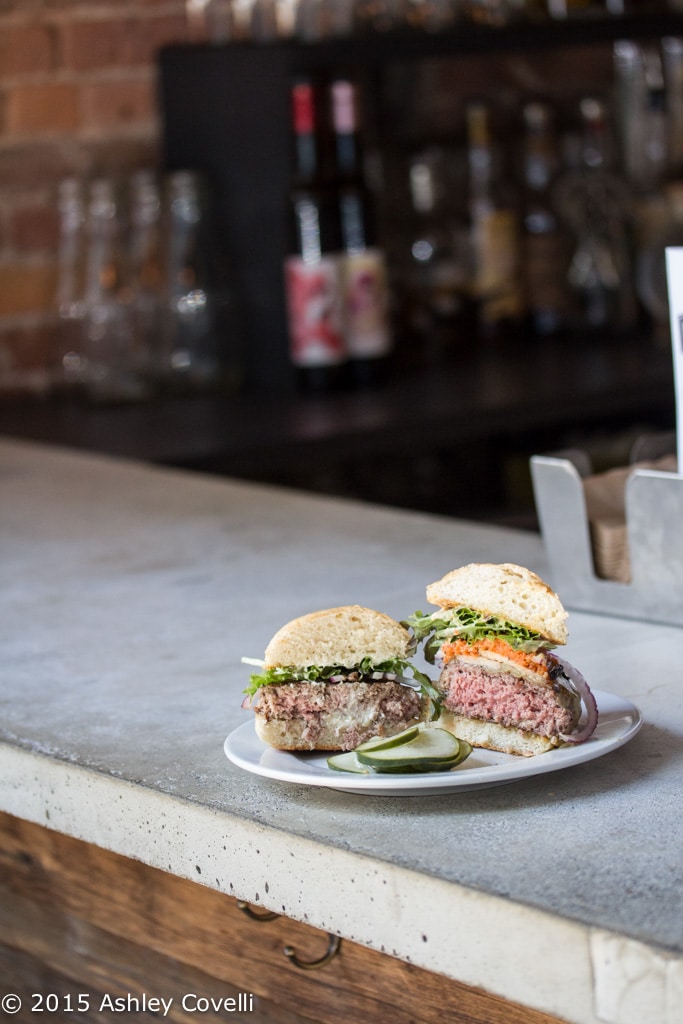 Chip had mentioned to me that Chef Steven had come up with a chicken fried egg recipe. I asked if I'd be able to try it out and he gladly obliged. It. Was. Phenomenal. I'm going to take a crack (no pun intended) on making a dish using that technique at home sometime soon. I mean, WOW.
After I housed tasted the egg, we got right to a demo of 2 of the burgers that are featured on their menu: The Uncle Dude (house-made chipotle mayo, Hudson Valley cheddar, Grazin' Angus Acres bacon, jalapeño relish and fresh greens) and The Lamb Burger (ground lamb, gyro style with a tzatziki yogurt sauce).
Chef Steven had some bacon that he cured in-house, and he sliced it right up and threw it on the grill for me. I hadn't ever grilled bacon before. Mind = BLOWN.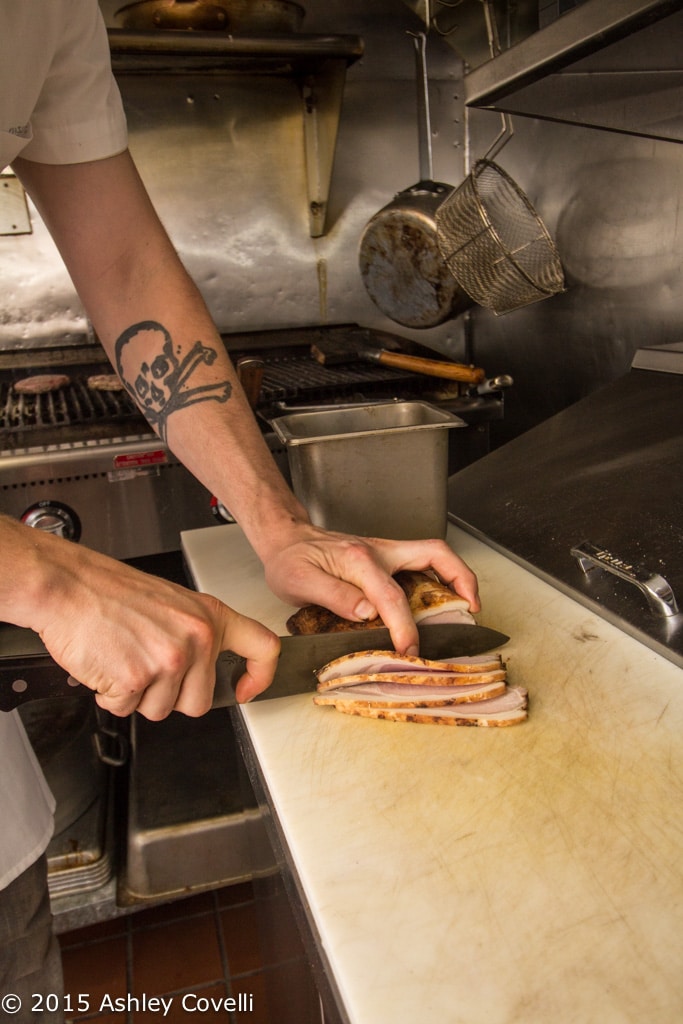 He also showed me the various homemade condiments they use at Grazin' (such as beet ketchup!) and gave me some tips on cooking beautiful burgers (make sure to season the meat well before cooking). He comes up with a burger special every day, and the flavor combinations are outrageously delicious.
I got to enjoy the burgers along with some fries and a chilled carrot ginger soup before sitting down for a more formal interview.
Big Flavors: How did you get into cooking?
Steven: I went to school for English and Music Composition, which landed me a sweet job as the manager of a shoe store. And I really hated that - retail. And the bar next door - the bartender's husband was the chef at one of my favorite restaurants in Madison, Wisconsin. She got sick of me complaining about how much I hated my job, so she was like, "Why don't you come work at the restaurant? You like food!" and I was like, "OK" and a week later I got a phone call - they needed me as a dishwasher. That was 10 years ago. So I started washing dishes, and then I was a prep cook and then I was a line cook, and then I was a lead line cook. And then I moved to Milwaukee and got a job as a line cook at a really amazing restaurant there. And we had a farm just outside of Milwaukee.
Big Flavors: So you learned on the job then? That's awesome!
Steven: Yep. I went to culinary school for a hot minute - like 3 weeks. But it was… I went to the Milwaukee Area Technical College culinary program and it wasn't for me. When the woman next to me wanted to do over-easy eggs and was like, "which one is over-easy?" - that was about the level of the class there. So…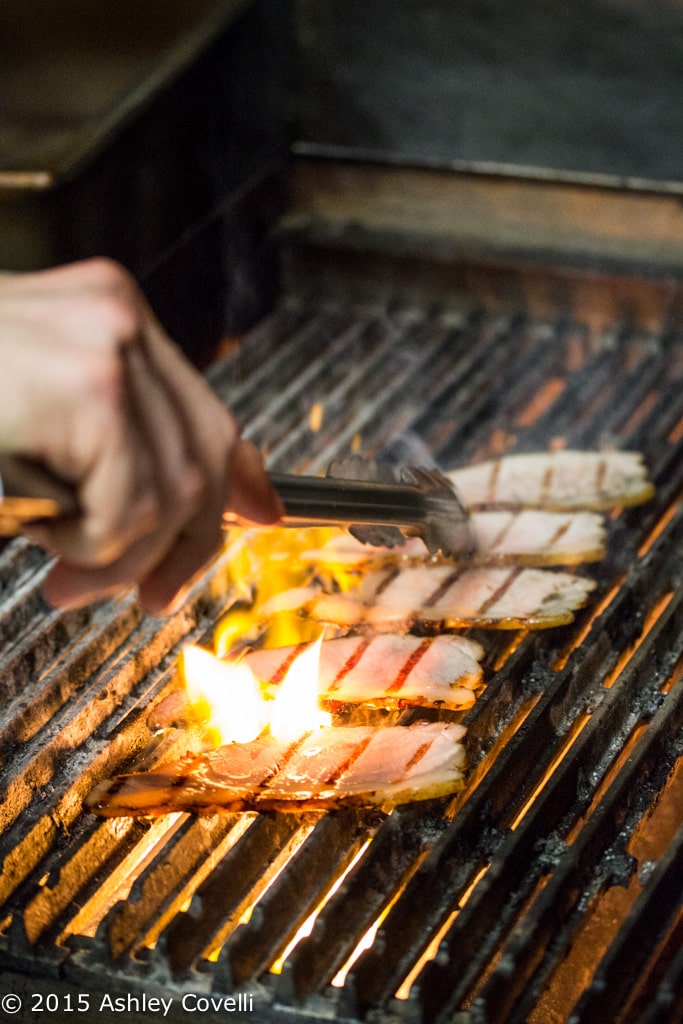 Big Flavors: What's the last meal you cooked at home? Even if it's like Kraft mac & cheese… I'm just curious.
Steven: I made a fusilli con bucatini - which is a bucatini that's spiral - with… I had a can of smoked kipper. So I used that, some garlic and capers.
Big Flavors: What are 3 ingredients that you have to have in your kitchen at home? Like your favorites that if you ran out, you'd freak out?
Steven: Chili flakes, olive oil and bacon fat. Those are things that I always definitely have.
Big Flavors: What would you make with those 3 things on Chopped? Go!
Steven: <laughs>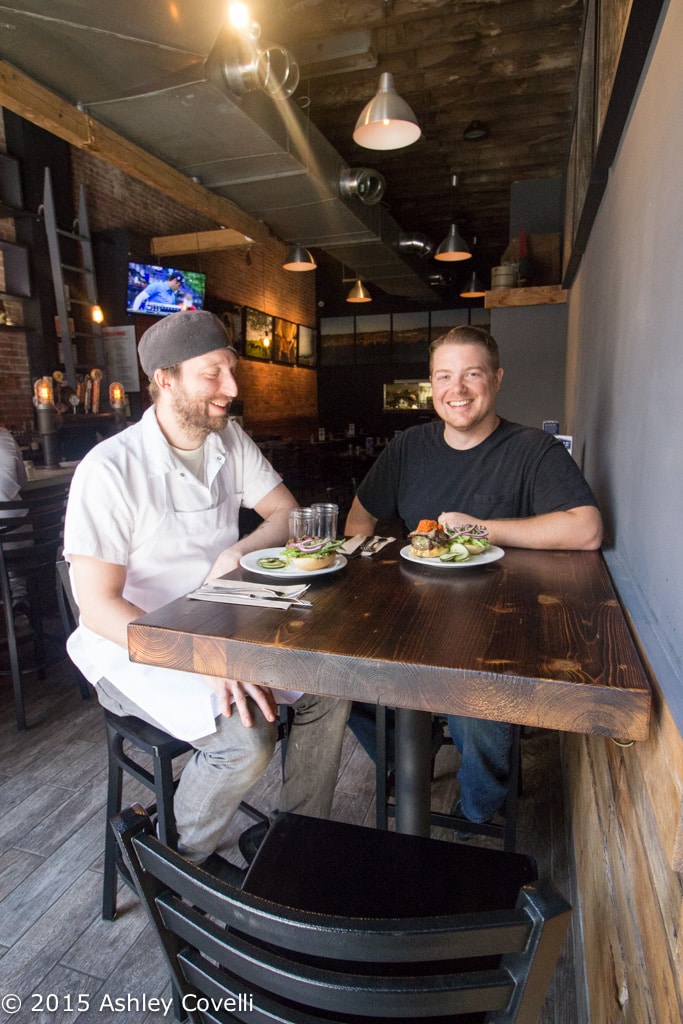 Big Flavors: How do you get inspiration for recipes?
Steven: Dreams, mostly. A lot of times, yeah. Dreams. All I do is hang out with food, so my whole creative existence revolves around making things and eating things and feeding people stuff. Yeah, like the chicken fried egg - my friend was here, and we wrote up a list of things on the calendar and he just wrote "chicken fried steak" and I was a little delirious because I was working like 120 hours a week and I was like, "what do I do for brunch?" and I saw chicken fried steak. And because of the quality of our steak, we'd have to charge like $60 for a breakfast. And I was like, "I wish I could chicken fry an egg" and then I was like, "Wait! I bet you I could chicken fry an egg!". So at 2 in the morning, I'm cracking eggs onto a sheet pan to put them in the freezer to hope that this thing would work out.
Big Flavors: That's awesome. And delicious - they were really good!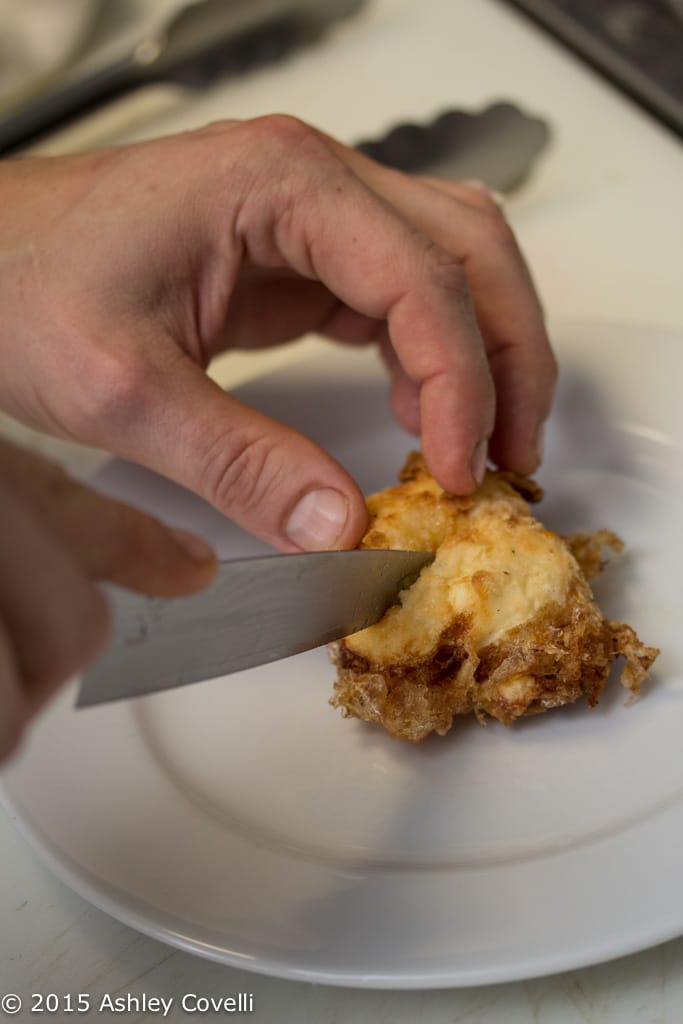 Big Flavors: What food trend are you sick of?
Steven: KALE.
Big Flavors: Is there any kale on the menu here?
Steven: Yeah, when we get it from the farm, you know, we'll do a raw kale salad with toasted mustard seeds.
Big Flavors: Who cooked for you when you were growing up?
Steven: My father. That's actually why I learned to cook in the first place, because my dad was a teacher and he coached the girls basketball, and so at home my mom would cook and it was just gross. She was a really bad cook. So when I was like 12 I just took over, because her gravy would be like plunk pluuuuunk. So I was like, "I'll figure this out" so I grabbed The Joy of Cooking and I made some spaghetti.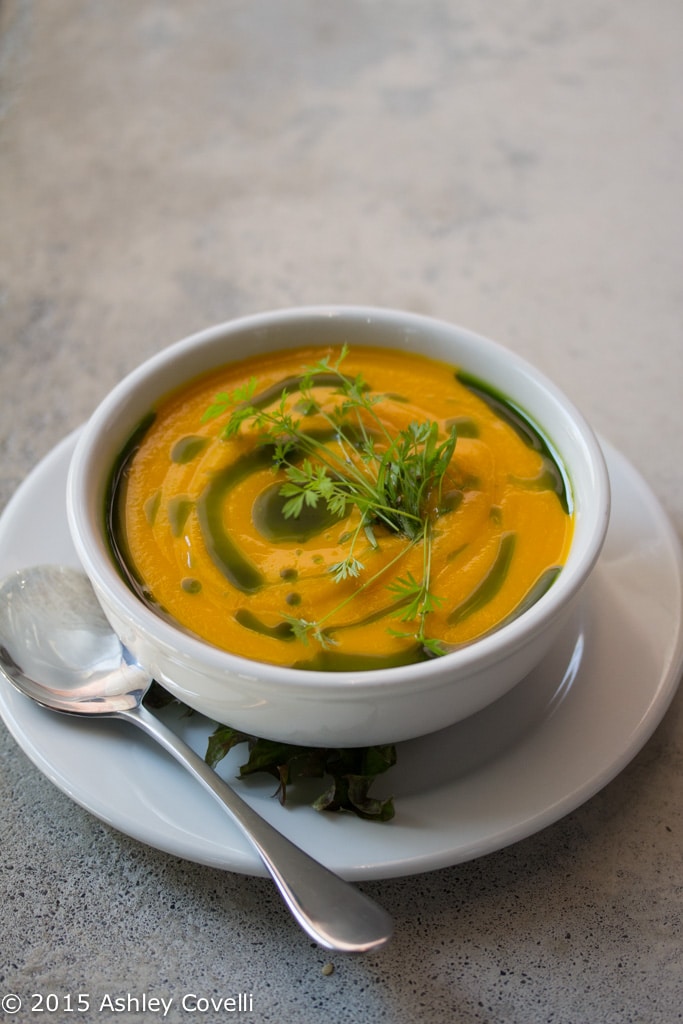 Big Flavors: Do you have any tips for home cooks to make something good in their own kitchens? I know a lot of people are intimidated with cooking and they think that it has to be complicated and it really doesn't.
Steven: The thing that people forget is to constantly season, you know? Like your pasta water when it's boiling needs to be salted almost like the ocean. And that's the easiest thing in the world, you know?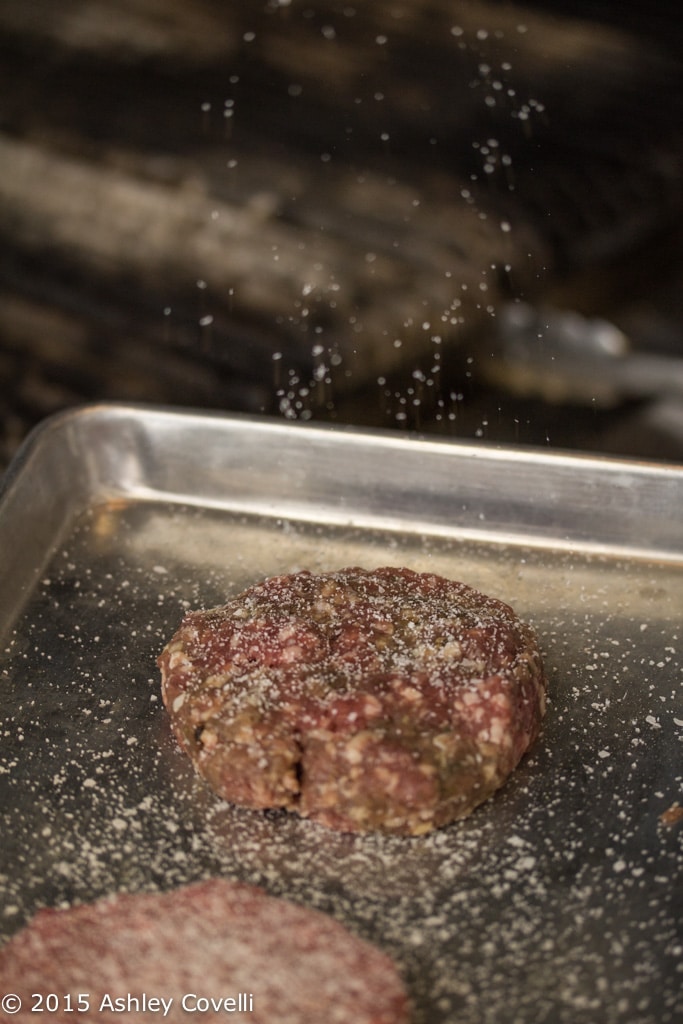 Big Flavors: Thank you so much! This was awesome and everything was absolutely delicious.
And then I got to sample all 3 of their dessert specials - a flourless chocolate mousse, a quark cheesecake and a rhubarb crumble. They were all SO good, and so, so tasty.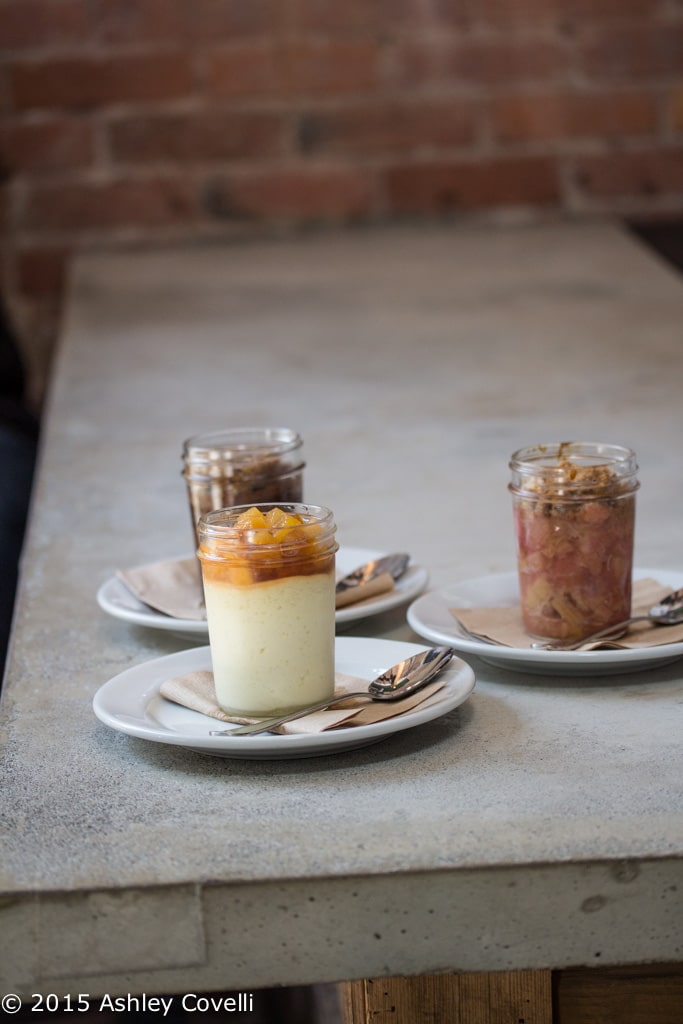 Thanks again to Chef Steven & Chip for the hospitality and for letting my readers get a peek at their delicious creations.
You can find all things Grazin' on Facebook.
Grazin' TriBeCa is located at 56 Reade Street in New York City. Grazin' Angus Acres can also be found weekly at the Union Square Farmers Market & 79th Street Greenmarket. If you're near upstate New York, check out their Grazin' Hudson location at 717 Warren Street.
Stay tuned tomorrow to get the recipe for Grazin's Lamb Burger and see how it turned out when I made it in my tiny kitchen!
UPDATE: Check out part 2 here!