This post may contain affiliate links, which won't change your price but will share some commission.
These scones are light and fluffy and delicious! The Lemon Glaze is the perfect accompaniment to these beauties. I used an ice cream scoop that was a little less than ½ cup, so I ended up baking these on 2 cookie sheets, and it made about 14 scones. The sour cream really made the texture superb!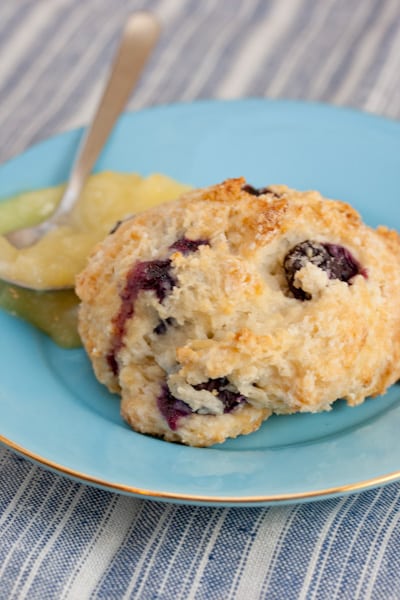 Best Blueberry Scones with Lemon Glaze
Jaden's Steamy Kitchen
These blueberry scones are made specifically with very little sugar, because the accompanying glaze provides all the sugar you need! If you're making these scones and do not plan on either a glaze or jam, you can increase the amount of sugar if you'd like.
makes 12 blueberry scones
3 cups all-purpose flour
2 tablespoons baking powder
½ teaspoon salt
3 tablespoons granulated sugar
½ cup butter, softened (1 stick)
2 cups light sour cream
¼ teaspoons vanilla extract
1 cup fresh blueberries
Preheat the oven to 350F
Mix all the dry ingredients together. Cut in softened butter. Gently fold in the sour cream and vanilla. Fold in blueberries. Try not to over work the dough to keep the scones light and delicate. Scoop dough (about ½ cup) onto lightly greased cookie sheet and bake 30 minutes (depending on size) or until the tops are golden brown. Serve with the Lemon Glaze.
Big Flavors Rating: 5 Stars