This post may contain affiliate links, which won't change your price but will share some commission.
Tonight's dinner was completely addictive! We had to make ourselves stop eating it so there would be leftovers to enjoy for lunch this week. The blue cheese melts down into the pasta and acts as the perfect counterpart to the sweetness of the butternut squash. I love that Cooking Light offers recipes like this that pack a ton of flavor, but are still healthy and fresh. The salad went perfectly with it, too. We really loved the tangy vinaigrette. I'll definitely be making this meal again!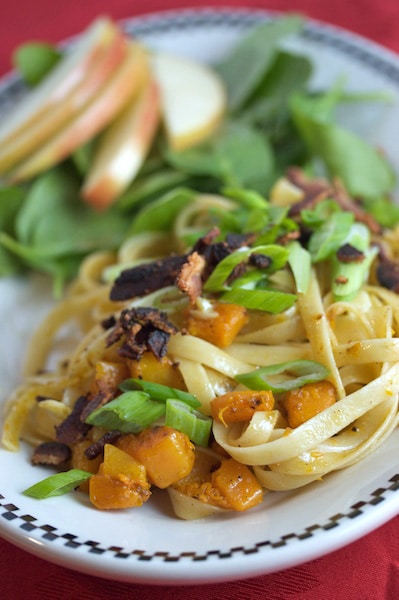 Bacon and Butternut Pasta
Cooking Light March 2010
Yield: 4 servings (serving size: 1 cup)
3 ¼ teaspoons salt, divided
8 ounces uncooked fettuccine
2 bacon slices
2 tablespoons butter
3 cups (½-inch) cubed peeled butternut squash
2 garlic cloves, minced
½ cup (2 ounces) crumbled blue cheese
½ cup sliced green onions
1. Bring 3 quarts water and 1 tablespoon salt to a boil in a large saucepan. Add pasta; cook for 8 minutes. Drain in a colander over a bowl, and reserve ⅓ cup cooking liquid.
2. Cook bacon in a large skillet over medium heat until crisp. Remove bacon from pan, reserving 2 teaspoons drippings in pan. Crumble bacon; set aside. Add butter to drippings in pan; cook 30 seconds or until butter melts. Increase heat to medium-high. Add squash; sauté 7 minutes or until almost tender. Add garlic; cook 1 minute, stirring constantly. Stir in remaining ¼ teaspoon salt, pasta, reserved cooking liquid, and cheese; cook 2 minutes or until pasta is al dente, stirring frequently. Sprinkle with bacon and onions.
Calories: 385
Fat: 14.1g (sat 7.8g,mono 4.1g,poly 0.8g)
Protein: 13.1g
Carbohydrate: 53.4g
Fiber: 4.7g
Cholesterol: 31mg
Iron: 2.7mg
Sodium: 701mg
Calcium: 135mg
For the spinach salad:
Combine 1 ½ tablespoons lemon juice, 1 tablespoon olive oil, 1 ½ teaspoons honey, 1 teaspoon Dijon mustard, ¼ teaspoon salt, and ¼ teaspoon pepper; whisk. Toss with 5 cups fresh spinach. Top with 1 cored and thinly sliced Braeburn apple.
MacGourmet Rating: 5 Stars