White Bean and Spinach Tacos
This post may contain affiliate links, which won't change your price but will share some commission.
One of the things I enjoy about being a mom is talking to other moms who have kids around the same age as my son. It's great to have someone to commiserate with talk to about all of the ever-changing things going on in our hectic lives. So when I found out that one of my friends and I were both going to be stuck home alone for the evening, I invited her and her son over for dinner. I knew I needed something quick and easy to make since there would be two toddlers running around. That's why I love the Superfast section of each issue of Cooking Light. I know I can find something quick and healthy for a busy weeknight meal. This was really simple to put together, and packed a lot of flavor. The beans were nice and creamy, and the fresh salsa on top was cool and refreshing. I'm kind of new to the idea of vegetarian tacos, and I've been loving them! You could leave the queso fresco off to make this vegan, but you would definitely want something else salty/creamy on top. Maybe some salted avocado? For us, this made 3 servings or 3 tacos each, which was perfect, but if you want to serve more than 3 people, you may want to consider doubling this recipe.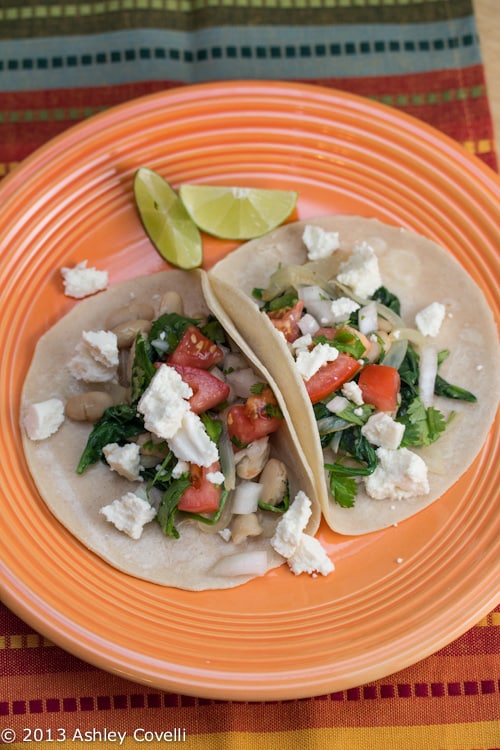 White Bean and Spinach Tacos
Cooking Light September 2013
To quickly warm tortillas, stack and wrap them in damp paper towels; microwave at HIGH for 25 seconds. Serve immediately.

Yield: Serves 4 (serving size: 3 tacos)
1 tablespoon canola oil
1 1/2 cups vertically sliced onion
4 garlic cloves, chopped
1 (15-ounce) can cannellini beans, rinsed and drained
3/8 teaspoon kosher salt, divided
8 cups bagged prewashed spinach (about 5 1/2 ounces)
1 1/2 cups chopped tomato
1/2 cup finely chopped onion
1/4 cup chopped fresh cilantro
1 tablespoon fresh lime juice
1 sliced jalapeño pepper
12 corn tortillas
2 ounces queso fresco, crumbled (about 1/2 cup)
1. Heat a large skillet over medium-high heat. Add oil to pan; swirl to coat. Add sliced onion, and sauté 5 minutes or until lightly browned, stirring occasionally. Add garlic to pan; sauté 30 seconds. Stir in beans and 1/4 teaspoon salt; cook 1 minute. Add spinach to pan; cook 1 minute or until spinach wilts and beans are thoroughly heated.
2. Combine tomato, chopped onion, cilantro, lime juice, 1/8 teaspoon salt, and jalapeño in a small bowl. Warm tortillas according to package directions. Arrange 1/3 cup bean mixture in center of each tortilla. Top each taco with 3 tablespoons tomato mixture and about 1 tablespoon cheese.
Amount per serving
Calories: 337
Fat: 7.4g
Saturated fat: 1.5g
Monounsaturated fat: 3.1g
Polyunsaturated fat: 2.3g
Protein: 13.3g
Carbohydrate: 58.6g
Fiber: 10.9g
Cholesterol: 5mg
Iron: 4.7mg
Sodium: 330mg
Calcium: 231mg
Big Flavors Rating: 4 Stars