This post may contain affiliate links, which won't change your price but will share some commission.
I had a bunch of veggies in the fridge from the Farmers' Market that I wanted to use up, so I came up with this vegan dish. It was really satisfying! The flavors went really well together. I can see mixing this up with any veggies you have on hand. I was curious about whether or not it was possible to cook quinoa in the rice cooker, and I came across this post. I used the rice cooker method and it turned out perfectly, just as advertised 🙂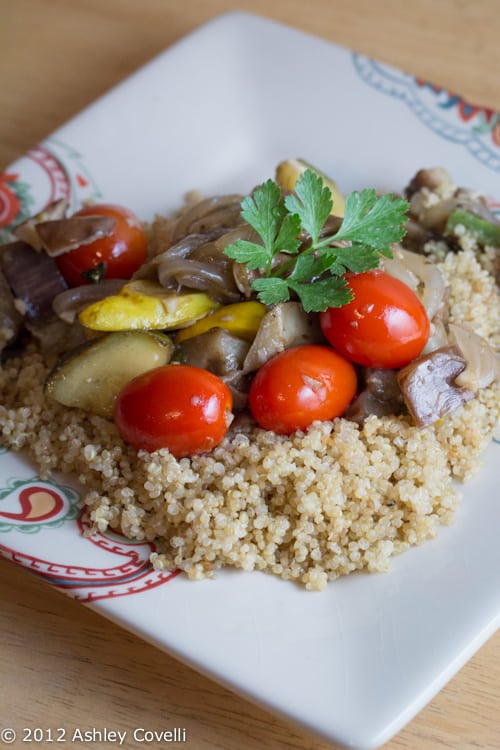 Veggie Sauté over Quinoa
Ashley Covelli
2T extra-virgin olive oil
3 cloves garlic, minced
pinch of red pepper flakes
striped eggplant, diced large
yellow and/or green zucchini, diced large
2 pattypan squash, diced large
small yellow onion, diced
handful of shiitake mushrooms, stems removed and caps sliced
pint of grape or cherry tomatoes, halved
1-2 T balsamic vinegar
cooked quinoa
Heat oil in a large skillet over medium heat. Add garlic and red pepper flakes and stir until fragrant. Add in the firm veggies (eggplant, zucchini, squash and onion) and cook until tender. Add mushrooms and tomatoes and let soften. Splash in balsamic and stir until reduced. Serve over quinoa.
Big Flavors Rating: 4 Stars