This post may contain affiliate links, which won't change your price but will share some commission.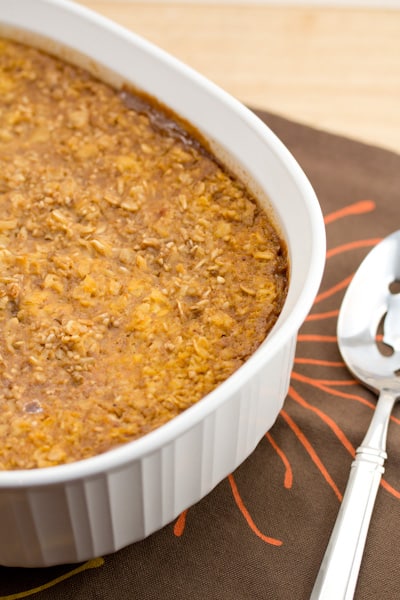 I saw this post over at Annie's Eats, and thought it looked like the perfect weekend breakfast recipe for this cold weather.
I decided to make it vegan by using soy milk and soy butter, since Dino is lactose intolerant. It turned out to be amazingly delicious, and I didn't even miss the dairy! It was rich enough without it.
The caramelized bananas on the bottom are really the perfect accompaniment to this oatmeal. They add a richness that really elevates the dish.
We have a bunch of this leftover now, and I'm excited that we'll have homemade breakfast waiting in the fridge for us for the next few days. I'll definitely make this one again!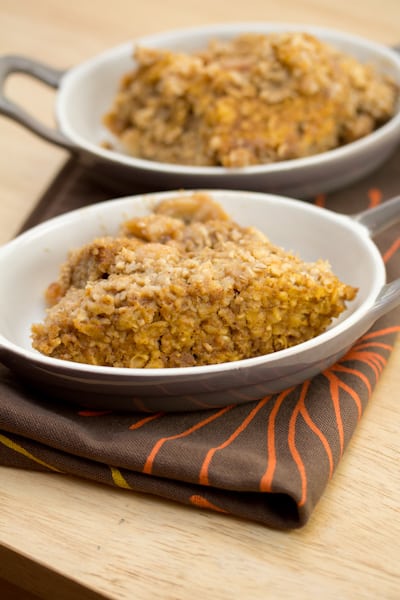 Baked Pumpkin Oatmeal
Annie's Eats
1 cup steel cut oats
6 tbsp. unsalted butter, divided
4 cups very hot water
2 medium bananas, sliced
½ cup plus 2 tbsp. brown sugar, lightly packed, divided
2¼ tsp. ground cinnamon, divided
3 cups old-fashioned oats
¼ cup maple syrup
1 tsp. salt
¼ tsp. ground nutmeg
Dash ground cloves
½ cup pumpkin puree
½ cup milk
2 tsp. vanilla extract
Preheat the oven to 350˚ F. Place the steel cut oats in a large bowl with 4 tablespoons of the butter. Pour the hot water over the oats and cover the bowl. Let stand for 20 minutes.
Meanwhile, make the caramelized bananas. Melt the remaining 2 tablespoons of butter in a medium skillet over medium-high heat. Add the bananas, 2 tablespoons of brown sugar, and ¼ teaspoon of the cinnamon to the pan. Toss gently and cook briefly, about 2 minutes. Remove from the heat and let cool.
After the steel cut oats have finished soaking, stir in the old fashioned oats, remaining ½ cup of brown sugar, maple syrup, salt,
remaining 2 teaspoons of cinnamon, nutmeg and cloves. In a small bowl or liquid measuring cup, whisk together the pumpkin, milk and vanilla. Stir the pumpkin mixture into the oat mixture.
Spread the bananas over the bottom of a lightly greased 2 quart-ish baking dish. Pour the oatmeal mixture on top of the bananas. Bake for 35-40 minutes. Remove from the oven and let cool slightly before serving.
Big Flavors Rating: 5 Stars