This post may contain affiliate links, which won't change your price but will share some commission.
This is a great, easy weeknight shrimp recipe that packs a lot of flavor. In Bittman's app, there are directions for making Shrimp Scampi, Shrimp with Spicy Orange Flavor, and Garlic Shrimp with Tomatoes and Cilantro as well - all starting with this basic recipe.
I used smoked Spanish paprika instead of hot since I wasn't in the mood for spicy that night, and it was wonderful. The garlic and paprika infuse the oil and the shrimp, and it works beautifully over rice for a simple weeknight meal. I was out of parsley, but I had chives leftover from my Buffalo-Blue Cheese Dip, so I garnished with those. It was a really nice, flavorful meal.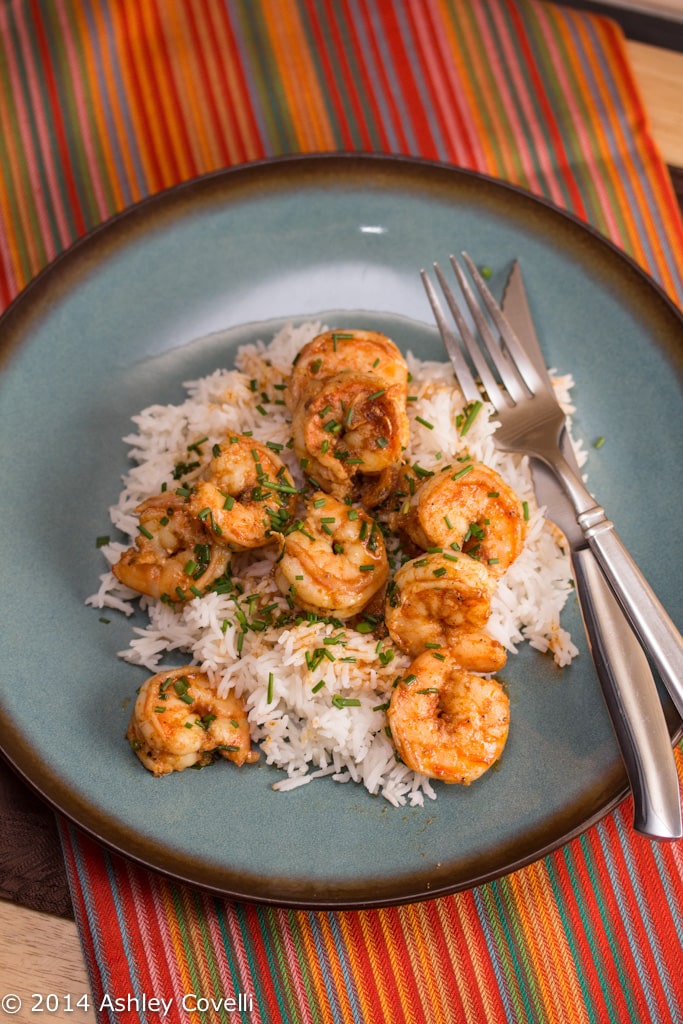 The Simplest and Best Shrimp Dish
Mark Bittman (via the How to Cook Everything app)
⅓ cup extra virgin olive oil, or more as needed
3 or 4 big cloves garlic, cut into slivers
About 1 ½ pounds shrimp, 20 to 30 per pound, peeled, rinsed, and dried
Salt and freshly ground black pepper
1 teaspoon ground cumin
1 ½ teaspoons hot paprika
Chopped fresh parsley leaves for garnish
Warm the olive oil in a large, broad ovenproof skillet or heatproof baking pan over low heat. There should be enough olive oil to cover the bottom of the pan; don't skimp. Add the garlic and cook until it turns golden, a few minutes.
Raise the heat to medium‐high and add the shrimp, some salt and pepper, the cumin, and the paprika. Stir to blend and continue to cook, shaking the pan once or twice and turning the shrimp once or twice, until they are pink all over and the mixture is bubbly, 5 to 10 minutes. Garnish and serve immediately.
Big Flavors Rating: 4 Stars