This post may contain affiliate links, which won't change your price but will share some commission.
This was a super easy recipe. I thawed some frozen shrimp and just sautéed them in the pan in some oil, put them on a paper towel-lined plate while I prepared the rest of the recipe, and put them back in the pan at the end to heat through. It worked really well. It was fast and definitely hit the spot. I don't think this quite makes 4 servings though, so definitely have some side dishes, or double the recipe if you're trying to feed 4.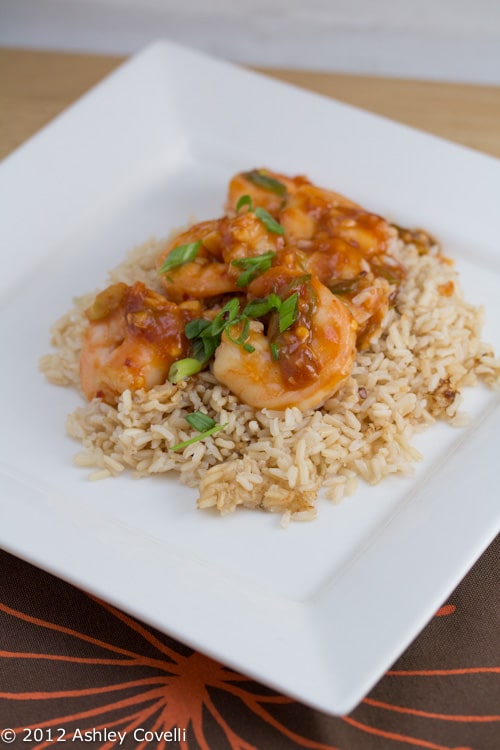 Szechwan Shrimp
Allrecipes - FOODGU1
"Don't let some of the ingredients fool you -- this spicy shrimp makes a simple, impressive dish, which I usually make for company. For more or less heat, adjust amount of red pepper. Serve over hot steamed rice."

Prep Time: 10 Min
Cook Time: 10 Min
Ready In: 20 Min
4 servings
4 tablespoons water
2 tablespoons ketchup
1 tablespoon soy sauce
2 teaspoons cornstarch
1 teaspoon honey
½ teaspoon crushed red pepper
¼ teaspoon ground ginger
1 tablespoon vegetable oil
¼ cup sliced green onions
4 cloves garlic, minced
12 ounces cooked shrimp, tails removed
In a bowl, stir together water, ketchup, soy sauce, cornstarch, honey, crushed red pepper, and ground ginger. Set aside.
Heat oil in a large skillet over medium-high heat. Stir in green onions and garlic; cook 30 seconds. Stir in shrimp, and toss to coat with oil. Stir in sauce. Cook and stir until sauce is bubbly and thickened.
Nutritional Information
Amount Per Serving Calories: 142 | Total Fat: 4.4g | Cholesterol: 164mg
Big Flavors Rating: 4 Stars